December 15 Peace Love Art Activism
BILL OF RIGHTS
December 15, 1791: Virginia became the last state to ratify the Bill of Rights, making the first ten amendments to the Constitution law and completing the revolutionary reforms begun by the Declaration of Independence. Anti-Federalist critics of the document, who were afraid that a too-strong federal government would become just another sort of the monarchical regime from which they had recently been freed, believed that the Constitution gave too much power to the federal government by outlining its rights but failing to delineate the rights of the individuals living under it.
First Amendment – Freedom of speech, press, religion, peaceable assembly, and to petition the government

Second Amendment – Right for the people to keep and bear arms, as well as to maintain a militia

Third Amendment – Protection from quartering of troops

Fourth Amendment – Protection from unreasonable search and seizure

Fifth Amendment – Due process, double jeopardy, self-incrimination, private property

Sixth Amendment – Trial by jury and other rights of the accused

Seventh Amendment – Civil trial by jury

Eighth Amendment – Prohibition of excessive bail, as well as cruel and unusual punishment

Ninth Amendment – Protection of rights not specifically enumerated in the Bill of Rights.

Tenth Amendment – Powers of states and people.
Fourth Amendment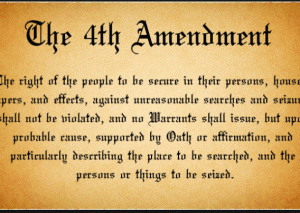 December 15, 2014: in Heien v. North Carolina the U.S. Supreme Court sided with the police in a case arising from an officer's "mistake of law." At issue was a 2009 traffic stop for a single busted brake light that led to the discovery of illegal drugs inside the vehicle. According to state law at the time, however, motor vehicles were required only to have "a stop lamp," meaning that the officer did not have a lawful reason for the initial traffic stop because it was not a crime to drive around with a single busted brake light. Did that stop therefore violate the 4th Amendment's guarantee against unreasonable search and seizure? Writing today for the majority, Chief Justice John Roberts held that it did not. "Because the officer's mistake about the brake-light law was reasonable," Roberts declared, "the stop in this case was lawful under the Fourth Amendment." (see March 30, 2015)
FREE SPEECH
December 15, 2017: the Trump administration prohibited officials at Centers for Disease Control and Prevention agency (CDC) from using a list of seven words or phrases — including "fetus" and "transgender" — in any official documents being prepared for 2018's budget.
Policy analysts at the Centers were told of the list of forbidden words at a meeting with senior CDC officials who oversee the budget. According to an analyst the forbidden words were "vulnerable," "entitlement," "diversity," "transgender," "fetus," "evidence-based" and "science-based."
In some instances, the analysts were given alternative phrases. Instead of "science-based" or ­"evidence-based," the suggested phrase is "CDC bases its recommendations on science in consideration with community standards and wishes," the person said. In other cases, no replacement words were immediately offered. [WP article] (see Dec 21)
December 15 Peace Love Art Activism
Native Americans
December 15, 1890: Sioux Indian Chief Sitting Bull and 11 other tribe members were killed in Grand River, S.D., during a clash with Indian police. (see Dec 29)
December 15 Peace Love Art Activism
US Labor History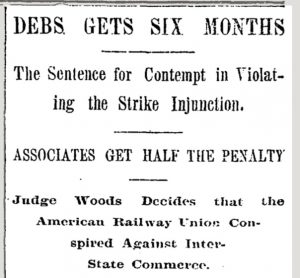 December 15, 1894:  Judge Woods sentenced labor leader and socialist Eugene V. Debs to six months imprisonment for his leadership of the Pullman railroad strike.  (see February 4, 1896)
US Labor History & Feminism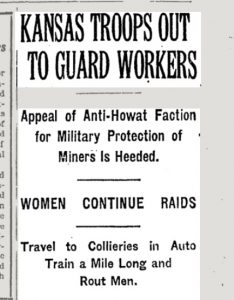 December 15, 1921: the Kansas National Guard was called out to subdue from 2,000 to 6,000 protesting women who were going from mine to mine attacking non-striking miners in the Pittsburg coal fields. The women made headlines across the state and the nation: they were christened the "Amazon Army" by the New York Times. (F, see February 27, 1922; Labor, see Dec 19)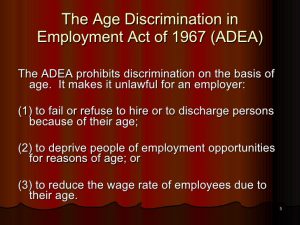 December 15, 1967: the Age Discrimination in Employment Act supplemented the 1964 Civil Rights Act, which in Title VII prohibited employment discrimination on the basis of race, color, religion, sex or national origin — but did not cover age. The age discrimination act was one of the many major legislative achievements of President Lyndon Johnson's Great Society.
The law: "(b) It is therefore the purpose of this chapter to promote employment of older persons based on their ability rather than age; to prohibit arbitrary age discrimination in employment; to help employers and workers find ways of meeting problems arising from the impact of age on employment."
Vietnam & US Labor History
December 15, 1967: meeting in its biennial convention, the AFL-CIO declared "unstinting support" for "measures the Administration might deem necessary to halt Communist aggression and secure a just and lasting peace" in Vietnam. (Vietnam, see January 3, 1968; Labor, see March 17, 1968)
December 15 Peace Love Art Activism
BLACK HISTORY
Tom Waller lynched
December 15, 1897: a group of 30 white men approached a group of black men, including an acquaintance of Charles Lewis (see Dec 10), and coerced him into saying that a man named Tom Waller had also been involved in the crime. Though another man in the group insisted this was not true, the unsubstantiated allegation was enough to seal Mr. Waller's fate.
Soon after he was taken into custody, a growing mob of 400 people seized Waller from law enforcement and conducted a "sham trial"; newspapers reported that several men "held court under a tree," where Waller was interrogated as a rope was placed around his neck. Some men reportedly suggested that the "trial" be delayed a week because the "evidence" was so scant, but the rest of mob rejected that idea and instead insisted that Waller be lynched that night.
Newspapers later explained that the mob preferred to lynch Mr. Waller immediately because waiting "meant standing guard all night in the cold, and most of those present did not relish this at all."
As the hundreds of white men in the mob grew "hungry," press accounts described, "a wagon load of provisions" including fish and lobster was brought forward and everyone "indulged in a hearty supper" before continuing their deadly plan.
The mob ultimately hanged Tom Waller on the night of December 15th, on the same hill where Mr. Lewis had been lynched five days earlier, and left his body hanging until 10am the next morning. (next BH, see February 22, 1898;  see 19th century for expanded lynching chronology)
 Albany Movement
December 15, 1961: going against some of his Southern Christian Leadership Conference advisers, King accepted an invitation to Albany, Georgia and spoke at a rally in support of activists that had be arrested the previous day. (see Albany for expanded chronology)
BLACK & SHOT
December 15, 2015: Chicago Mayor Emanuel announced the creation of the Task Force on Police Accountability, which would study the processes, oversight and training at CPD, and make recommendations.  (B & S and L. McDonald, see Dec 16)
December 15 Peace Love Art Activism
LGBTQ
December 15, 1950: a Senate report titled "Employment of Homosexuals and Other Sex Perverts in Government" is distributed to members of Congress after the federal government had covertly investigated employees' sexual orientation at the beginning of the Cold War. The report states since homosexuality is a mental illness, homosexuals "constitute security risks" to the nation because "those who engage in overt acts of perversion lack the emotional stability of normal persons." Over the previous few years, more than 4,380 gay men and women had been discharged from the military and around 500 fired from their jobs with the government. The purging will become known as the "lavender scare."(see March 25, 1952)
Redefinition
December 15, 1973: in a major breakthrough for lesbian and gay rights, the American Psychiatric Association removed the designation of homosexuality as a mental illness. The designation had been a major stigma on same-sex relations. The American Psychological Association, a different professional group, removed its designation of homosexuality as unhealthy in 1975. (NYT article) (see January 1974)
Washington, D.C.
December 15, 2009: the Washington, D.C. City Council voted to legalize same-sex marriage. [CNN article] (see Dec 18)
December 15 Peace Love Art Activism
December 15 Music et al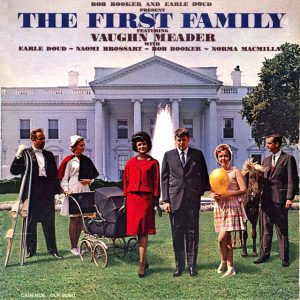 December 15 – March 8, 1963 – Vaughn Meader's comedy album, The First Family Billboard #1 album.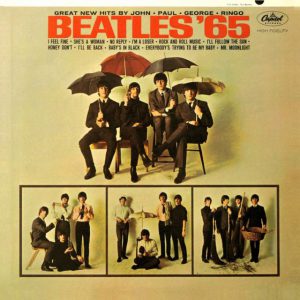 December 15, 1964, The Beatles: Beatles '65 released. In two weeks it became the 9th biggest selling album of 1964. (see Dec 18)
John's last live performance
December 15, 1969: John Lennon gave his last live performance in England. It was a UNICEF benefit in London. (see Dec 16)
December 15 Peace Love Art Activism
Space Race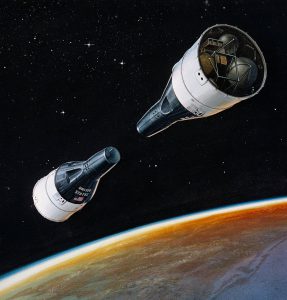 December 15 – 16, 1965: Wally Schirra and Thomas Stafford fly Gemini 6 within a few feet of Borman and Lovell in Gemini 7, for the first true rendezvous in space. (NYT article) (see February 3, 1966)
December 15 Peace Love Art Activism
Feminism
December 15, 1969: Nixon administration released "A Matter of Simple Justice," a report on women's rights. The 77-page report declared that the federal government "should be as seriously concerned about sex discrimination as with race discrimination." To that end, it called on the Nixon administration to convene a national conference on women's rights and for Congress to develop legislation to eliminate all existing forms of sex discrimination. (see February 1, 1970)
First Secret Service females

December 15, 1971: the Secret Service appointed its first five female special agents. [The Hill article]
Phyllis Schlafly Blasts ERA
In 1972  Phyllis Schlafly published "What's Wrong with 'Equal Rights' for Women," launching the campaign opposing ratification of the Equal Rights Amendment. Arguing that the ERA would force women into the military, jeopardize benefits under Social Security, and weaken existing legal protections under divorce and marriage laws, Schlafly played a large part in bringing the movement toward ratification of the amendment to a halt. (text) (see Jan 1)
Anita Hill
December 15, 2017:  announced that Anita Hill would head the Commission on Sexual Harassment and Advancing Equality in the Workplace. The Commission was composed of and funded by some of the most powerful names in Hollywood and was created to tackle widespread sexual abuse and harassment in the media and entertainment industries.
Kathleen Kennedy, the president of Lucasfilm; Maria Eitel, the co-chair of the Nike Foundation; the powerhouse attorney Nina Shaw; and Freada Kapor Klein, the venture capitalist who helped pioneer surveys on sexual harassment decades ago spearheaded the Commission whose mission was "tackle the broad culture of abuse and power disparity." (see March 15, 2018)
Women's Health
December 15, 2017: Judge Wendy Beetlestone of the Federal District Court in Philadelphia blocked Trump administration rules that made it easier for employers to deny insurance coverage of contraceptives for women.
Beetlestone issued a preliminary injunction, saying the rules contradicted the text of the Affordable Care Act by allowing many employers to opt out of providing contraceptive coverage if they had religious or moral objections.
In the lawsuit, filed by the State of Pennsylvania, the judge said the rules would cause irreparable harm because tens of thousands of women would lose contraceptive coverage. [NYT article] (see Dec 18)
December 15 Peace Love Art Activism
Vietnam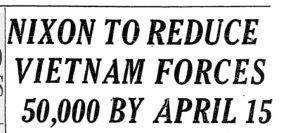 December 15, 1969: Nixon announced that 50,000 additional U.S. troops would be pulled out of South Vietnam by April 15, 1970. (see Dec 16)
December 15 Peace Love Art Activism
Environment
MV Argo Merchant
December 15, 1976: the oil tanker MV Argo Merchant caused one of the worst marine oil spills in history when it runs aground near Nantucket, Massachusetts. (NYT article) (see May 11, 1977)
Paris Accord
December 15, 2018: diplomats from nearly 200 countries reached a deal to keep the Paris climate agreement alive by adopting a detailed set of rules to implement the pact.
The deal, struck after an all-night bargaining session, would ultimately require every country in the world to follow a uniform set of standards for measuring their planet-warming emissions and tracking their climate policies. And it called on countries to step up their plans to cut emissions ahead of another round of talks in 2020.
It also called on richer countries to be clearer about the aid they intend to offer to help poorer nations install more clean energy or build resilience against natural disasters. And it builds a process in which countries that are struggling to meet their emissions goals can get help in getting back on track. (see January 10, 2019)
NYC Gas Ban
December 15, 2021: New York City's City Council approved a bill banning gas hookups in new buildings. The bill will ban gas-powered stoves, space heaters and water boilers in all new buildings, a move that would significantly affect real estate development and construction in the nation's largest city and could influence how cities around the world seek to reduce the burning of fossil fuels, which drives climate change.
The  bill effectively required all-electric heating and cooking and the ban would take effect in December 2023 for buildings under seven stories; for taller buildings, developers negotiated a delay until 2027.
Mayor Bill de Blasio had called for the ban two years ago, and wold sign the bill "enthusiastically," said Ben Furnas, the director of climate and sustainability for the mayor's office.
"It's a historic step forward in our efforts to reach carbon neutrality by 2050 and reduce our reliance on fossil fuels," Mr. Furnas said. "If we can do it here, we can do it anywhere." [NYT article] (next EI, see )
December 15 Peace Love Art Activism
The Cold War
People's Republic of China
December 15, 1978: President Jimmy Carter stated that as of January 1, 1979, the United States would formally recognize the communist People's Republic of China (PRC) and sever relations with Taiwan. (see June 18, 1979)
Dissolution of the USSR
December 15, 1989: a popular uprising began in Romania. [RFE article] (see USSR for expanded chronology)
December 15 Peace Love Art Activism
TERRORISM
December 15, 1981: a suicide car bomb killed 61 people at the Iraqi embassy in Beirut, Lebanon; Iraq's ambassador to Lebanon was among the casualties. (see April 18, 1983)
December 15 Peace Love Art Activism
Irish Troubles
December 15, 1993:  the Downing Street Declaration, issued jointly by UK and the Republic of Ireland, affirmed the UK would transfer Northern Ireland to the Republic of Ireland only if a majority of Northern Ireland's people approved. (see Troubles for expanded chronology)
CLINTON IMPEACHMENT
December 15, 1998: in a blow to White House hopes, 11 moderate House Republicans announced they would vote to impeach the president. (see CI for expanded chronology)
December 15 Peace Love Art Activism
Iraq War II
December 15, 2009:  millions of Iraqis turned out to choose a parliament in a mostly peaceful election. [Aljazeera article] (see February 2, 2006)
December 15 Peace Love Art Activism