December 28 Peace Love Art Activism

US Labor History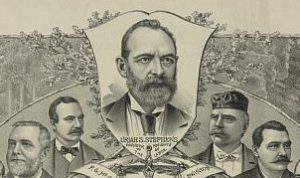 December 28, 1869: Uriah Stephens formed the Knights of Labor in Philadelphia. Initially a secret society, the Knights were able to organize workers around the country under the radar of management. They became an important force in the early days of labor organizing. (see January 13, 1874)
December 28 Peace Love Art Activism
BLACK HISTORY
TERRORISM
December 28, 1871: in Columbia, S.C., Sherod Childers, Evans Murphy, Hezekiah Porter, and William Montgomery received their sentencing for the Ku Klux Klan conspiracy in South Carolina. (BH, see May 22; Terrorism, see November 25, 1915)
Café Society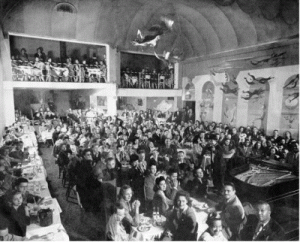 December 28, 1938: Café Society, a racially integrated nightclub opened in New York City on this evening. Primarily a jazz venue, Café Society had an avowed political purpose — including operating on an integrated basis. It is hard for many people to believe it, but nightclubs in New York City though the late 1930s were not racially integrated. Even the celebrated Cotton Club, where Duke Ellington established his national reputation, did not admit African-American customers. (The exception to this rule were some African-American clubs in Harlem, where whites seeking out jazz music were admitted.) Café Society, which advertised itself as "the right place for the wrong people," poked fun at clubs that catered to the rich (referred to as "café society"). It had a shabbily dressed "doorman" who refused to open the doors of limousines.
Star performers at Café Society included Billie Holiday, Josh White and other jazz greats. It was widely believed that the initial funding for Café Society was secretly provided by the Communist Party. A second club, Café Society Uptown, opened in 1940. Both clubs closed during the Cold War in part because of attacks on founder/owner/manager Barney Josephson.
One of the star performers at Cafe Society was Hazel Scott, and African-American jazz pianist. Scott was the first African-American entertainer to have her own television network show, on the small and long-defunct Dumont Network. She was also active in left-wing political events and was called to testify before the House Un-American Activities Committee (HUAC) in July 1950. Her television show was cancelled a week later on July 29, 1950.
Augusta Savage
In 1939: the New York World's Fair commissioned Augusta Savage to create a sculpture. She created a 16-foot plaster sculpture called Lift Every Voice and Sing. The piece was was destroyed at the close of the Fair. (next BH, see, Mar 19; see Savage for expanded story)
Snipers shot at desegregated busses
December 28, 1956: after Browder v Gayle ordered bus desegregation, the black community returned to the Montgomery buses but faced the threat of violence from some whites who resented the boycott and its results. In a terrifying development, snipers began to target the buses soon after integrated riding commenced.
On the evening of December 28, 1956, shots were fired into a desegregated bus traveling through an African American neighborhood. Rosa Jordan, a 22-year-old black woman who was eight months pregnant, was shot in both legs while sitting in the rear of the bus. She was transported to Oak Street General Hospital, but doctors were hesitant to remove a bullet lodged in her leg, fearing it could cause Jordan to give birth prematurely. She was told she would have to remain in the hospital for the duration of her pregnancy.
After the bus driver and passengers were questioned at police headquarters, the bus resumed service. Less than an hour later, in approximately the same neighborhood, the bus was again targeted by snipers but no one was hit. These shootings followed two earlier sniper attacks on Montgomery buses that occurred the week before but targeted buses carrying no passengers and resulted in no injuries.
On the night of Jordan's shooting, Montgomery Police Commissioner Clyde Sellers ordered all buses to end service for the night. The following day, three city commissioners met with a bus company official and decided to suspend all night bus service after 5:00 p.m. until after the New Year's holiday. The curfew policy did not end until January 22, 1957. (see MBB for expanded chronology)
Louis Armstrong
In 1957: although the blues and folk music had traditionally been associated with protest music, jazz had its contributors. The usually low-key Louis Armstrong cancelled a State Department-sponsored tour of the USSR in `957. "The way they are treating my people in the South, the government can go to hell. The people over there ask me what's wrong with my country. What am I supposed to say?"  [NYT report] (see January 10, 1957)
Project for an Alabama Political Freedom Movement
December 28, 1964: Martin Luther King, Jr presented the Southern Christian Leadership Conference  the "Project for an Alabama Political Freedom Movement," a plan conceived by James Bevel that called for mass action and voter registration attempts in Selma and Dallas County. (see January 2, 1965)
December 28 Peace Love Art Activism
Technological Milestones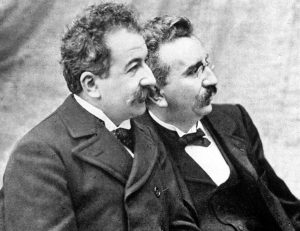 December 28, 1895: the world's first commercial movie screening took place at the Grand Cafe in Paris. The film was made by Louis and Auguste Lumiere, two French brothers who developed a camera-projector called the Cinematographe. The Lumiere brothers unveiled their invention to the public in March 1895 with a brief film showing workers leaving the Lumiere factory. On December 28, the entrepreneurial siblings screened a series of short scenes from everyday French life and charged admission for the first time.(see December 2, 1901)
Elizabeth Jordan Carr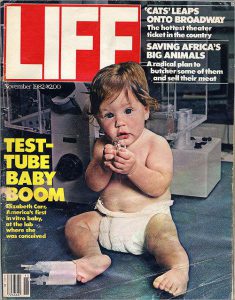 December 28, 1981: the first American test-tube baby, Elizabeth Jordan Carr, is born in Norfolk, Virginia.
In 2010 Carr gave birth to a baby boy. (TM, see December 2, 1982; WH, June 11, 1986)
December 28 Peace Love Art Activism
Pledge of Allegiance
Official
December 28, 1945: Congress officially recognized the Pledge of Allegiance and encouraged its recitation in schools. (see  Pledge for expanded chronology)
Student Rights
December 28, 2018: Cypress Fairbanks ISD settled the case involving India Landry who was expelled (October 2, 2017) after she sat during the Pledge of Allegiance.
According to the student's attorney, the district agreed to inform students of their right to not stand for the daily ritual with parental permission.
Landry's case rested on the landmark 1943 U.S. Supreme Court case West Virginia v. Barnette. Justices ruled that schools could not require students to stand for the Pledge of Allegiance. (SR & Pledge, see February 4, 2019; next Landry, see December 3, 2019)
December 28 Peace Love Art Activism
December 28 Music et al

December 28, 1959 – January 3, 1960: "Why" by Frankie Avalon [age 20] #1 Billboard Hot 100. "Why" is the last #1 of the 1950s. It was Avalon's second and last #1 hit.
Brian Epstein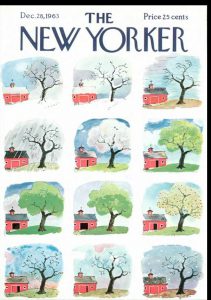 December 28, 1963: The New Yorker magazine published a Brian Epstein interview; regarded as first serious article in U.S. about the Beatles and their manager. (see Dec 29)
Miami Pop Festival 1968
December 28 – 30, 1968: The second Miami Pop Festival of 1968
Procol Harum

The Turtles

The Grass Roots

Three Dog Night

Jose Feliciano

The Blues Image

The Box Tops

Paul Butterfield Blues Band

Hugh Masekela

Pacific Gas and Electric

Fleetwood Mac

Richie Havens

The Sweet Inspirations

Joni Mitchell

Joe Tex

Jr. Walker & The Allstars

The McCoys

Sweetwater

The James Cotton Blues Band

Canned Heat

The Charles Lloyd Quartet

Booker T. & the M.G.'s

Ian & Sylvia

Country Joe and The Fish

Buffy St. Marie

Steppenwolf

The Amboy Dukes

Iron Butterfly

Chuck Berry

Flatt and Scruggs

Grateful Dead

Marvin Gaye
White album #1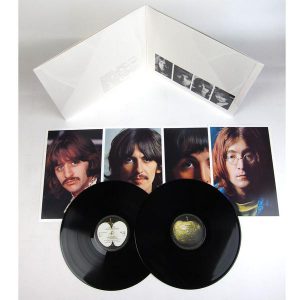 December 28, 1968 – February 7, 1969: The Beatles, commonly known as the White Album, was the Billboard #1 album. (see January 13, 1969)
December 28 Peace Love Art Activism
Vietnam
December 28, 1964: advanced units of Viet Cong who had filtered unnoticed to the area around the strategic hamlet of Binh Gia attacked and overwhelmed the village militia. (see Dec 29)
December 28 Peace Love Art Activism
Environmental Issues
December 28, 1973: President Nixon signed the Endangered Species Act into law. (NYT article) (see December 15, 1976)
December 28 Peace Love Art Activism
FREE SPEECH
December 28, 1974: George Maynard who had hidden the "Live Free or Die" motto on his New Hampshire license plate, was again charged with violating  the license plate statute. (see Free Speech v License Plates for expanded chronology)
December 28 Peace Love Art Activism
CLINTON IMPEACHMENT
December 28, 1997: Monica Lewinsky made her final visit to the White House, according to White House logs, and was signed in by Clinton secretary, Betty Currie. Lewinsky reportedly met privately with Clinton and he allegedly encouraged her to be "evasive" in her answers in the Jones' lawsuit. (see Clinton Impeachment for expanded chronology)
December 28 Peace Love Art Activism
LGBTQ
December 28, 2017: the Oregon Court of Appeals upheld a $135,000 fine against two Christian bakers who refused to make a wedding cake for a same-sex couple.
The case had begun in January 2013, when Aaron and Melissa Klein, owners of the since-closed Sweet Cakes by Melissa bakery just outside Portland, Oregon, cited their religious beliefs when declining to make a wedding cake for Rachel and Laurel Bowman-Cryer.
Following the incident, the Oregon Bureau of Labor and Industries found the Kleins in violation of a 2007 state law that protects the rights of LGBTQ people in employment, housing and public accommodations. In 2015, the couple was ordered to pay the Bowman-Cryers emotional distress damages.
The Kleins appealed the decision in March 2017, arguing the state's Bureau of Labor and Industries violated their rights as artists to free speech, their rights to religious freedom and their rights as defendants to a due process. [Statesman Journal report] (see Dec 29)
December 28 Peace Love Art Activism