January 2 Peace Love Art Activism
Technological Milestone
January 2, 1839: photography pioneer Louis Daguerre took the first photograph of the moon. see March 30, 1842)
January 2 Peace Love Art Activism
US Labor History
Industrial Union Manifesto
January 2, 1905: conference of 23 industrial unionists in Chicago issued an Industrial Union Manifesto calling for an industrial Union Congress to be held in Chicago June 27. (see Mar 20)
AFL v. American Sash & Door Co
January 2, 1949: in AFL v. American Sash & Door Co, the US Supreme Court ruled against the closed shop, a labor-management agreement that only union members could be hired and must remain members to continue on the job. (see Oct 2)
Sago Mine explosion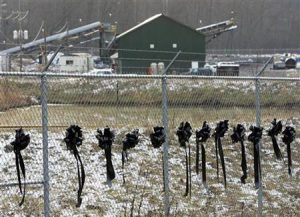 January 2, 2006: an underground explosion at Sago Mine in Tallmansville, W. Va., trapped 12 miners and cut power to the mine. Eleven men died, mostly by asphyxiation. The mine had been cited 273 times for safety violations over the prior 23 months. (NYT editorial) (see May 1)
January 2 Peace Love Art Activism
Feminism
January 2, 1910: from the New York Times: "Miss Alice Paul of Philadelphia, the suffragette who on December 9 was released from Holloway Jail after serving one month's imprisonment for her share in the suffragette demonstration at the Lord Mayor's banquet at the Guildhall, will sail for America some day next week." On November 11, 1909, UK police had arrested Paul for throwing stones through a window at the Guildhall while the Lord Mayor's banquet was in Progress. Inside the hall, Lucy Burns found Winston Churchill, waved a tiny banner in his face, and asked him, "How can you dine here while women are starving in prison?" (next Feminism see In February 1910)
January 2 Peace Love Art Activism
Palmer Raids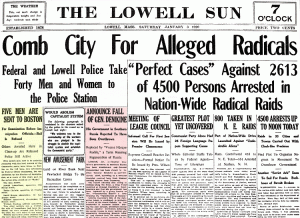 January 2, 1920: over 500 government agents acting on direction of US Attorney General Mitchell Palmer carried out a massive counter-terror operation in 33 US cities, arresting between six and ten thousand aliens suspected of Communism, radicalism and anarchism. The "Palmer Raids" and the detentions and deportation proceedings that followed them were denounced by a number of prominent lawyers and judges who later established the American Civil Liberties Union. (see December 25, 1921)
January 2 Peace Love Art Activism
Black History
Sam Carter lynched
January 2, 1923: a mob of white men kidnapped, tortured, and lynched Sam Carter, a black craftsman from Rosewood, on suspicion that he had helped Jesse Hunter escape. White men continued to terrorize Rosewood searching for Hunter and black residents armed themselves in defense. [Black Past report] (next BH, RR, and Lynching, see Jan 4; see AL3 for expanded chronology of early 20th century lynching)
Willie James Howard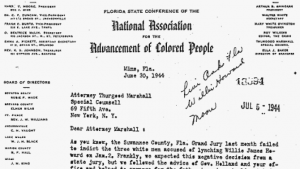 January 2, 1944 15-year-old Willie James Howard, a black boy, was kidnapped and lynched by three white men in Suwannee County, Florida, after being accused of sending a love note to the daughter of one of the men.
During Christmas 1943, Willie Howard sent cards to all of his co-workers at the Van Priest Dime Store in Live Oak, Florida. Unlike the other cards, Willie's card to Cynthia Goff, a white store employee, revealed a youthful crush. His greeting expressed hope that white people would someday like black people and concluded: "I love your name. I love your voice. For a S.H. [sweetheart] you are my choice."
After reading the card, Cynthia's father, Phil Goff, brought two friends to the Howard home and demanded to see Willie. Despite his mother's pleading, the men dragged Willie away, and then kidnapped Willie's father, James Howard, from work. The men drove the two Howards to the embankment of the Suwanee River, bound Willie's hands and feet, stood him at the edge of the water, and told him to either jump or be shot. Willie jumped into the cold water below and drowned while his father was forced to watch at gunpoint. Willie's body was pulled from the river the next day.
Goff and his accomplices admitted to the local sheriff that they took Willie to the river to punish him, but claimed the teen had become hysterical and jumped into the water unprovoked at the thought of being whipped by his father. Fearful for his own life and the other members of his family, James Howard signed a statement supporting Goff's account. He and his family fled Live Oak three days later. [PBS report] (next BH, see Feb 16; next Lynching, see March 26; for expanded chronology of lynching, see also AL4)
MARTIN LUTHER KING, JR
January 2, 1965: the Student Nonviolent Coordinating Committee with the help of Martin Luther King Jr. announced the beginning of a new campaign to help register African-American voters in Selma, Alabama. Dallas County Sheriff Jim Clark did his best to stop that. Over the next two months, more than 2,000 people were arrested for attempting to register or encouraging others to vote. (BH, see Jan 11; MLK, see Jan 18)
January 2 Peace Love Art Activism
Fourth Amendment
January 2, 1952: Rochin v. California. Los Angeles Sheriff's Deputies entered Antonio Rochin's residence without a warrant in early July 1949. Rochin swallowed some pills, and police took him to the emergency room where he was forcibly induced to vomit them up. The pills were morphine and were later used to convict him. The Supreme Court, in Rochin v. California, unanimously overturned his conviction ruling that the methods used to obtain the evidence "shocks the conscience" and violated the due process clause.
The Court: " . . . we are compelled to conclude that the proceedings by which this conviction was obtained do more than offend some fastidious squeamishness or private sentimentalism about combating crime too energetically. This is conduct that shocks the conscience. Illegally breaking into the privacy of the petitioner, the struggle to open his mouth and remove what was there, the forcible extraction of his stomach's contents – this course of proceeding by agents of government to obtain evidence is bound to offend even hardened sensibilities. They are methods too close to the rack and the screw to permit of constitutional differentiation."(see May 23, 1957)
January 2 Peace Love Art Activism
Space Race
January 2, 1959: Luna 1 launched from the Soviet Union towards the moon but misses its target. The Soviets had launched lunar probes in 1958 but not announced to the public or acknowledged. This set a pattern for the Soviet space program: missions were not announced until they could be hailed as successes. (see Mar 3)
January 2 Peace Love Art Activism
JFK announces candidacy 
January 2, 1960, John F Kennedy announced his candidacy for President.
January 2 Peace Love Art Activism
The Cold War 
FREE SPEECH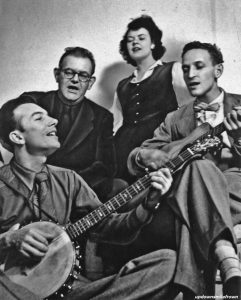 January 2, 1962: the folk singing group, The Weavers, which had been attacked in the 1950s for the leftist political views of its members, was barred from appearing on the late-night Jack Paar Show (predecessor to The Tonight Show) for refusing to sign a loyalty oath.
Other musicians with left-wing histories also had problems appearing on network television in the 1950s and 1960s because of their political views: Pete Seeger (September 14, 1963); Joan Baez (March 20, 1963).
The insidious aspect of all the loyalty oaths of the Cold War era was that they had nothing to do with any specific criminal or unprofessional conduct on the part of individuals required to sign them. (CW, see Feb 10; FS, see June 25, 1963)
SALT II/Nuclear News
January 2, 1980: in a strong reaction to the December 1979 Soviet invasion of Afghanistan, President Jimmy Carter asked the Senate to postpone action on the SALT II nuclear weapons treaty and recalled the U.S. ambassador to Moscow. These actions sent a message that the age of detente and the friendlier diplomatic and economic relations that were established between the US and Soviet Union during President Richard Nixon's administration (1969-74) had ended. (CW, see Jan 26; NN, see March 9, 1981)
January 2 Peace Love Art Activism
January  2 Music et al
19 attend Beatle concert
January 2, 1963: 19 people attend their concert in Dingwall. (see Jan 11)

January 2 – 8, 1965: Elvis Presley's Roustabout soundtrack the Billboard #1 album. (see Aug 27)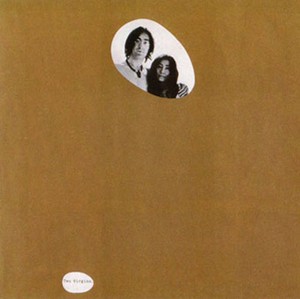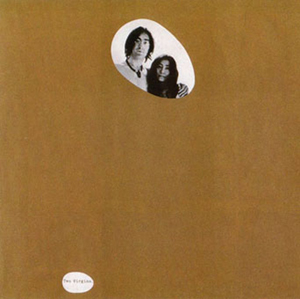 January 2, 1969: police seized 30,000 copies of John Lennon and Yoko Ono's 'Unfinished Music No. 1: Two Virgins' at Newark Airport on the grounds that its cover photograph was deemed pornographic. (read more at John Yoko Two Virgins)
January 2 Peace Love Art Activism
Vietnam
Battle of Ap Bac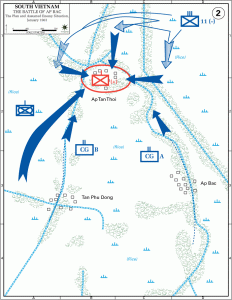 January 2, 1963: Battle of Ap Bac. Against overwhelming odds, the Viet Cong achieved their first major victory. They successfully stopped the well-equipped South Vietnamese army, supported by a combination of artillery and armored units as well as American air power. The Viet Cong lost 18 soldiers killed and 39 wounded, although hit by more than 600 rounds of artillery, napalm and other ordnance released by 13 warplanes and five UH-1 gunships. Three American advisors died. (NYT article) (see Apr 11)
Bucher v. Selective System Local Boards
January 2, 1970: the Third Circuit Court of Appeals ruled in the case of Bucher v. Selective System Local Boards that it was illegal for draft boards to punitively reclassify anti-Vietnam War protesters. The Rev. Henry Hale Bucher and other protesters had turned in their draft cards to protest the Vietnam War, leaving them in violation of Selective System regulations, and they were then punitively reclassified as A-1 Delinquent by their local draft boards, meaning they were top priority for being drafted. The local boards acted according to Memorandum 85, issued by the Director of the Selective Service System on October 24, 1967.
The Court of Appeals ruled that the punitive reclassification constituted "summary punishment," in violation of the constitutional guarantees of due process in the Fifth and Sixth Amendments (trial by jury, assistance of counsel, etc.), and that the delinquency procedures used against the plaintiffs were not authorized by the 1967 Military Selective Service Act. (see Feb 9)
January 2 Peace Love Art Activism
Consumer Protection
Cigarette advertising ban
January 2, 1971: a federal ban on T.V. cigarette ads went into effect.(see October 28, 1974)
Vaping sales limited
January 2, 2019: federal officials said they would forbid the sale of most flavored e-cigarette cartridges, but would exempt menthol and tobacco flavors, as well as flavored liquid nicotine sold in open tank systems at vape shops.
The policy reflected a partial victory for vaping industry groups, but also seemed aimed at appeasing parents (including the crucial voting bloc of suburban mothers) and public health officials worried about nicotine addiction among teenagers. [NYT article]
January 2 Peace Love Art Activism
Symbionese Liberation Army
January 2, 1975: there was no news of Patty Hearst as the date for the final ransom payment of $2 million passed. (see Hearst for expanded chronology)
January 2 Peace Love Art Activism