Kidnapped Patty Hearst Captured
September 18, 1975
May 17, 1974
Gun battle between SLA and LA SWAT
Kidnapped Patty Hearst Captured
The 60s in the 70s
It is an easy error to draw a line in history between December 31, 1969 and January 1, 1970 as if that line actually meant something.
We talk abut the tumultuous 60s with its new music, its drug culture, the Baby Boomers growing up, the Vietnam War, and all the other cultural changes as if they were limited to that decade alone.
It is important to keep in mind that some Boomers had not yet turned 13 by 1970, that the new music of the 60s continued into the 70s, the same with drugs, and the American departure from Vietnam was not until April 29, 1975 with its helicopter evacuation from the roof of the American Embassy. And the deaths of Charles McMahon and Darwin Lee Judge the last two American soldiers to die in Vietnam.
Kidnapped Patty Hearst Captured
Birth of an Army
The Symbionese Liberation Army's story is a long one as is Patty Hearst's role in it. This blog entry will simply give an overview of both. Donald DeFreeze is the person associated with the radical group's start.
DeFreeze was a member of Black Cultural Association, a California prison group. It was an inmate self-help group which gradually became more political. Donald DeFreeze, serving a sentence for armed robbery, formed a splinter group, Unisight. Unisight became the basis for the S.L.A.
On March 5, 1973 he escaped from Soledad State Prison. Or, authorities turned a blind eye. That is where the SLA's story begins: with controversy and conspiracy.
DeFreeze, or General Field Marshal Cinque as he renamed himself, had been a police informant from 1967 to 1969 for the Public Disorder Intelligence Unit of the Los Angeles Police Dept. Some suggest that the SLA was a front and that DeFreeze was an FBI informant.
In any case, four months after his escape a group of Berkeley-area activists announced the organization of a revolutionary group, the Symbionese Liberation Army. It hoped to spark a revolt in Black America. Their goals included closing prisons, ending monogamy, and destroying "all other institutions that have made and sustained capitalism."
Kidnapped Patty Hearst Captured
Actions of an Army
On November 6, 1973: the SLA ambushed and murdered black Oakland school superintendent Marcus Foster and seriously wound his deputy, Robert Blackburn.
On February 4, 1974, the SLA kidnapped newspaper heiress Patty Hearst. She was a 19-year-old Berkeley student. Three SLA members forced their way into her apartment, beat her fiancé Steven Weed, and abducted her.
Eight days later the SLA delivered a recording to KPFA radio. On it, Hearst told her parents that she was okay. DeFreeze made a demand for food to be distributed to poor people in the area and throughout the country. Hearst's father Randolph announced the creation of PIN, the People In Need group that would feed the poor with $2 million. DeFreeze demanded the amount be $6 million.
February 22, 1974 was the first day of food distribution. Poor organization resulted in a riot. for People in Need ends in riots. Randolph Hearst stated that $6 million was beyond his capabilities. His representative offered to pay $2 million upon the immediate release of his daughter and an additional $2 million in January 1975.
California governor Ronald Reagan had predicted that no one would take the food from PIN. He then accused the thousands of poor people who lined up "aiding and abetting lawlessness."
Other PIN distributions occurred over the next month.
Kidnapped Patty Hearst Captured
Hearst joins the SLA
On April 3, 59 days after the kidnapping, Patty Hearst denounced her family and claimed allegiance to the S.L.A. She took the guerrilla name "Tania." Her family claimed she has been brainwashed.
On April 15 Hearst and four SLA members hold up the bank at gunpoint. They get away with $10,000. Hearst will later claim she was forced to do so.
On April 24 Patty states she fully participated in the bank robbery and at no time did her comrades have a gun pointed at her. She referred to her family as the "pig Hearsts" and to her fiance Steven Weed "an ageist, sexist pig."
On May 16 authorities caught two SLA members, Emily and Bill Harris shoplifting in a sporting goods store. When a scuffle between the store clerk and Bill Harris began, Patty Hearst, who had been sitting alone in a Volkswagen, shot 27 .30-caliber bullets into the storefront before the trio made a getaway.
The next day the Los Angeles Police Department found S.L.A. members Donald DeFreeze, Willie Wolfe, Patricia Soltysik, Camilla Hall, Angela Atwood, and Nancy Ling Perry Compton The S.L.A. made use of its sizable arsenal in a televised gun battle with L.A.P.D. SWAT teams. Police set the house on fire with gas canisters. all six S.L.A. members died in the fire.
The Harrises and Hearst had watched the shootout from their hotel room near Disneyland.
On June 7 Hearst released a tape in which she continued to state her support and membership in the SLA.
Kidnapped Patty Hearst Captured
Cross-country run
Emily and Bill Harris took over the leadership of the SLA after the shootout. Jack Scott, a writer hoping to do a book on the SLA, helped them find a hideout first in New York City and then in rural Jeffersonville, NY–only eight miles from the site of the Woodstock Music and Art Fair in 1969.
Hearst and company went undetected during their time there.  Locals assumed that they were simply summer residents.
From a 2010 Times Herald-Record article:
It was only after Hearst revealed that she stayed in Jeffersonville that lots of folks recalled seeing her. Jesse Abel, who ran the Jeff Pharmacy, says he saw her eating breakfast every morning at a booth in the diner part of his drug store.
Dick Herbert says he saw her getting a blue Corvair fixed at his Auto Sales shop.
And Jim Hammet of Jim's Barber Shop remembers seeing Hearst and her pal, Wendy Yoshimura, walking around town.
Kidnapped Patty Hearst Captured
September 18, 1975
Hearst and company returned to California again with the help of Jack Scott.
In Carmichael, California, a botched bank robbery occurred–though Hearst was not with Kathleen Soliah,  James Kilgore, Emily Harris and Michael Bortin when there holdup occurred. A woman was killed and a pregnant woman kicked. [2001 SF Gate article]
The FBI finally succeeded when on n September 18, 1975 authorities arrested Patty Hearst, Bill and Emily Harris and Wendy Yoshimura in San Francisco. When asked for her occupation while being booked, Hearst saaid, "urban guerrilla."
Kidnapped Patty Hearst Captured
Convict Patty Hearst
On March 11, 1976 a jury found Patty Hearst, represented by well-known defense attorney F. Lee Bailey, guilty of armed bank robbery.
On September 24 a judge sentenced her to seven years in prison. She served 22 months before President Jimmy Carter commuted her sentence.
Bill and Emily Harris pleaded guilty to kidnapping Patty Hearst. They served eight years in prison. It was the end of the S.L.A. and its short-lived, dangerous revolutionary dream.
Kidnapped Patty Hearst Captured
1999
On  June 16, 1999 St Paul, Minnesota authorities arrested  Kathleen Ann Soliah.  Soliah, who had changed her name to  Sara Jane Olsen, had evaded authorities for more than 20 years. Patty had fingered Soliah in the Carmichael robbery.
In 1976, an LA grand jury had indicted Soliah for placing a bomb in a police vehicle. The bomb had not exploded. Soliah had gone on the run and eventually settled with her husband, a doctor, and three children in St. Paul, Minnesota, where she continued to advocate for various causes under the assumed name Sara Jane Olsen.
Kidnapped Patty Hearst Captured
2001
On his last day in office, January 20, 2001, President Bill Clinton issued a presidential pardon to Patty Hearst
Kidnapped Patty Hearst Captured
2002
In 2002, as part of a plea bargain, Sara Jane Olsen pleaded guilty to two counts of planting bombs and sentenced to five years and four months in jail. The Board of Prison Terms then changed her sentence to 14 years.
Kidnapped Patty Hearst Captured
2004
In 2004, a judge threw out the adjusted 14-year term, saying the board "abused its discretion" in changing the sentence.
Kidnapped Patty Hearst Captured
2009
California released Sara Jane Olsen from prison in March 2009.
Kidnapped Patty Hearst Captured
Dog breeder
Patty Hearst's dog, a Shih Tzu called Rocket, was a winner at the Westminster Kennel Club dog show in New York. The show is America's second-oldest sporting event after the Kentucky Derby.
Patty now prefers to be called Patricia and is Patricia Hearst-Shaw. Judges selected Rocket as the top toy dog at Madison Square Garden.
And on February 13, 2017 her dogs were a double winner at the Westminster Dog show in NYC when her French bulldogs won best of breed and best of opposite sex. The NY Times described the wins as "uncommon, bifenthe number of French bulldog entries."
Kidnapped Patty Hearst Captured
Donald "Cinque" DeFreeze
DeFreeze is buried in Highland Park Cemetery, Highland Hills, Ohio. Plot: Section 17, Marker 219.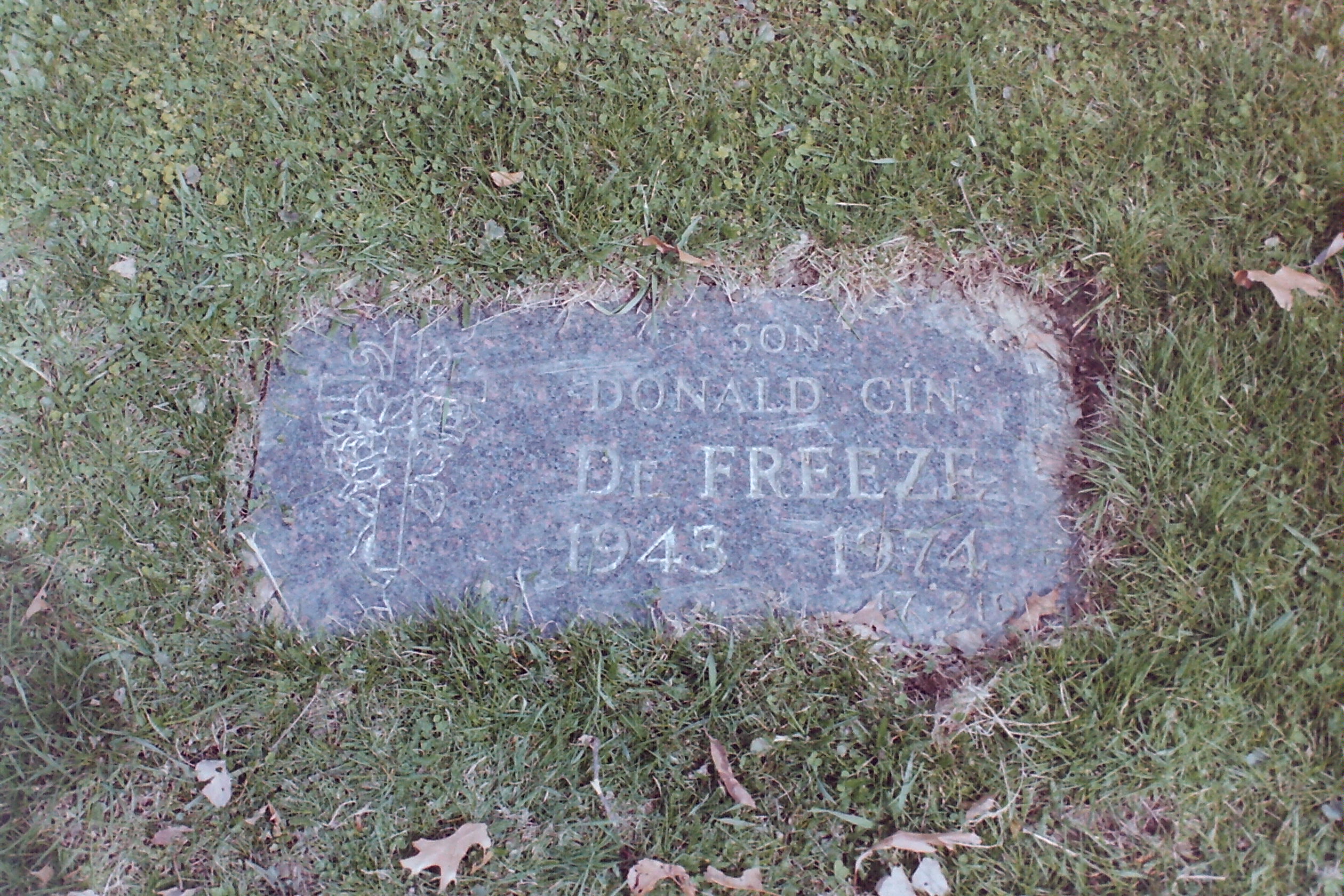 Kidnapped Patty Hearst Captured