1955 Daughters Bilitis LGBTQ
from Claude Debussy,  "Trois Chansons de Bilitis"
founded September 21, 1955
Deep history
On Museum tours at the Bethel Woods Center for the Arts I try to emphasize to guests that the many movements  we associate the 60s with were not new. What was historic was the chronological convergence of so many movements.
And so it is with the gay rights movement. Most people think of the so-called Stonewall Riots in July 1969 as the beginning of LGBTQ activism. It certainly is an important milepost, but not the beginning.
Like any view contrary to the status quo's view, the idea that homosexuality is a normal human trait, not an illness, not an immoral lifestyle, has deeper roots than 1969. And as progressive-appearing as the following chronology is, keep in mind that there were far more homophobic  incidents and politically- biased initiatives than positive during the time period.
1955 Daughters Bilitis LGBTQ
San Francisco
And in San Francisco on September 21, 1955 the Daughters of Bilitis became the first lesbian rights organization in the US.
1955 Daughters Bilitis LGBTQ
Pierre Louÿs
The name for the group came from an 1894 collection of  lesbian-themed poems, Les Chansons de Bilitis, Pierre Louÿs. He said  the poems were his interpretation of poems that the ancient Greek poet Sappho wrote. Louÿs wrote that Sappho had found the poems on a wall and that a woman Bilitis wrote them. Louÿs was actually the original author.
1955 Daughters Bilitis LGBTQ
The DOB
Del Martin and Phyllis Lyon were two of the founders. They simply wanted to dance together. That was against the law in 1955. One of Daughters of Bilitis's primary purposes was to host social functions and to provide alternatives to the frequently-raided lesbian bars and clubs.
Though small in membership, the DOB had chapters across the US.
As with any organization that society views as made up of perverted or sick individuals, those members differed in their views as to how to react. Should there even be a reaction? Would any reaction simply bring more attention and more discrimination? Should a reaction be as strong as society's actions?
Gradually the DOB became as much a political as social organization.
1955 Daughters Bilitis LGBTQ
The Ladder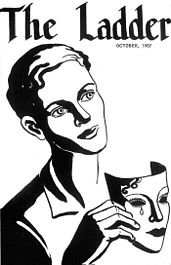 In October 1956 DOB published the first issue of The Ladder.  Lyon edited it initially under the pen name Ann Ferguson. The Ladder published until  1972.  Barbara Grier and the DOB president Rita LaPorte both felt a  stronger lesbian feminist stance was needed. Should the DOB align itself with male gay rights groups? And by 1972, the feminist movement was seen by many as equally if not more important.
1955 Daughters Bilitis LGBTQ
Short-lived 
1955 Daughters Bilitis LGBTQ