February 10 Peace Love Art Activism
February 10 Peace Love Art Activism
US Labor History
Akron rubber strike
February 10, 1914: rubber workers belonging to the Industrial Workers of the World went on strike in Akron, Ohio. The rubber companies broke the strike through heavy-handed tactics, including the organization of a Citizens' Police Association, comprising 1,000 vigilantes, and institution of martial law. (see Feb 13)
Carpenters shot and killed
February 10, 1963:  eleven members of the Carpenters' union in Reesor Siding, Northern Ontario are shot, three fatally, by independent local farmer-settlers who were supplying wood to a Spruce Falls Power and Paper Co. plant. Some 400 union members were attempting to block an outbound shipment from the plant. The action came as the company was insisting on a pay freeze and two months of seven-day-a-week work. (see Apr 1)
Staten Island gas explosion
February 10, 1973: a storage tank filled with liquefied gas on Staten Island, NY exploded and killed forty workers. (NYT article) (see May 30)
United Farm Workers
February 10, 1979: 22 days into a bitter vegetable strike, United Farm Workers member, Rufino Contreras, 28, and half a dozen fellow strikers walked into an Imperial Valley lettuce field owned by Mario Saikhon to talk with a crew of imported scabs. Three armed company foremen opened up with a vicious crossfire. Rufino fell face down in a muddy row, shot in the face. His father Lorenzo, brother Jose Luis, and other Saikhon strikers tried to aid Rufino, but they were kept away for more than an hour by continuing gunfire from the foremen. Finally, sheriff's deputies arrived and called an ambulance. Rufino died in the hospital. in Imperial Valley; moratorium called for 25 days on strike (see Mar 8)
Feminism
Voting Rights
February 10, 1919: U.S. Senate defeated federal woman suffrage amendment by one vote, 33 nays to 63 yeas. (see Feb 15)
The Red Scare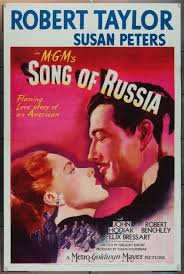 February 10, 1944: the MGM movies released Song of Russia. The plot of the fictional movie is an account of an American Conductor John Meredith (Robert Taylor) and his manager, Hank Higgins (Robert Benchley). They go to Russia shortly before the Nazi invasion of the Soviet Union. Meredith falls in love with beautiful Soviet pianist Nadya Stepanova (Susan Peters). They travel throughout the country on a 40-city tour. Along the way, they see happy, healthy, smiling, free Soviet citizens, blissfully living the Communist dream. This bliss is destroyed by the German invasion. (Song of Russia, see October 20, 1947)
Religion and Public Education
In 1945: in the postwar era, Americans flock to church in record numbers, swelling the growth of traditional denominations — Methodists, Baptists, Disciples of Christ, Lutherans and Presbyterians. Church building booms; Bible sales skyrocket. Amid the prosperity, the United States and the Soviet Union face off in the Cold War, a spiritual struggle that pits Christian America against "godless communism." (Religion, see July 1945; CW, see Feb 4)
James B. Donovan
February 10, 1962:  after James B. Donovan negotiated the exchange, U2 pilot Gary Powers and  American student Frederic Pryor were exchanged for Soviet KGB Colonel Vilyam Fisher, who had been jailed as a Soviety spy. Ironically, Donovan had been Fisher's defense lawyer. (see Feb 16)
February 10 Peace Love Art Activism
Religion and Public Education
February 10, 1947:  the US Supreme Court ruled in the case of Everson v. Board of Education, Township of Ewing that New Jersey's law subsidizing the transportation of students to Catholic schools on public buses was not a violation of the establishment clause. The Court argued that transportation, like police and fire protection, appropriately advances the public welfare, and that the child, not the religious school, was the primary beneficiary of the aid. Therefore the state's practice does not violate the First Amendment. (see June 2)
February 10 Peace Love Art Activism
BLACK HISTORY
Montgomery Bus Boycott
February 10, 1956; eleven thousand people attending a Citizens' Council rally in Montgomery cheer Mayor Gayle and Police Commissioner Sellers for their support of segregation on Montgomery buses. (see MBB for expanded chronology)
Civil Rights Bill of 1964
February 10, 1964: the House of Representatives passed the Civil Rights Bill of 1964 by a vote of 290 to 130. (see Feb 15)
Nelson Mandela
February 10, 1985: South Africa's president, P. W. Botha, offered to free Mr. Mandela if he renounced violence. Mr. Mandela refuses, saying the government must first dismantle apartheid. (SA/A, see Mar 21; Mandela, see December 7, 1988)
Michael Griffith murder
February 10, 1987: authorities charged the three white teen-agers from Queens (Jon Lester, Scott Kern and Jason Ladone) with murder and charged nine others  with lesser crimes in the second attempt by authorities to identify and prosecute participants in the Howard Beach racial attack of Michael Griffith and others.
Their original indictments had been dismissed after the witnesses refused to cooperate in the case. (BH, see Feb 20; Howard Beach, see Dec 21)
Ron Brown


February 10, 1989: Ron Brown elected chairman of the Democratic National Committee, becoming the first African American to lead a major US political party. (see July 31)
Barack Obama
February 10, 2007:Barack Obama declared his candidacy for President.
Stop and Frisk Policy
February 10, 2012: Brooklyn area state legislators introduced legislation that would establish an NYPD independent inspector general position. The call for such a move came from NYPD surveillance of the Muslim community and stop-and-frisk. (NYCLU report 2002 – 2016 that points out that nine out of 10 stopped and frisked New Yorkers had been found completely innocent) (see Feb 14)
Lynching in America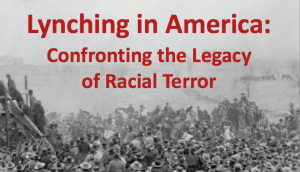 February 10, 2015: The Equal Justice Initiative (EJI) released Lynching in America: Confronting the Legacy of Racial Terror, which documented EJI's multi-year investigation into lynching in twelve Southern states during the period between Reconstruction and World War II. EJI researchers documented 3959 racial terror lynchings of African Americans in Alabama, Arkansas, Florida, Georgia, Kentucky, Louisiana, Mississippi, North Carolina, South Carolina, Tennessee, Texas, and Virginia between 1877 and 1950 – at least 700 more lynchings of black people in those states than previously reported in the most comprehensive work done on lynching to date. (EJI pdf of report) (see Mar 3)
February 10 Peace Love Art Activism
February 10 Music et al
Breakfast at Tiffany's
February 10 – April 6, 1962: soundtrack from Breakfast at Tiffany's is the Billboard #1 stereo album.
The Beatles
February 10, 1967: Beatles finished the recording of 'A Day In The Life' with one of the most famous chords in rock music. The Beatles had originally recorded an ending of their voices humming the chord, but even after multiple overdubs, it wasn't what they wanted.
To achieve the sound they wanted, all four Beatles and their road manager, Mal Evans, played an E Major chord on 3 separate pianos. They let the chord ring out for as long as possible while producer George Martin had to keep turning up the volume of the mics to capture the sound. If you listen closely on a good stereo, you can hear the sound of studio noises at the end. (see March 18 – 24)
Love Is Blue
February 10 – March 15, 1968: "Love Is Blue" by Paul Mauriat #1 on the Billboard Hot 100. The first instrumental to hit number 1 on the Billboard charts since the Tornados hit with "Telstar" in 1962 and the only American number-one single to be recorded in France.
John Lennon
February 10, 1986: release of Live in New York City, John Lennon's last full-length concert performance. (see January 20, 1988)
Road to Woodstock
February 10, 1969: Michael Lang and Artie Kornfeld met with John Roberts and Joel Rosenman the second time. The idea of a concert to promote the proposed recording studio was discussed. (see Road for expanded story)
February 10 Peace Love Art Activism
Vietnam
Qui Nhon
February 10, 1965: Viet Cong guerrillas blew up the U.S. barracks at Qui Nhon, 75 miles east of Pleiku on the central coast, with a 100-pound explosive charge under the building. The blast killed 23 U.S. personnel and two Viet Cong. In response to the attack, President Lyndon B. Johnson ordered a retaliatory air strike operation on North Vietnam called Flaming Dart II. (see Feb 13)
DRAFT CARD BURNING
February 10, 1966: David Miller was convicted of burning his draft card. (also see David Miller) (Vietnam, see Mar 5 – Apr 8; DCB, see Mar 31)
Nuclear Option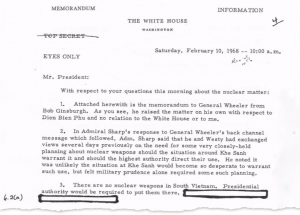 February 10, 1968:   General Westmoreland had activated a secret operation, code-named Fracture Jaw, that included moving nuclear weapons into South Vietnam so that they could be used on short notice against North Vietnamese troops.
On this date, President Lyndon B. Johnson forcefully overruled the activation.
According to Tom Johnson, then a young special assistant to the president and note-taker at the meetings on the issue,  "When he learned that the planning had been set in motion, he was extraordinarily upset and forcefully sent word through Rostow [Walt W. Rostow, the White House national security adviser], …to Westmoreland, to shut it down," Johnson said in an interview.
Johnson said the president's fear was "a wider war" in which the Chinese would enter the fray, as they had in Korea in 1950.  (see Feb 13)
February 10 Peace Love Art Activism
Consumer Protection
Unsafe at Any Speed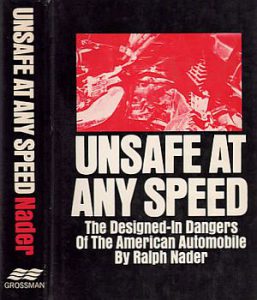 February 10, 1966: Ralph Nader, a young lawyer and the author of the groundbreaking book "Unsafe at Any Speed: The Designed-In Dangers of the American Automobile," testified before Congress for the first time about unsafe practices in the auto industry. By the mid-1960s, U.S. automakers were still largely unregulated. Nader's book, which was published in November 1965, accused car companies of designing vehicles with an emphasis on style and power at the expense of consumer safety. One chapter of "Unsafe at Any Speed" focused on handling problems with the Chevrolet Corvair, a car produced by auto giant General Motors (GM).
Shortly after Nader's congressional testimony, the news media reported that Nader had been followed by detectives. It was later determined that starting in early February 1966, GM sent investigators to spy on Nader and look into his personal life in an effort to discredit him. Nader sued GM for harassment and invasion of privacy and won a settlement. The publicity surrounding GM's actions helped make "Unsafe at Any Speed" a best-seller and turn Ralph Nader a household name. (NYT 50th anniversary article) (see June 24)
February 10 Peace Love Art Activism
25th Amendment
February 10, 1967: the 25th Amendment to the United States Constitution (presidential succession and disability) ratified.
February 10 Peace Love Art Activism
CLINTON IMPEACHMENT
February 10, 1998: Monica Lewinsky's mother, Marcia Lewis, appeared before the grand jury. Ken Starr and his investigators suspect Lewis was aware of her daughter's alleged affair with President Bill Clinton. (see Clinton for expanded story)
February 10 Peace Love Art Activism
LGBTQ
Maine
February 10, 1998: voters in Maine repealed a gay rights law passed in 1997 (see April 1, 1998)
SAGE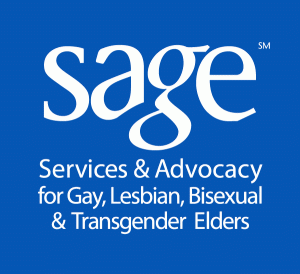 February 10, 2010: Department of Health and Human Services Secretary Kathleen Sebelius announced an award totaling $900,000 over three years to Services and Advocacy for GLBT Elders (SAGE) to establish the nation's first national resource center to assist communities across the country in their efforts to provide services and supports for older lesbian, gay, bisexual and transgender (LGBTQ) individuals. "The Resource Center will provide information, assistance and resources for both mainstream aging organizations and LGBTQ organizations and will provide assistance to LGBTQ individuals as they plan for future long-term care needs," said Secretary Sebelius. (SAGE site) (see Mar 3)
February 10 Peace Love Art Activism
IRAQ
February 10, 2003: Iraq agreed to allow U-2 surveillance flights over its territory, meeting a key demand by U.N. inspectors searching for banned weapons; President George W. Bush brushed aside Iraqi concessions as too little, too late. (see Mar 17)
February 10 Peace Love Art Activism
Nuclear/Chemical Weapons News
February 10, 2005:  North Korea announced that it possessed nuclear weapons as a protection against the hostility it feels from the US. (Washington Post article) (see March 21,  2008)
February 10 Peace Love Art Activism
Native Americans
February 10, 2014: Senator Maria Cantwell, Democrat of Washington State and chairwoman of the Indian Affairs Committee, and Representative Tom Cole, Republican of Oklahoma and a member of the Native American Caucus sent a strongly worded letter to Roger Goodell, the commissioner of the National Football League, urging him to support changing the name of the Washington Redskins because it offended Native Americans and others, with Cantwell saying she might reconsider the league's tax-exempt status if it does not comply.
Cantwell said in an interview that lawmakers would "definitely" examine the N.F.L.'s tax-exempt status and other ways to pressure the league. "You're getting a tax break for educational purposes, but you're still embracing a name that people see as a slur and encouraging it." (see May 27)
February 10 Peace Love Art Activism
Please follow and like us: