June 3 Peace Love Art Activism
Feminism
International Ladies Garment Workers Union
June 3, 1900: The International Ladies Garment Workers Union formed  by eleven delegates representing local unions from the major garment centers in New York City, Philadelphia, Baltimore, and Newark. These local unions' memberships numbered about two thousand workers and were comprised primarily of Jewish immigrants, many of them socialist, who had recently arrived in the US from Eastern Europe. Many had been active trade unionists before coming to America, and in some instances, had participated in or organized unions upon arrival. [Cornell article] (see December 5, 1902)
June 3 Peace Love Art Activism
US Labor History
Oliver Iron Mining Company strike
June 3, 1916: forty miners at the Oliver Iron Mining Company on the Mesabi Iron Range in northern Minnesota walk off the job. The strike was marked by violence and repression. The civil liberties of strikers were violated, mine guards and police used force to intimidate strikers, union leaders were jailed, and the company refused to negotiate with the workers. The strike ended in mid-September when the workers won some of their demands. (see Sept 1)
Hammer v. Dagenhart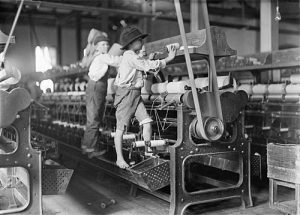 June 3, 1918: the US Supreme Court ruled that the first federal child labor law, the Keating-Owen Child Labor Act, was unconstitutional, falling outside the scope of Congressional authority under the Commerce Clause.  [Oyez article] (Child Labor, February 24, 1919)
Worker revolution
1919 – 1921: the First Red Scare: In 1971, Murray Levin in his book,  Political Hysteria in America: The Democratic Capacity for Repression wrote that the "Red Scare" was "a nation-wide anti-radical hysteria provoked by a mounting fear and anxiety that a Bolshevik revolution in America was imminent—a revolution that would change Church, home, marriage, civility, and the American way of Life."  (LH, see Jan 21)
Corning Glass Works v. Brennan
June 3, 1974: the U.S. Supreme Court ruled that employers cannot justify paying women lower wages because that is what they traditionally received under the "going market rate." A wage differential occurring "simply because men would not work at the low rates paid women" is unacceptable. [Oyez article] (see Sept 2)
June 3 Peace Love Art Activism
BLACK HISTORY
Marcus Garvey
June 3, 1918: the FBI learns via a written report that Garvey spoke nightly at outdoor meetings on a Harlem street corner. (BH, see July 26;  see MG for expanded story)
"Jump Jim Crow"
June 3, 1933: minstrel show creator Thomas Dartmouth "Daddy" Rice introduced the song, "Jump Jim Crow." The term "Jim Crow" came to describe racial discrimination against African Americans. (next BH, see Oct 18)
Morgan v. Commonwealth of Virginia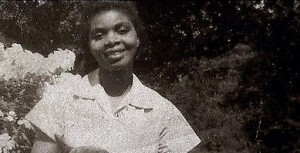 June 3, 1946:  in a 6 – 1 decision, the U.S Supreme Court found in favor of Irene Morgan, calling segregated seating on interstate buses an "impermissible burden on interstate commerce." [Justia article] (BH, see July 25. 1947; Morgan v…, see November 25, 1955; Irene Morgan, see January 8,  2001)
George Whitmore, Jr.
June 3, 1965: DA Aaron Koota argued before George J. Beldock, presiding justice of the Appellate Division of the Supreme Court, that Justice Vincent Damiani had no authority to exert control over the prosecution calendar. Beldock directed Damiani to explain more fully why Whitmore should not be tried first for the Borrero case. (see GWJ for expanded story)
Medgar Evers assassination
June 3, 1991: the Tennessee Court of Criminal Appeals ruled that Byron de la Beckwith must be returned to Mississippi to stand trial a third time in the 1963 slaying of the civil rights leader Medgar Evers (see Evers for expanded chronology; next BH, see June 5)
Trayvon Martin
June 3, 2012: George Zimmerman turned himself in to the authorities in Sanford, FL. (see February 5, 2013)
Muhammad Ali
June 3, 2016: Muhammad Ali, three-time world heavyweight boxing champion  and helped define his turbulent times as the most charismatic and controversial sports figure of the 20th century, died. He was 74.  [Guardian obit w video] (see Ali for expanded story; BH, see June 21)
Colin Kaepernick
June 3, 2020: New Orleans Saints quarterback Drew Brees said in an interview that he would never agree with N.F.L. players who knelt during the national anthem to protest police brutality, and he was immediately condemned. (next BH & CK, see June 4)
June 3 Peace Love Art Activism
Pledge of Allegiance
Minersville School District v. Gobitis
June 3, 1940: case involving the religious rights of public school students under the First Amendment to the US Constitution. The Court ruled that public schools could compel students—in this case, Jehovah's Witnesses—to salute the American Flag and recite the Pledge of Allegiance despite the students' religious objections to these practices. [Oyez article] (see Pledge for expanded story; Supreme Court, see June 14, 1943)
June 3 Peace Love Art Activism
Fear of Rock
June 3, 1956: Santa Cruz city authorities announced a total ban on rock and roll at public gatherings, calling the music "Detrimental to both the health and morals of our youth and community."
It was a dance party the previous evening that led to the ban. Some 200 teenagers had packed the Santa Cruz Civic Auditorium on a Saturday night to dance to the music of Chuck Higgins and his Orchestra, a Los Angeles group with a regional hit record called "Pachuko Hop." Santa Cruz police entered the auditorium just past midnight to check on the event, and what they found, according to Lieutenant Richard Overton, was a crowd "engaged in suggestive, stimulating and tantalizing motions induced by the provocative rhythms of an all-negro band." Lt. Overton shut down the dance. (see July 1)
Howl and Other Poems
June 3, 1957: police arrested and jailed Shig Murao, manager of the City Lights Bookstore in San Francisco for selling Howl and Other Poems to an undercover San Francisco police officer. City Lights publisher Lawrence Ferlinghetti was subsequently booked for publishing the book. (BG, see September 5, 1957; FS, see June 17; Howl, see Oct 3)
Grateful Dead
June 3, 1966:  the first appearance by the Grateful Dead at the Fillmore Auditorium. Along with the Dead, the Quicksilver Messenger Service who got top billing on the poster, and the Mothers joined. Created by the legendary rock artist Wes Wilson , the poster's central image is a fairly simple one of a mushroom shape surrounded by circles. (see June 10 – 11)
Aretha Franklin
June 3 – 30, 1967: "Respect" by Aretha Franklin #1 on the Billboard Hot 100. (see Respect for expanded story)
The Road to Bethel and the Woodstock Festival
June 3, 1969: Michael Lang met Wes Pomeroy to discussed Pomeroy's attitude toward security. Pomeroy explained that the attendees must feel that there is no threat from security. Lang agreed. (see Chronology for expanded story)
June 3 Peace Love Art Activism
Clarence Earl Gideon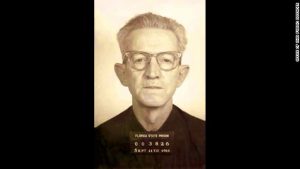 June 3, 1961: someone stole $5 in change and a few bottles of beer and soda from Ira Strickland, Jr's Bay Harbor Pool Room. Henry Cook, a 22-year-old resident who lived nearby, told the police that he had seen Clarence Earl Gideon walk out of the hall with a bottle of wine and his pockets filled with coins, get into a cab, and leave. Police arrested Gideon in a nearby tavern. (see Gideon for expanded story)
June 3 Peace Love Art Activism
Space Race
June 3 – 7, 1965: on Gemini 4, Edward White II, exited his vehicle and performed the first American space walk. [Time article] (see June 28)
June 3 Peace Love Art Activism
FREE SPEECH
Pickering v. Board of Education
June 3, 1968: the case involved a Township High School teacher who the Board of Education dismissed after he wrote a critical letter to a local newspaper regarding how the Township Board of Education and the district superintendent had handled past proposals to raise new revenue for the schools. He claimed that his writing the letter was protected by the First and Fourteenth Amendments. The Board rejected that claim.  He appealed the Board's action to the Circuit Court of Will County and then to the Supreme Court of Illinois, which both affirmed his dismissal.
The Supreme Court of the United States agreed the teacher's First Amendment right to free speech were violated and reversed the decision of the Illinois Supreme Court. [Oyez article] (see Nov 1)
June 3 Peace Love Art Activism
Watergate Scandal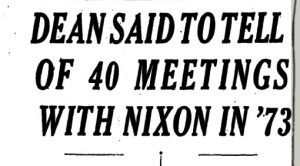 June 3, 1973: John Dean told Watergate investigators that he discussed the Watergate cover-up with President Nixon at least 35 times, The Washington Post reported. (see Watergate for expanded story)
June 3 Peace Love Art Activism
Iran
June 3, 1989: the Ayatollah Khomeini died in Iran. (NYT obit)
June 3 Peace Love Art Activism
Dissolution of Yugoslavia
June 3, 1999: Yugoslav President Slobodan Milosevic accepted a peace plan for Kosovo designed to end mass expulsions of ethnic Albanians and 11 weeks of NATO airstrikes. [CNN article] (see  Dissolution for expanded story)
June 3 Peace Love Art Activism
LGBTQ
New Hampshire
June 3, 2009: NH governor John Lynch signed legislation allowing same-sex marriage. The law stipulated that religious organizations and their employees will not be required to participate in the ceremonies. New Hampshire was the sixth state in the nation to allow same-sex marriage. [NBC News story] (see June 17, 2009)
June 3 Peace Love Art Activism
Jack Kevorkian
June 3, 2011: died after being hospitalized with kidney problems and pneumonia eight days earlier. (NYT obit) (see JK for expanded story; Assisted Suicide, see March 29, 2018)
June 3 Peace Love Art Activism