July 17 Music et al
Herb Albert
June 17 – 23, 1967: Herb Albert's Sounds Like… is the Billboard #1 album.
July 17 Music et al
John Coltrane
July 17, 1967, Jazz saxophonist and composer John Coltrane died at age 40.
July 17 Music et al
Joint Show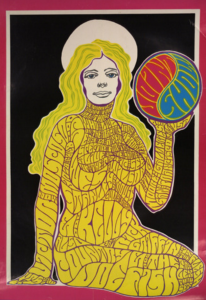 July 17, 1967: the Joint Show opened in the Moore Gallery in San Francisco. It was the first art show to celebrate Psychedelic rock concert poster artists and their work. The show showcased the "BIG FIVE" rock artists of the times: Rick Griffin, Alton Kelley, Victor Moscoso, Stanley Mouse, and Wes Wilson. Each of the five artists created a poster exclusively for the show, which was also made available for purchase. The show helped to create an acceptance of rock concert poster art in the larger art world and the museum community, and led to more gallery shows and the inclusion of these types of works into museum collections. (Exhibition opening photos from AAA dot SI dot EDU) (see Sept 23)
July 17 Music et al
Jimi Hendrix
July 17, 1967: one of the oddest musical pairings ended when Jimi Hendrix dropped out as the opening act for The Monkees. Mike Jeffery, Hendrix's manager had made the booking. Jeffery was seeking greater public exposure for a young client who was a budding star in the UK, but a near-unknown in his native United States.
It was in the UK, in fact, that Monkee Mike Nesmith first heard a tape of Hendrix playing while at a dinner party with John Lennon, Paul McCartney and Eric Clapton. Nesmith and his fellow Monkees Peter Tork and Mickey Dolenz became instant Hendrix fans, and after witnessing his legendary performance at the Monterey Pop Festival in June 1967, they encouraged their own manager to invite the little-known but highly respected Jimi Hendrix Experience to join their upcoming U.S. tour. (see Hendrix/Monkees for expanded story; next Hendrix, see Aug 23)
July 17 Music et al
Yellow Submarine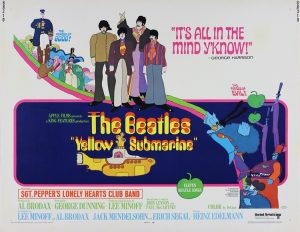 July 17, 1968: The Beatles movie, Yellow Submarine, released in the UK (Roger Ebert review 1968)(see Aug 8)
July 17 Music et al
Road to Bethel
July 17, 1969: although initially expressing disinterest in renting land for the festival, Max Yasgur agreed to meet with Woodstock Ventures after hearing that it is the group just kicked out of Wallkill. (see Chronology for expanded story)
July 17 Music et al
Please follow and like us: