July 16 Peace Love Art Activism
Black History
Irene Morgan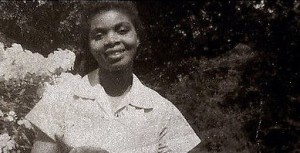 July 16, 1944: Irene Morgan (age 27), recovering from a miscarriage and traveling by bus from Virginia to Baltimore for a doctor's appointment refused to relinquish her seat [as well as another Black woman] to a white couple. The driver, angered by Morgan's refusal, drove the bus to the Middlesex County town of Saluda and stopped outside the jail. A sheriff's deputy came aboard and told Morgan that he had a warrant for her arrest. She continued to refuse and had to be physically subdued. She was jailed for resisting arrest and violating Virginia's segregation law. (Maryland Women's Hall of Fame article) (BH, see Oct 18; Irene Morgan, see June 3, 1946)
Groveland, Florida Neighborhood Terrorized
July 16, 1949: two young Black men, Samuel Shepherd, and Walter Irvin, and one 16-year-old Black boy, Charles Greenlee, were captured in a manhunt on charges of raping 17-year-old Norma Padgett and assaulting her husband in Groveland, Florida. Within hours of the accusations, mobs of white residents burned the homes and property of Black families in Groveland.
They were taken to Lake County Jail, where they were tortured by the police. The next day, a mob of at least a hundred white men formed outside of the jail and demanded that the three men be released to them. Unable to access their intended targets, the heavily armed white mob went on a rampage of racial terror in Groveland's Black neighborhoods, where they shot at residents and set fire to their homes. By the hundreds, the Black community fled Groveland, fearing for their lives.
Despite being beaten into giving false confessions and the State failing to present crucial evidence, such as a medical examination of Norma Padgett, the three remained incarcerated and were wrongly convicted by an all-white jury. Charles Greenlee was sentenced to life in prison, while Irvin and  Shepherd, both 22, were sentenced to death.
In 1951, after the work of Thurgood Marshall and the NAACP, the U.S. Supreme Court overturned Mr. Irvin's and Mr. Shepherd's convictions, stating they were entitled to a new trial. Before their trials could take place, Sheriff McCall shot Mr. Shepherd and Mr. Irvin while they were handcuffed together in his custody and being transferred from prison. Shepherd died, but Irvin, who was shot and denied an ambulance because he was Black, survived.
In his retrial, an all-white jury again convicted Irvin. A judge sentenced him to death. Nearing his execution date, Mr. Irvin received a stay, before finally having his sentence commuted and being released from prison in 1968. He died a year later.
Charles Greenlee remained on a life sentence and was released on parole in 1962. He died on April 18, 2012.
In 2019 Florida Governor Ron DeSantis  posthumously pardoned the men.
Ernest Thomas, a 26-year-old Black man, had evaded capture by the mob and fled too. [EJI story] [Orlando Sentinel story] (next BH & Thomas, see July 26)
Harlem Revolt
July 16, 1964: Harlem Riot NYPD Lieutenant Thomas Gilligan shot and killed 15-year-old James Powell. Powell was a summer student from Robert Wagner Junior High school and had been engaged in horseplay with other boys in front of an apartment building at 215 East 76th Street on Manhattan's Upper East Side. When the building superintendent sprayed the boys with a hose, Powell chased him back into his building. At this point Lt Gilligan, who said the boy lunged at him with a knife, intervened firing his revolver twice at the boy and killed him.
Two days of peaceful protests took place, followed by six days of rioting, affecting the neighborhoods of Harlem and Bedford-Stuyvesant. By the end of the conflict, one had died, 118 had been injured, and 465 had been arrested. (Baruch College article) (see July 18)
Silas McGhee
July 16, 1964: Silas McGhee staggered into the Greenwood FBI office, bleeding from head wounds and suffering from shock. McGhee, a staff worker with the Student Nonviolent Coordinating Committee, said three men in a pickup truck forced him at the point of a gun to accompany them. They asked him if he had been to the movies the previous night, When he replied yes, he said, he was beaten with a pipe and a board. (2014 Boston Globe article) (McGhee, see July 24)
137 Shots
July 16, 2014: U.S. District Judge Dan Aaron Polster announced that Cleveland had settled a federal lawsuit for an undisclosed amount of money with the families of Timothy Russell and Malissa Williams. The settlement was dependent upon a judge's approval in Cuyahoga County Probate Court, where the estates were set up to oversee any awards from the lawsuit. A probate judge would decide whether the settlement is fair and just. Nothing had been filed on it Wednesday.
"The court held a settlement conference with clients and counsel on July 14," Polster wrote. "As a result of negotiations, the above captioned case has settled, subject to Probate Court approval." (see 137 Shots for expanded story)
Eric Garner
July 16, 2019: the Justice Department announced that it would not bring federal charges against New York City police officer Daniel Pantaleo in the death of Eric Garner, ending a yearslong inquiry into a case that sharply divided officials and prompted national protests over excessive force by the police    Federal prosecutors in Brooklyn  announced the decision not to bring criminal civil rights charges just one day before the fifth anniversary of Eric Garner's death. That was the deadline by which they would have had to file some of the possible charges against Pantaleo. (next B & S, see, July 18);  EG, see Aug 18)
July 16 Peace Love Art Activism
Nuclear/Chemical News
July 16, 1945:  the US conducted the first atomic weapons test near Alamogordo, New Mexico. [2015 CBS News article] (see July 24)
July 16 Peace Love Art Activism
July 16 Music et al
Teenage Culture
July 16, 1951: J.D. Salinger's Catcher in the Rye published. While intended for adult readers, it becomes popular among adolescents with its themes of teenage confusion, alienation, rebellion, and sexuality. (see March 21, 1952)
Hanky Panky
July 16 – 24, 1966: "Hanky Panky" by Tommy James #1 on the Billboard Hot 100.
Jimi Hendrix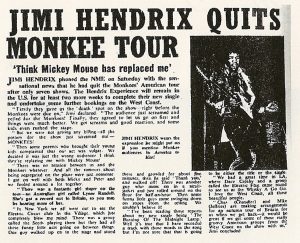 July 16, 1967: Jimi flipped off the Forest Hills, Queens, New York, audience off, threw down his guitar and walked away from Monkeemania. The Experience had played just eight of the 29 scheduled tour dates with the Monkees.  (see Hendrix/Monkees for expanded story; next Hendrix, see Aug 23)
Road to Bethel and the Woodstock Festival
July 16, 1969:  Wallkill posted an eviction notice on the front door of Howard Mill's barn telling Woodstock Ventures to vacate the premises. To this point approximately 150,000 tickets had been sold and $500,000 spent on the concert. 
That same day,  Mel Lawrence and Michael Lang helicoptered north looking for new location for concert. While they were gone, Elliott Tieber contacted them about a place in Bethel, NY, 30 miles away. Tieber's parents ran the El Monaco Motel at the intersection of Rts 17B and 55. His site was completely unsuitable. Tieber  contacts Morris Abraham who sets up meeting with Max Yasgur. (see Chronology for expanded story)
Newport Folk Festival
July 16 – 20, 1969: according to the NYT, in reaction to the disruption at the Newport Jazz Festival, "The Newport Folk Festival began its ninth annual presentation…at Festival Field under a stricture from the Newport City Council that no rock music may be included in the program."  (see Newport Folk for expanded story)
July 16 Peace Love Art Activism
Vietnam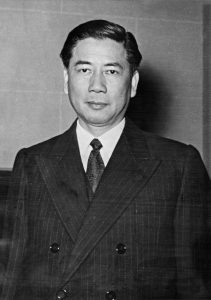 July 16, 1955: Ngô Đình Diệm announced his intention to not take part in the reunification elections: "We will not be tied down by the [Geneva] treaty that was signed against the wishes of the Vietnamese people." (see Oct 6)
July 16 Peace Love Art Activism
Space Race
July 16, 1969: Apollo 11 begins its mission to the moon. (NASA article) (see July 20)
July 16 Peace Love Art Activism
Watergate Scandal
July 16, 1973: former White House aide Alexander Butterfield informs the United States Senate Watergate Committee that President Richard Nixon had secretly recorded potentially incriminating conversations. (see Watergate for expanded story)
July 16 Peace Love Art Activism
Iraq
July 16, 1979: Iraqi President Hasan al-Bakr resigned  and Vice President Saddam Hussein replaced him. (see September 22, 1980)
July 16 Peace Love Art Activism
Presidential Nominees
Ronald Reagan
July 16, 1980, Republicans nominated Ronald Reagan for President, at the Republican National Convention in Detroit, Michigan. (Politico article)
Bill Clinton
July 16, 1992: In New York City, Bill Clinton accepted the Democratic Party's presidential nomination at the Democratic National Convention. Al Gore is his running mate. (Washington Post article)
July 16 Peace Love Art Activism
Cesar Chavez
July 16 – August, 20 1988: age 61, Chávez conducts his last–and longest—public fast for 36 days in Delano to call attention to farm workers and their children stricken by pesticides. (NYT archives article) (see September 14, 1988)
July 16 Peace Love Art Activism
Stop and Frisk
July 16, 2010,: NY Gov. David Paterson changed the NYPD's Stop-and-Frisk Policy. It doesn't stop the policy, but it does prevent the NYPD from keeping data about people who have not committed any crime. (see December)
July 16 Peace Love Art Activism
Death Penalty
July 16, 2014: Judge Cormac J. Carney of US District Court ruled that California's death penalty system was so arbitrary and plagued with delay that it was unconstitutional, a decision that was expected to inspire similar arguments in death penalty appeals around the country.
The state had placed hundreds of people on death row, but had not executed a prisoner since 2006. The result, wrote Carney, was a sentence that "no rational jury or legislature could ever impose: life in prison, with the remote possibility of death."
That sense of uncertainty and delay, he wrote, "violates the Eighth Amendment's prohibition against cruel and unusual punishment." (see Dec 31)
July 16 Peace Love Art Activism
LGTBQ
July 16, 2015: in a groundbreaking ruling that provided new protections for LGBTQ Americans, the U.S. Equal Employment Opportunity Commission concluded that workplace discrimination based on sexual orientation was illegal. The EEOC said that employers who discriminate against LGBTQ workers were violating Title VII of the 1964 Civil Rights Act, which prohibits employment discrimination "based on race, color, religion, sex and national origin."
In the past, courts had ruled that Title VII did not cover discrimination based on sexual orientation because it was not explicitly mentioned in the law, but the EEOC's ruling disputed that reasoning. "Sexual orientation discrimination is sex discrimination because it necessarily entails treating an employee less favorably because of the employee's sex," the EEOC concluded. The committee argued that if an employer discriminated against a lesbian for displaying a photo of her wife, but not a straight man for showing a photo of his wife, that amounts to sex discrimination. (see July 27)
July 16 Peace Love Art Activism
Environmental Issues
Santa Barbara Clean-up
July 16, 2015: officials said that the cleanup of the fouled beaches near Santa Barbara, California, was about finished. About 300 workers remained on the job, mostly focused on an area near the site where oil flowed into the ocean through a storm drain culvert. (LA Times article re indictment) (EI, see Aug 3; Santa Barbara, see Aug 5)
Native Americans
July 16, 2017: a Federal Judge James Boasberg ruled that the federal permits authorizing the pipeline to cross the Missouri River just upstream of the Standing Rock reservation, which were hastily issued by the Trump administration just days after the inauguration, violated the law in certain critical respects. The ruling gave the Standing Rock Sioux Tribe a significant victory in its fight to protect the tribe's drinking water and ancestral lands from the Dakota Access pipeline.
In a 91-page decision, Boasberg wrote, "the Court agrees that [the Corps] did not adequately consider the impacts of an oil spill on fishing rights, hunting rights, or environmental justice, or the degree to which the pipeline's effects are likely to be highly controversial."  [Tribal Trust article] (NA, see Aug 22; Env, see Aug 7)
July 16 Peace Love Art Activism
Immigration History
July 16, 2018: Judge Dana Sabraw of the Southern District of California, who was overseeing the U.S. government's efforts to reunify more than 2,500 migrant children it separated from their parents ordered a temporary hold on deportations for reunified families.
Sabraw said the government must halt the deportations in response to a filing by the ACLU that claimed the government had refused to deny "that mass deportations might be carried out imminently and immediately upon reunification."
Lawyers from the ACLU had expressed concern that they would not be able to meet and represent families, many of whom make asylum claims, if they were quickly deported. (IH, see July 18; IH and children, see July 19; next Judge Sabraw, see Aug 30)
July 16 Peace Love Art Activism
Voting Rights/Crime and Punishment
Felons Voting Blocked
July 16, 2020: in Raysor v. DeSantis, the Supreme  Court allowed Florida to block more than a million convicted felons from voting if they have outstanding court fines and fees after serving time behind bars. The justices chose not to overturn a hold on a federal appeals court ruling that would have enfranchised the voters.
Justice Sonia Sotomayor, Ruth Bader Ginsburg and Elena Kagan dissented. In her opinion, Sotomayor wrote that the high court's ruling "continues a trend of condoning disenfranchisement." [NYT article] (next VR and C & P, see Aug 5)
DACA
July 16, 2021: Judge Andrew S. Hanen of the United States District Court in Houston ruled that President Barack Obama exceeded his authority when he created the the Deferred Action for Childhood Arrivals program by executive order in 2012.
The program that had shielded hundreds of thousands of undocumented young adults from deportation. Hanen's ruling threw into question yet again the fate of immigrants known as Dreamers.
But the judge wrote that current program recipients would not be immediately affected, and that the federal government should not "take any immigration, deportation or criminal action" against them that it "would not otherwise take."
The Department of Homeland Security could continue to accept new applications but was temporarily prohibited from approving them, Hanen ruled. Immigrants currently enrolled in the program, most of whom were brought to the United States as children, would retain the ability to stay and work in the country, though those protections could evaporate if the government was unable to rectify a series of legal shortcomings. (next IH, see Aug 24; next DACA, see September 13, 2023)
July 16 Peace Love Art Activism