1969 Spectrum Summer Music Festival
July 5 and July 11 -12
Spectrum, Philadelphia
1969 festival #23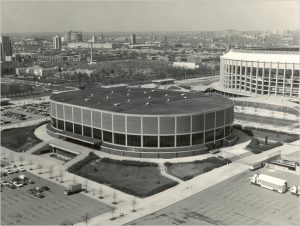 The Spectrum was an indoor arena that opened in the fall of 1967. Like any modern indoor arena, the venue hosted many things. For Philadelphia it was used for  basketball, ice hockey, arena football, indoor soccer, indoor lacrosse, and, of course, concert events.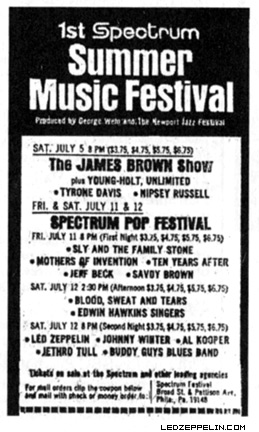 Festival-filled summer
On July 5 and on July 11 and 12, during that festival-filled summer of 1969, there was a three day event there. It was divided into four shows: one evening show on Saturday 5 July; one evening show on Friday 11 July and two on Saturday 12 July–an afternoon and an evening show.
Saturday 5 July
As you can see from the above advertisement,  the first show featured black artists, with the James Brown Show headlining. Chicago's Young Holt-Unlimited, with their hit Soulful-Strut.
Tyrone Davis, with his hit…
and the comedian Nipsy Russell.
1969 Spectrum Summer Music Festival
Friday 11 July
Friday's line-up was an impressive one with future Woodstock performers Sly and the Family Stone and Ten Years After along with Jeff Beck, the Mothers of Invention, and Savoy Brown. I would have like to have been there that night!
Saturday afternoon 12 July
The Saturday afternoon show only had two bands: Blood, Sweat and Tears and the Hawkins Singers.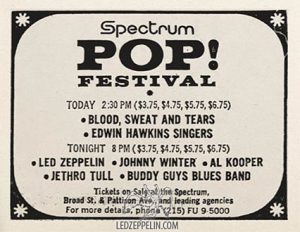 1969 Spectrum Summer Music Festival
Saturday evening 12 July
Saturday evening was the stronger line-up: Led Zeppelin, Johnny Winter, Al Kooper, Jethro Tull, and the Buddy Guy Blues Band.
As you may notice, there was a heavy emphasis on soul music and the electric blues whether played by blacks or whites.  Though there were some blues-influenced bands at Woodstock such as Johnny Winter and Ten Years After the following month, the absence of such artists as Buddy Guy and James Brown leave some scratching their heads. Young whites' interest in the original blues artists had already returned and such artists were regularly featured in many other festivals that summer.
So Long Spectrum
A little more than a year after the arena's final event (a Pearl Jam concert) took place on October 31, 2009.  the Spectrum was demolished (between November 2010 and May 2011) .
1969 Spectrum Summer Music Festival
Next 1969 festival: Laurel Pop Festival