1969 Laurel Pop Festival
Laurel Race Course, Laurel, Maryland
July 11 & 12, 1969
1969 festival #24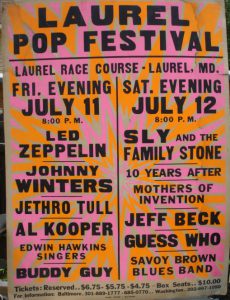 Audio from a series of videos the Laurel History Boys did.
1969 Laurel Pop Festival
The 24th festival of 1969. I realize that there were other 1969 music events such as jazz, country, and folk festivals, but I am limiting my ongoing coverage to what I generally refer to as rock festivals. I included the Newport Jazz Festival earlier in the month because it included several rock bands as well.
1969 Laurel Pop Festival
Nice line-up
The Laurel Pop Festival does not make the list of answers when we ask anyone, "Name a festival that happened in 1969." If we said "Laurel Pop Festival" to anyone, we likely  get a blank look.
The line up for that weekend suggests otherwise on both counts. We should know it. Look at the line up:
July 11

Al Kooper

Jethro Tull

Johnny Winter

Edwin Hawkins Singers

Led Zeppelin

Buddy Guy

July 12

Jeff Beck

Ten Years After

Sly and the Family Stone

Mothers of Invention

Savoy Brown

Guess Who
This post's background audio mentions that five of the Laural Pop acts played at the Woodstock Music and Art Fair in August.
Actually not.
Three did and I've underlined them. I again note that Johnny Winter played. The guy was indefatigable that summer!
Nick

and

Bobbi Ercoline

Perhaps the most iconic photo of Woodstock attendees (as opposed to Woodstock performers) is the picture of Nick and Bobbi Ercoline.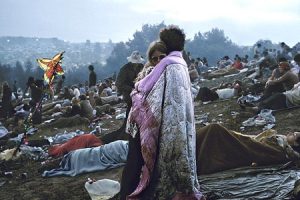 For Laurel Pop we have John and Debbie. I suppose had Laurel Pop become as famous as Woodstock, we'd recognize them today, too.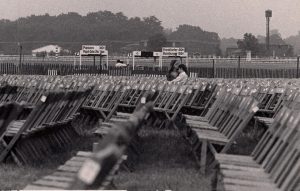 The picture of John and Debbie is from a site that attendees have commented about their experiences there.
Wet ending
From the Baltimore Sun: Lost in the smoky haze of 1960s history is The Laurel Pop Festival held in July 1969, which was attended by 15,000 fans and offered an incredible lineup of some of the biggest pop performers of the year. Held just one month before Woodstock, The Laurel Pop Festival ended in controversy as rain-soaked fans built bonfires with wooden folding chairs and refused to leave as the concert dragged on into the early morning.
Laurel History Boys
A site called the Laurel History Boys posted a piece in 2019 on their golden anniversary presentation of the event. Lot's of pictures and information about Led Zeppelin.
Link to that piece followed by a video with an interview with Kevin Leonard,  one of the Laurel History Boys.
1969 Laurel Pop Festival
Next 1969 festival: 1969 Forest Hills Music Festival