August 28 Music et al
Wooden Heart
August 28 – September 3, 1961: based on a German folk song and made popular in the US by Elvis in the film G.I. Blues , "Wooden Heart" by Joe Dowell #1 Billboard Hot 100.
August 28 Music et al
Something for Everybody
August 28 – September 17, 1961, Elvis Presley's Something for Everybody is Billboard #1 album. (see Dec 18)
August 28 Music et al
Bob Dylan
August 28, 1963: Bob Dylan and Joan Baez also perform at the King rally in Washington DC.  (see Oct 8)
The Beatles
1964 summer tour
August 28, 1964: Life magazine article reported that the Beatles' 33-day tour of 23 American cities was a sell out at every location and was expected to gross millions. Beatles pandemonium at the time was such that some hotels along the tour route refused to house the Beatles, and Los Angeles' Lockheed Airport forbade any Beatles plane from landing there for fear of screaming fans running on to the tarmac.
Bob Dylan and the Beatles meet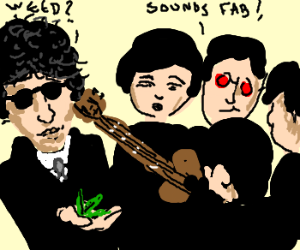 August 28, 1964: The Beatles played a concert at New York's Forest Hills Tennis Stadium. After the concert, the group was taken back to their suite at the city's Hotel Delmonico. Journalist Al Aronowitz had came down from Woodstock, NY with his friend Bob Dylan, and brought him up to The Beatles hotel suite. John Lennon asked Dylan what he'd like to drink, and Dylan said "cheap wine." (see Dylan/Beatles for more; Dylan, see January 20, 1965)
August 28 Music et al
Electric Dylan booed
August 28, 1965: (from The College of Rock and Roll Facebook page): Dylan kicked off his tour at NYC's Forest Hills Tennis Stadium. This show is legendary, and for anyone who doubts that 1965 audiences heaped great scorn on Bob Dylan and his electric crew, all they need to do is listen to a a tape of the concert to hear the audience's point of view. There was so much hostility directed toward the stage that it's frightening. Coming as it does after the shocking Newport appearance with members of the Paul Butterfield Blues Band, the audience for the Forest Hills show pretty much knew what to expect, and the majority showed extreme displeasure during the electric half.
The first set, which was acoustic, was very well received. The crowd was quiet and respectful for the 45 minute opening set, which followed a typical top-40 disk jockey introduction more appropriate for a Dave Clark Five concert than a Bob Dylan concert. This show featured the debut of "Desolation Row", from the Highway 61 album which was yet to be released (only a few days away, in fact). It's a great performance and it went over very well with the crowd, who laughed appreciatively at the lyrics. It must have been amazing to sit there and hear a brand new masterpiece like "Desolation Row".
After the well received acoustic half came to an end with "Mr. Tambourine Man", the band set up for the second half. No doubt the crowd was gearing up for the hostility that was to follow. The crowd is so loud and belligerent at times that it becomes extremely hard to hear the music, but what can be heard is awesome. Levon lays down a muscular beat that drives the music forward and Robbie plays tough blues licks as only he can. Al Kooper pretty much plays the way only Al Kooper can. (see Aug 30)
August 28 Music et al
Beatles failed escape
August 28, 1966: nearing the end of their final tour of America, The Beatles performed one show at Dodger Stadium, Los Angeles, California, before a crowd of 45,000. The Beatles' attempt to escape from the stadium in an armored truck was thwarted when the main gate was found to be locked and The Beatles have to spend two hours in the back of the truck before they can leave the stadium. (see Aug 29)
August 28 Music et al
Dear Prudence
August 28, 1968: started recording a new John Lennon song 'Dear Prudence'. They built the song instrument by instrument, utilizing the 8-track equipment at Trident. John and George played guitars, while Paul plays drums to compensate for Ringo, who had quit The Beatles on August 22. (see Sept 3)
August 28 Music et al