1958 Oklahoma City Sit Ins Successful
Perhaps the best known restaurant sit-in was the 1960 Greensboro, North Carolina sit-in. Of course simply because something is the most famous example does not mean it was the first.
In August 1958 several young blacks, recently returned from a trip to less obviously segregated north, decided to desegregate a lunch counter in their hometown of Oklahoma City.
Here is that chronology.
Katz Drug Store
August 19: Thirteen black youths seek to be served at a Katz Drug Store counter. The store refused.
August 20: the youth return to the Katz food counter and were again refused service.
August 21: Katz began serving a large group of black youths shortly after 3:30 pm.
1958 Oklahoma City Sit Ins Successful
Other counters
August 22: thirty-five black children sat quietly for more than six hours in the John A. Brown Co. luncheonette. That morning S. H. Kress and Co. served black youths on a "stand up" basis (stools had been removed at the counter).
August 23: sixty-six black youths accompanied by six adults entered Brown's luncheonette and stayed for six hours without being served. Several minor incidents occurred, with one white man and four white boys being ejected.
1958 Oklahoma City Sit Ins Successful
NAACP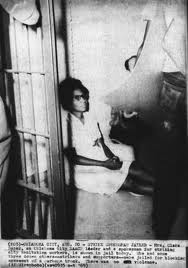 August 24: a Sunday, NAACP Youth Council members took their plea for service in downtown eating places to city churches; 17 white churches welcomed them, two churches segregated them and one turned them away.
August 25: eighty-five children and five adults sit all day in Brown's luncheonette without being served.
Aug 26: eighty-five youths sat down at Brown's luncheonette with no service.
Police arrested a 23-year-old white man on a charge of disorderly conduct after he is accused of striking a 15-year-old black youth.
The youth is ordered to children's court the next day. Earlier in the day, a white man is detained by police after officers said he "lost his temper."
Clara Luper, head of the Oklahoma City youth council of the NAACP, reported receiving threatening phone calls and a letter.
1958 Oklahoma City Sit Ins Successful
Other cities
August 27: One hundred and thirty five youths participate in a sit-in at Brown's luncheonette, but find most of the seats "reserved for employees only."
In Enid, 50 black youths entered two drug stores in an effort to force operators to serve them. No one is served.
1958 Oklahoma City Sit Ins Successful
Stubborn John A Brown 
August 28: one hundred and fifty youths returned to the Brown's luncheonette. Chairs were removed from all the tables except those reserved for employees. Available seats were occupied by whites who gave up the seats only when another white person was available to take the seat.
August 29: all available seats at the luncheonette in the basement of John A Brown Co. were occupied by white youths when the luncheonette opened for businessand the youths only surrender their seats for white customers.
Of the 15 blacks youths who show up in the morning, seven still are there waiting for seats that afternoon.
August 31: black youths at Brown's luncheonette were told they must ask white customers for permission to sit near them.
In Enid, a committee of cafe owners is appointed to meet with a committee of black residents to discuss serving policies.
In Tulsa, two groups of blacks try to get food service at two restaurants.
September 1: the executive committee of the state NAACP praised efforts by city black youth to gain equal eating privileges at downtown lunch counters.
1958 Oklahoma City Sit Ins Successful
Achievements
Sept. 2: the youth council announces the daily "store sitting" campaigns suspended because "our objectives have been achieved." High school students are due to return to classes the next day. Demonstrations and sit-ins would go on for about four more years in Oklahoma City.
1958 Oklahoma City Sit Ins Successful