Eric Burdon Animals Sky Pilot
July 1968
Eric Burdon
Eric Burdon with the Animals were part of the British Invasion in 1964. Their "House of the Rising Sun" stuck an earworm into  American teenagers' heads that still resides there. What Boomer can hear those first few guitar notes without immediately recognizing the song? Perhaps it was one of the first licks you learned on guitar? (click and see!)
American blues dominated the Animals' early albums, but like Bob Dylan's job on Maggie's farm and John Lennon's Norwegian wood lover, Eric Burdon did not stay with the girl he brung to the dance.
Eric Burdon Animals Sky Pilot
Eric Burdon & the Animals
With his release of Winds of Change (the title echoing,  of course, Dylan's "The Times They Are a-Changin" as well as his line in "Subterranean Homesick Blues," "you don't need a weatherman to know which way the wind blows"), Burdon allowed the times to change his content.
Such compositions as "The Black Plague" and "San Franciscan Nights" signaled those changes.
The Twain Shall Meet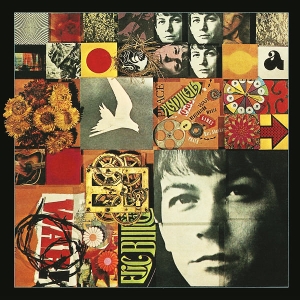 1968. The Vietnam war raged and demonstrations regularly filled streets. Campuses seemed to have become places to sit in to protest, not to sit in a desk.
In May, MGM record released Eric Burdon and the Animals single, "Sky Pilot." The following month, the song would be part of the "The Twain Shall Meet" album.
Even more than the popular "Monterey" on that album [Burdon's reflections on the Monterey Pop Festival, an event he and the Animals performed at], "Sky Pilot" is the album's strongest song.
Sky Pilot
He blesses the boys
As they stand in line
The smell of gun grease
And the bayonets they shine
He's there to help them
All that he can
To make them feel wanted
He's a good holy man
In some ways the song is as powerful as Jimi Hendrix's Star Spangled Banner. Hendrix's performance declared that those who were anti-Establishment were also entitled to our nation's anthem.
"Sky Pilot" (particularly with its inclusion the traditional bag piped "All the Bluebonnets Are Over the Border") questions not only war, but whether God was on our side, or whether God's self-appointed representative, the Sky Pilot, was even on God's side.
Released as a two-sided single, many radio stations stated that its length too long and style not "pop" enough.  Be that as it may, the song remains among the elite of anti-war songs.
The whole band wrote the song: Eric Burdon, Vic Briggs, John Weider, Barry Jenkins, and Danny McCulloch
Eric Burdon Animals Sky Pilot
All the Blue Bonnets
It is interesting to listen to just the bag pipes song after listening to the Animal's song with its inclusion.
Eric Burdon Animals Sky Pilot