2005 Hurricane Katrina New Orleans
The tropical depression that became Hurricane Katrina formed over the Bahamas on August 23, 2005. It's path led it over Florida before moving out into the Gulf of Mexico, regaining strength, and moving onto the Gulf coast again.
When the storm made landfall again, it had a Category 3 rating on the Saffir-Simpson Hurricane Scale–it brought sustained winds of 100–140 miles per hour–and stretched some 400 miles across.
And while Katrina affected a huge region, I will limit this blog entry mainly to New Orleans.
2005 Hurricane Katrina New Orleans
First landfall: Florida
August 25, 2005: at 6:30 PM EDT Hurricane Katrina made its first landfall in Florida as a Category 1 hurricane near Hallandale Beach, Florida on the Miami-Dade/Broward county line.
After landfall, instead of travelling as originally forecast, Katrina moved hard left (south/southwest) almost parallel to the coastline in densely-populated metropolitan Miami, Florida. As many as six people were killed, including three people killed by falling trees and two boaters that attempted to ride out the storm in their crafts.
August 26, 2005: Katrina was  downgraded to a tropical storm. At 5:00 AM EDT, the eye of Hurricane Katrina was located just offshore of southwestern Florida over the Gulf of Mexico about 50 miles (80 km) north-northeast of Key West, Florida.
2005 Hurricane Katrina New Orleans
Headed toward New Orleans
August 27, 2005: Katrina reached Category 3 intensity. New Orleans Mayor Ray Nagin announced a state of emergency and a called for a voluntary evacuation.
August 28, 2005: Katrina reached Category 4 intensity with 145 mph winds. By 7:00 AM CDT  it was a Category 5 storm, with maximum sustained winds of 175 mph , gusts up to 215 mph.
In a press conference at roughly 10:00 AM CDT, Mayor Ray Nagin declared that "a mandatory evacuation order is hereby called for all of the parish of Orleans."
2005 Hurricane Katrina New Orleans
Storm surge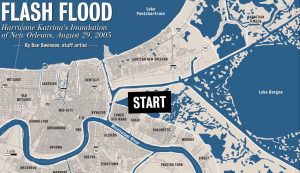 August 29, 2005: Katrina's storm surge caused 53 different levee breaches in greater New Orleans, submerging eighty percent of the city. 
August 30, 2005: Louisiana Governor Blanco ordered that all of New Orleans, including the Superdome, be evacuated due to the flooding of the city.
August 31, 2005: New Orleans's Mayor Ray Nagin announced that the planned sandbagging of the 17th Street Canal levee breach had failed.
At the time, 85% of the city was underwater. President Bush returned early to Washington from vacationing at his ranch in Crawford, Texas. Though he did not stop in Louisiana, Air Force One flies low over the Gulf Coast so that he can view the devastation in Air Force One.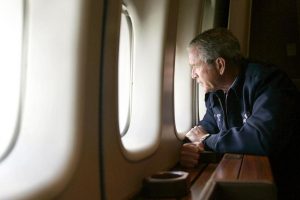 September 1, 2005: President Bush appeared on Good Morning America, and said that he understood the frustration of Katrina victims, many of whom are still waiting for food, water, and other aid.
"I fully understand people wanting things to have happened yesterday," Bush said. "I understand the anxiety of people on the ground. … So there is frustration. But I want people to know there's a lot of help coming."
2005 Hurricane Katrina New Orleans
Heck of a job
September 2, 2005: President George W. Bush told Michael Brown, head of the Federal Emergency Management Agency, "Brownie, you're doing a heck of a job" during a tour of Hurricane Katrina damage in Alabama.
2005 Hurricane Katrina New Orleans
Danziger Bridge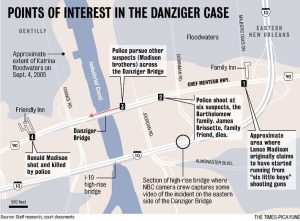 September 4, 2005: in New Orleans, Sgt. Kenneth Bowen and Sgt. Robert Gisevius and Officers Anthony Villavaso and Robert Faulcon jumped in a Budget rental truck with several other officers and raced to the Danziger Bridge in eastern New Orleans, responding to a distress call.
As a result, police killed two civilians, 17-year-old James Brissette and 40-year-old Ronald Madison an wounded four other civilians.
All of the victims were African-American. None were armed or had committed any crime. Madison, a mentally disabled man, was shot in the back. (officers, see January 3, 2007)
2005 Hurricane Katrina New Orleans
Media limitations
September 9, 2005: U.S. Army Lieutenant General Russel L. Honoré and New Orleans Director of Homeland Security Terry Ebbert announced a "zero access" policy with regards to the media, in order to prevent members of the media from reporting on the recovery of dead bodies in New Orleans. CNN filed a lawsuit, then obtained a temporary restraining order to prevent government agencies from interfering with news coverage of recovery efforts.
2005 Hurricane Katrina New Orleans
Brown resigns
September 12, 2005: in the wake of what was widely believed to be incompetent handling of the aftermath of Hurricane Katrina by state, local and federal officials, FEMA director, Michael Brown, resigned, saying that it was "in the best interest of the agency and best interest of the president." His standing had also been damaged when the Boston Herald revealed his meager experience in disaster management before joining FEMA.
September 15, 2005, : President George W. Bush, addressing the nation from storm-ravaged New Orleans, acknowledged the government failed to respond adequately to Hurricane Katrina and urged Congress to approve a massive reconstruction program.
2005 Hurricane Katrina New Orleans
Death toll
September 19, 2005: Louisiana's official death toll stood at 973.
September 21, 2005: the official death toll was raised to 1,036, with 63 additional deaths recognized in Louisiana. This marked the first time since 1928 that a natural disaster in the U.S. had been officially acknowledged to have killed at least 1,000 people. State-by-state death tolls: Louisiana 799, Mississippi 218, Florida 14, Alabama 2, Georgia 2, Tennessee 1.
2005 Hurricane Katrina New Orleans
Police charged
January 3, 2007: seven New Orleans policemen charged in a deadly  shooting in the chaotic aftermath of Hurricane Katrina turned themselves in at the city jail.  More than 200 supporters met them in a show of solidarity.
Each of the indicted men faced at least one charge of murder or attempted murder in the Sept. 4, 2005, shootings on the Danziger Bridge. Two people died and four were wounded in the shooting.
2005 Hurricane Katrina New Orleans
Indictments dismissed
August 13, 2008: District Judge Raymond Bigelow dismissed the indictments against the New Orleans police officers after his finding that the prosecutors had wrongly instructed the grand jury and that testimony of three of the accused officers had been divulged to other witnesses in the case.
The US Dept of Justice and the FBI will subsequently investigate the case.
2005 Hurricane Katrina New Orleans
Guilty pleas
February 24, 2010: Officer Michael Lohman, who had encouraged the officers to provide false stories in the shooting incident entered a plea of guilty to obstruction of justice in federal court.
March 11, 2010: Officer Jeffrey Lehrmann pleaded guilty to misprision of a felony for failing to report the cover-up.
April 7, 2010: Michael Hunter, one of the seven officers originally charged with attempted murder in 2007, pleaded guilty to misprision of a felony and obstruction of justice.
July 13, 2010: a federal grand jury indicted Kenneth Bowen, Robert Gisevius, Robert Faulcon, and Anthony Villavaso in connection with the shooting and subsequent cover-up.
Additionally, Arthur "Archie" Kaufman (lead investigator on the case) and Gerard Dugue (another investigator) were charged with falsifying reports and false prosecution in the conspiracy to cover-up the shooting. [Times-Picayune article]
2005 Hurricane Katrina New Orleans
More guilty verdicts
August 5, 2011: guilty verdicts were handed down for Bowen, Gisevius, Faulcon, Villavaso and Kaufman. [Times-Picayune article]
2005 Hurricane Katrina New Orleans
Sentencing
April 4, 2012: the four officers directly involved in the shooting were sentenced in federal court to lengthy terms ranging from 38 to 65 years, while a police sergeant who was charged with investigating the shooting, and instead helped lead the efforts to hide and distort what happened, was sentenced to six years.
Three police officers who pleaded guilty and later testified at the trial were involved in the shooting on the bridge and received sentences ranging from five to eight years.
Two others, a detective and a police lieutenant who helped orchestrate the cover-up, were sentenced to three and four years. [FBI report]
2005 Hurricane Katrina New Orleans
Vacated convictions
September 17, 2013, following a year-long probe into the defendants' claims, U.S. District Judge Kurt D. Engelhardt vacated the convictions of Bowen, Faulcon, Gisevius, Villavaso and Kaufman, and ordered a new trial.
2005 Hurricane Katrina New Orleans
2015
2005 Hurricane Katrina New Orleans
New guilty pleas
April 20, 2016, the five officers pleaded guilty to charges of deprivation of rights under color of law, obstruction of justice, and conspiracy to obstruct justice. In return, they were sentenced to significantly reduced sentences of three to 12 years in prison, with credit for time served.
November 4, 2016, Gerard Dugue pleaded guilty in federal court to "a misdemeanor charge of accessory after the fact to deprivation of rights under the color of law."
He was sentenced to one year of probation, making him the only NOPD officer who plead guilty in the case but was not sent to prison.
December 19, 2016:  New Orleans Mayor Mitch Landrieu apologized and announced a settlement agreement. [NOLA dot com article]
The settlement included payments for the families of victims killed or injured in the shooting of unarmed civilians; for the beating death of Raymond Robair, 48, who was killed before the storm; and for the fatal shooting of Henry Glover, who was killed by a police officer standing guard outside an Algiers shopping center."
2005 Hurricane Katrina New Orleans