October 8 Peace Love Art Activism
BLACK HISTORY
Jackie Robinson All-Star team
October 8, 1953: in Birmingham, Alabama, Police Commissioner Eugene "Bull" Connor announced that a planned All-Star baseball game organized by Jackie Robinson would not be permitted to play in the city. Robinson, who previously toured the country with an all-black team, signed notable white players Al Rosen, Ralph Branca, and Gil Hodges to join the interracial All-Stars. Ten days before the game was to take place, Mr. Connor notified the public the event would be banned because "there is a city ordinance that forbids mixed athletic events."
After careful consideration and discussions with members of the Birmingham community, Robinson decided to move forward with the game, and bench the white players rather than cancel. This decision was partly made in response to fears that successfully shutting down the game entirely might help Connor win a bid for Birmingham mayor. The game did happen, with only black players participating, and stood as an example of the legal system of segregation that had permeated Alabama for generations. [EJI article] (next BH, see Dec 23)
October 8, 2012: Whitmore died in a Wildwood, N.J., nursing home. He was 68. In a NY Times Op-Ed article entitled, "Who Will Mourn George Whitmore?" T. J English wrote:
This week, a flawed but beautiful man who offered up his innocence to New York City died with hardly any notice. To those who benefited from his struggles or who believe the city is a fairer place for his having borne them, I ask: Who grieves for George Whitmore?
 In recent months, I'd fallen out of touch with George Whitmore, Jr.. Knowing him, and attempting to assume a measure of responsibility for his life, was often exhausting. While I had come to love him, the drunken phone calls, the calls from hospital emergency rooms and flophouses, and the constant demands for money became overwhelming. When people who claimed to be friends of his starting calling me and asking for favors, I decided to back off. But when I received a cryptic e-mail from one of his nephews, informing me that Whitmore had died on Monday, I was overcome with sadness and regret. [NYT article] (see Whitmore for expanded story)
Church Burning
October 8, 2019:  someone stole a giant cross that was on site at Mt. Pleasant Baptist Church in Opelousas. Mt. Pleasant was one of three churches set on fire by suspected arsonist, 21-year-old Holden Matthews, last April. (next BH, see Oct 29; next CB, see February 10, 2020)
October 8 Peace Love Art Activism
October 8 Music et al
Sam Cooke
October 8, 1963: after hearing Bob Dylan's "Blowin' in the Wind"  earlier in the year, Sam Cooke was greatly moved that such a poignant song about racism in America could come from someone who was not black. While on tour in May and after speaking with sit-in demonstrators in Durham, North Carolina following a concert, Cooke returned to his tour bus and wrote the first draft of what would become "A Change Is Gonna Come". The song also reflected much of Cooke's own inner turmoil. Known for his polished image and light-hearted songs such as "You Send Me" and "Twistin' the Night Away", he had long felt the need to address the situation of discrimination and racism. However, his image and fears of losing his largely white fan base prevented him from doing so.
"A Change Is Gonna' Come," very much a departure for Cooke, reflected two major incidents in his life. The first was the death of Cooke's 18-month-old son, Vincent, who died of an accidental drowning in June of that year. The second major incident came this date when Cooke and his band tried to register at a "whites only" motel in Shreveport, Louisiana and were summarily arrested for disturbing the peace. Both incidents are represented in the weary tone and lyrics of the piece, especially the final verse: There have been times that I thought I couldn't last for long/but now I think I'm able to carry on/It's been a long time coming, but I know a change is gonna come.
Cooke would not record the song until November 1964. (BH, see Oct 10; Cooke, see November 11, 1964; Dylan, see Oct 23)
WOR-FM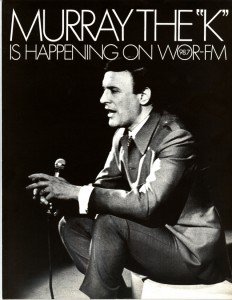 October 8, 1966: in New York City, WOR-FM disc jockeys start. [NYT WOR-FM article] (see January 1, 1967)
October 8 Peace Love Art Activism
Cold War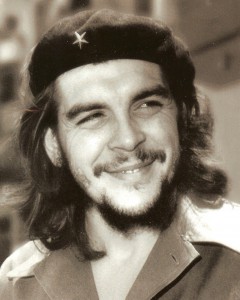 October 8, 1967: Che Guevara, Argentine Marxist revolutionary, physician, author, intellectual, guerrilla leader, diplomat and military theorist, and a major figure of the Cuban Revolution whose stylized visage has become a counter-cultural symbol of rebellion and global insignia within popular culture was wounded and taken prisoner in Bolivia by CIA-assisted Bolivian forces.
October 8 Peace Love Art Activism
Vietnam & Weather Underground
October 8 – 11, 1969:  the "Days of Rage" riots occur in Chicago, damaging a large amount of property. 287 Weatherman members are arrested, some become fugitives when they fail to appear for trial in connection with their arrests. [OnthisDay article] (see Oct 15)
October 8 Peace Love Art Activism
United Farm Workers
Lettuce strike
October 8, 1970: Bud Antle, Inc, which grew about 8% of the Salinas valley lettuce, obtained an injunction prohibiting the farm workers from continuing their strike and boycott until the original case was settled. (see December 4, 1970)
Cesar E. Chavez National Monument
October 8, 2012:  President Obama visited Keene, Califorinia to dedicate the Cesar E. Chavez National Monument, the nation's first such site to honor a contemporary Mexican American.
October 8 Peace Love Art Activism
October 8, 1972: R. Sargent Shriver is chosen to replace Thomas Eagleton as the U.S. vice-presidential nominee of the Democratic Party. [NPR story]
October 8 Peace Love Art Activism
Dissolution of Yugoslavia
October 8, 1991: Croatia independent from Yugoslavia. [BalkanInsight article] (Dissolution of Y see Nov 2; ID, see Oct 27)
October 8 Peace Love Art Activism
IRAQ
Kuwait withdrawal
October 8, 1994: the UN Security Council said that Iraq must withdraw its troops from the Kuwait border, and immediately cooperate with weapons inspectors. (see Oct 15)
October 8 Peace Love Art Activism
CLINTON IMPEACHMENT
October 8, 1998: the House of Representatives authorizes a wide-ranging impeachment inquiry of President Clinton on a 258-176 vote. Thirty-one Democrats join Republicans in supporting the investigation. (see Clinton for expanded story)
October 8 Peace Love Art Activism
Sexual Abuse of Children
Boy Scouts of America
October 8, 2012: Timothy Kosnoff, a Seattle attorney, released the names of nearly 1,900 men whom the Boy Scouts of America expelled alleged sexual abuse between 1970 and 1991. Kosnoff has sued the Boy Scouts on behalf of more than 100 alleged victims, identifies many men who have never been reported to police or faced criminal charges.
In addition, Kosnoff released brief summaries of 3,200 other cases of suspected sexual abuse dating to 1948, without naming the alleged perpetrators. [LAT article] (BSA & SAC, see Oct 18)
October 8 Peace Love Art Activism
Native Americans
Leonard Peltier
October 8, 2012: Leonard Peltier released a 2012 Indigenous Day Statement which began,
Greetings my relatives and friends, supporters!
I know I say this same line all the time but in reality you all are my relatives and I appreciate you. I cannot say that enough. Some of our people, as well as ourselves have decided to call today Indigenous Day instead of Columbus Day and it makes me really think about how many People who still celebrate Columbus, a cruel, mass murderer who on his last trip to the Americas, as I have read, was arrested by his own people for being too cruel. When you consider those kinds of cruelty against our People and his status, it makes you wonder to what level he had taken his cruelty. In all of this historical knowledge that is available people still want to celebrate and hold in high esteem this murderer.
If we were to celebrate Hitler Day, or Mussolini Day, or some other murderer and initiator of violence and genocide, there would be widespread condemnation. It would be like celebrating Bush Day in Iraq. It's kind of sad to say that even mentioning Columbus in my comments gives him more recognition that he should have. So I agree wholeheartedly with all of you out there that have chosen to call this Indigenous Day. If I weren't Native American or as some of have come to say – Indigenous, I would still love our ways and cling to our ways and cherish our ways. I see our ways as the way to the future, for the world. Whereas I, and others, have said over and over, and our People before us: This earth is our Mother. This earth is life. And anything you take from the earth creates a debt that is to be paid back at some time in the future by someone. (full text) (see Oct 22)
October 8 Peace Love Art Activism
LGBTQ
October 8, 2014: the day after a federal appeals court struck down same-sex marriage bans in Idaho and in Nevada, implementation of the decision in Idaho was temporarily blocked by Justice Anthony M. Kennedy of the Supreme Court.
Justice Kennedy's order came shortly after Idaho filed a request to the Supreme Court for an immediate stay of the appeals court ruling. The ruling was the latest in a nearly unbroken string of courtroom victories for gay couples. Justice Kennedy asked the proponents of same-sex marriage to file a response by Thursday afternoon.
The ruling striking down the Nevada and Idaho bans, by the United States Court of Appeals for the Ninth Circuit, in San Francisco, came a day after the Supreme Court allowed similar rulings by three other appeals courts to stand. That cleared the way for same-sex marriage to start immediately in Indiana, Oklahoma, Utah, Virginia and Wisconsin and to be extended soon to six other states in those circuits. [NYT article] (see Oct 10)
October 8 Peace Love Art Activism
Environmental Issues
October 8, 2018:  a landmark report from the United Nations' scientific panel on climate change painted a far more dire picture of the immediate consequences of climate change than previously thought and said that avoiding the damage requires transforming the world economy at a speed and scale that has "no documented historic precedent."
The report, issued by the Intergovernmental Panel on Climate Change, a group of scientists convened by the United Nations to guide world leaders, described a world of worsening food shortages and wildfires, and a mass die-off of coral reefs as soon as 2040 — a period well within the lifetime of much of the global population. [NYT article]
October 8 Peace Love Art Activism
Trump Impeachment Inquiry
October 8, 2019: the White House announced that it would not cooperate with what it called an illegitimate effort "to overturn the results of the 2016 election" and setting the stage for a constitutional clash with far-reaching consequences.
In a letter to House Democratic leaders, the White House said the inquiry had violated precedent and denied President Trump's due process rights in such an egregious way that neither he nor the executive branch would willingly provide testimony or documents. [NYT article] (see TII for expanded chronology)
October 8 Peace Love Art Activism