October 21 Peace Love Art Activism
Black History
William Lloyd Garrison
October 21, 1835: William Lloyd Garrison was a prominent white abolitionist and newspaper editor in the 19th century. Born in 1805 in Newburyport, Massachusetts, to English immigrants, Garrison co-founded his first newspaper at age 22 and began to focus on the issue of slavery. In 1829, Garrison became the co-editor of the Baltimore-based Genius of Universal Emancipation, through which he and his colleagues criticized proponents of slavery.
Unlike most American abolitionists at the time, Garrison demanded immediate emancipation of enslaved black people rather than gradual emancipation. In 1830, he founded The Liberator, which continued to publish criticisms of slavery. By that time, Garrison had become a vocal opponent of the American Colonization Society, which sought to reduce the number of free blacks by relocating them to Africa. In 1832, Garrison helped to organize the American Anti-Slavery Society and sought to keep the organization unaffiliated with any political party. He also advocated for women to be allowed equal participation in the organization, a radical stance nearly 90 years before women in America obtained the right to vote.
On October 21, 1835, Garrison attended a meeting held by the Boston Female Anti-Slavery Society to hear remarks from George Thompson, a British abolitionist and personal friend. Thompson had been warned that a pro-slavery mob planned to tar-and-feather him and declined to attend the meeting. The mob seized Garrison instead, dragged him through the streets by a rope around his waist, and threatened to lynch him until he was rescued by police. Garrison spent the night in a city jail and left Boston the next morning. He remained a staunch opponent of slavery and lived to see the institution's demise 30 years later. [History Digression article] (see May 1836)
Montgomery Bus Boycott
October 21, 1955:  in Montgomery, AL, Mary Louise Smith (age 18) was arrested for violating segregation laws in Montgomery, Ala. She, along with three other African-American women (Aurelia Browder, Susie McDonald and Claudette Colvin) refused to surrender their bus seats to whites (months before Rosa Parks does the same).
They brought the famous Browder v. Gayle lawsuit that successfully resulted in the Alabama law being ruled unconstitutional. (BH, see Oct 22; Feminism & MBB, see Dec 1: Browder v Gayle, see June 5, 1956)
Emmett Till Statue
 October 21, 2022: hundreds of people applauded — and some wiped away tears — as a Mississippi community unveiled a larger-than-life statue of Emmett Till, not far from where he was kidnapped and killed.
"Change has come, and it will continue to happen," Madison Harper, a senior at Leflore County High School, told a racially diverse audience at the statue's dedication. "Decades ago, our parents and grandparents could not envision that a moment like today would transpire." [AP article] (next BH, see Nov 30; next ET. see February 7, 2023, or see ET chronology for expanded story)
October 21 Peace Love Art Activism
October 21 Music et al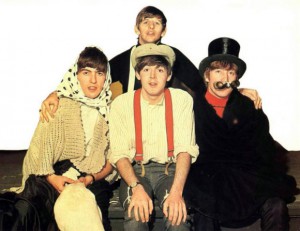 The Beatles' Christmas Show
October 21, 1963: 100,000 tickets go on sale for The Beatles' Christmas Show. Manager Brian Epstein, who himself had had theatrical aspirations, conceived a variety stage production featuring the group. (see Oct 31)
"To Sir With Love"
October 21 – November 24, 1967: "To Sir With Love" by Lulu #1 on the Billboard Hot 100.
Jack Kerouac
October 21, 1969: On the Road (1957) author, Jack Kerouac, died. Created term "Beat" to describe the so-called Beat Generation as well as providing titles to two of the most famous writings of that era: Howl (1955), by Allen Ginsberg and Naked Lunch (1959), by William Burroughs. (NYT obit) (see April 5, 1997)
October 21 Peace Love Art Activism
Vietnam
October 21 – 22, 1967: in Washington, D.C. nearly 100,000 people gathered to protest the Vietnam War. More than 50,000 of the protesters marched to the Pentagon to ask for an end to the conflict. [Nation article] (Nov 7)
Peace negotiations
October 21, 1972: Henry Kissinger again conferred with President Thieu, then flew to Pnompenh to brief Cambodia's President, Lon Nol. (see Oct 22)
October 21 Peace Love Art Activism
FREE SPEECH
October 21, 1977: Judge Bernard Decker of the US District Court for the Northern District of Illinois issues a preliminary injunction prohibiting the Village of Skokie from enforcing three ordinances aimed at preventing Frank Collin and his Nationalist Socialist party sympathizers from marching in Skokie. [Skokie article] (see January 27, 1978)
October 21 Peace Love Art Activism
LGBTQ
NJ/Same-sex marriage
October 21, 2013: Gov. Chris Christie of New Jersey announced that he would drop his legal challenge to same-sex marriage, hours after gay couples started exchanging vows in midnight ceremonies across the state.
His decision effectively removed the last hurdle to making same-sex marriage legal in New Jersey. At 12:01 a.m., New Jersey joined 13 other states and the District of Columbia in allowing gay couples to marry. (NYT article) (see Nov 5)
Trump/transgender
October 21, 2018: the Trump administration is considering narrowly defining gender as a biological, immutable condition determined by genitalia at birth, the most drastic move yet in a government-wide effort to roll back recognition and protections of transgender people under federal civil rights law.
According to a memo obtained by The New York Times, the Department of Health and Human Services was spearheading an effort to establish a legal definition of sex under Title IX, the federal civil rights law that bans gender discrimination in education programs that receive government financial assistance. (see Nov 6)
Pope Francis
October 21, 2020: Pope Francis appeared to break with the position of the Roman Catholic Church by supporting civil unions for same-sex couples, according to remarks Francis made in a new documentary that debuted in Rome on Wednesday.
Speaking about pastoral outreach and care for people who identified as L.G.B.T., Francis directly addressed the issue of civil unions in the film.
"What we have to create is a civil union law. That way they are legally covered," Francis said amid remarks in which he otherwise reiterated his support for gay people as children of God. "I stood up for that." [NYT story] (next LGBTQ, see January 12, 2021)
October 21 Peace Love Art Activism
TERRORISM
October 21, 2017: 29-year-old Sayfullo Habibullaevic Saipov deliberately drove a rented truck onto a busy bicycle path near the World Trade Center in lower Manhattan, killing eight people and injuring at least 12 others.
The vehicle entered the pedestrian/bike path at Houston St., a few blocks north of Chambers Street on Manhattan's west side. The truck drove down the bike path for about four blocks, striking cyclists and pedestrians before veering back into traffic lanes and striking a school bus and another vehicle.
Saipov emerged from the vehicle screaming and brandishing imitation firearms before being shot by police. NYC Officer Ryan Nash shot 9 times and hit Saipov once in the abdomen. Police took Saipov into custody. [CBS News article] (T, see Nov 7; Saipov, see Nov 28)
October 21 Peace Love Art Activism
Women's Health
October 21, 2022:  maternal mortality review committees look for clues as to what contributed to the new mothers' deaths — unfilled prescriptions, missed postnatal appointments, signs of trouble that doctors overlooked — to figure out how many of them could have been prevented and how.
The committees work in almost 40 states in the U.S. and in the latest and largest compilation of such data, released in September by the Centers for Disease Control and Prevention, a staggering 84% of pregnancy-related deaths were deemed preventable.
Even more striking was that 53% of the deaths occurred well after women left the hospital, between seven days and a year after delivery. [NPR article] (next WH, see January 5, 2023)
October 21 Peace Love Art Activism