November 7 Peace Love Art Activism
Black History
Abolitionist Elijah P Lovejoy murdered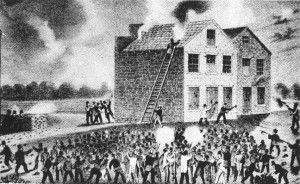 November 7, 1837: abolitionist, clergyman and editor Elijah P. Lovejoy was killed by a pro-slavery mob in Alton, Ill., as he defended his newly delivered printing press. Lovejoy was a Presbyterian minister, journalist, and news editor first established a newspaper called the St. Louis Observer in St. Louis, Missouri but was eventually run out of town for his critical editorials about slavery and other religions. He established a new newspaper in Alton, Illinois called the Alton Observer. On three occasions a pro-slavery mob destroyed his printing press for his strongly abolitionist views. When they attempted to destroy the final printing press, Lovejoy tried to intervene but was shot five times by the angry mob who were armed with shotguns. Lovejoy then was viewed as a martyr for the abolitionist movement and inspired antislavery ideas in the North. No one was ever convicted for his murder. (see  Dec 21)
Successful Slave revolt
November 7, 1841: a slave revolt occurred on a slave trader ship, the 'Creole,' which was en route from Hampton, Va., to New Orleans, La.,. Slaves overpowered crew and sailed vessel to Bahamas where they were granted asylum and freedom. [Black Past article] (SR, see December 26, 1848; BH, see August 1842)
Scottsboro Tavesty
November 7, 1932: in Powell v. Alabama by a vote of 7 -2, Supreme Court reversed the convictions. The Court ruled that the defendants were denied the right to counsel, which violated their right to due process under the Fourteenth Amendment. The cases were remanded to the lower court. (Scottsboro, see Scottsboro; Right to counsel, see May 23, 1938)
Mayor and City Council of Baltimore City v. Dawson
November 7, 1955: a per curiam order by the US Supreme Court affirming an order by the US Court of Appeals for the Fourth Circuit that enjoined racial segregation in public beaches and bathhouses. The case arose from a challenge to segregation at Sandy Point State Park in Maryland.
Sarah Keys v. Carolina Coach Company
November 7, 1955: the Interstate Commerce Commission, in response to a bus segregation complaint filed in 1953 by a Women's Army Corps private named Sarah Louise Keys, broke with its historic adherence to the Plessy v. Ferguson separate but equal doctrine and interpreted the non-discrimination language of the Interstate Commerce Act as banning the segregation of black passengers in buses traveling across state lines. [Black Then article] (see Nov 9)
Cleveland's first Black mayor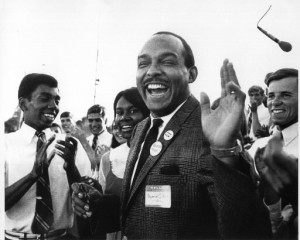 November 7, 1967: Carl B. Stokes elected mayor of Cleveland becoming the first African American mayor of a major US city. (see Dec 29)
Nixon/Jordan/Young
November 7, 1972: Nixon reelected in one of the largest landslides in American political history, taking more than 60 percent of the vote and crushing the Democratic nominee, Sen. George McGovern of South Dakota.
Also, Barbara Jordan of Houston and Andrew Young of Atlanta, become the first African Americans from the south elected to Congress since Reconstruction. (BH, see Nov 23;  see Watergate for expanded chronology)
NYC's first Black mayor; Virginia's first Black governor
November 7, 1989: David Dinkins elected first African American mayor of New York City.
Douglas Wilder wins the Virginia governor's race, becoming the first elected African American governor. (see Dec 7)
Interracial marriage legal in Alabama
November 7, 2000: Alabama became the last state to officially legalize interracial marriage. By November 2000, interracial marriage had been legal in every state for more than three decades after the U.S. Supreme Court's ruling in Loving v. Virginia (1967) – but the Alabama State Constitution still contained an unenforceable ban in Section 102: "The legislature shall never pass any law to authorise or legalise any marriage between any white person and a Negro or descendant of a Negro." The Alabama State Legislature clung to the old language as a symbolic statement of the state's views on interracial marriage; as recently as 1998, House leaders successfully killed attempts to remove Section 102. When voters finally had the opportunity to remove the language, the outcome was close: although 59% of voters supported removing the language, 41% favored keeping it. Interracial marriage remained controversial in the Deep South, where a 2011 poll found that a plurality of Mississippi Republicans still support anti-miscegenation laws. (Alabama results) (see Dec 16)
University of Missouri football
November 7, 2015: dozens of black University of Missouri football players said that they would boycott all football-related activities — including games — until the university's president, Timothy M. Wolfe, steps down or was removed. At issue, the players and other student activists said, were recent instances of racism directed at black students and a lack of action from administrators that the students contend have combined to create an intolerable atmosphere on campus. Wolfe resigned on November 9.
137 SHOTS
November 7, 2017:  Cleveland settled a federal lawsuit filed by Lt. Johnny Hamm who said the city and police Chief Calvin Williams retaliated against him for a series of Facebook posts about the 22-mile police chase that left two people dead.
The notice that Hamm reach a settlement with the city was filed in front of U.S. District Christopher Boyko. The city refused to discuss the terms of the settlement. (see 137 shots for more)
November 7 Peace Love Art Activism
Voting rights
November 7, 1893:  passage of a referendum made Colorado the first state to grant women the right to vote.(F, see Dec 8)
In 1897 Josephine Dodge founded the New York State Association Opposed to Woman Suffrage. Dodge was the first president, the NAOWS believed that woman suffrage would decrease women's work in communities and their ability to effect societal reforms. Active on a state and federal level, the group also established a newsletter, Woman's Protest( reorganized as Woman Patriot in 1918), that was a bellwether of anti-suffrage opinion. In 1918 the NAOWS moved its headquarters to Washington, D.C., where it operated until its disbandment following the passage of the Nineteenth Amendment in 1920. Woman Patriot continued to be published through the 1920s, generally opposing the work of feminists and liberal women's groups.(Feminism, see  March 18, 1898;  VR, see April 25, 1898)
November 7 Peace Love Art Activism
Domestic terrorism
November 7, 1922: Oregon voters approved the Compulsory Education Act, a Ku Klux Klan-sponsored initiative, which required children between the ages of 8 and 16 to attend public schools. The law was motivated by KKK anti-Catholic bias and would have effectively closed down parochial schools in the state. In the 1920s the Klan was a major force in many states outside of the South, and was particularly active with regard to anti-Catholic bias. On June 1, 1925, in Pierce v. Society of Sisters, the Supreme Court declared the law unconstitutional because it interfered with the right of parents to control the education of their children.(T, see June 14, 1924; Oregon, see June 1, 1925)
November 7 Peace Love Art Activism
Cold War
November 7, 1957: the final report from a special committee called by President Dwight D. Eisenhower to review the nation's defense readiness indicated that the US was falling far behind the Soviets in missile capabilities, and urged a vigorous campaign to build fallout shelters to protect American citizens.(see Nov 17)
November 7 Peace Love Art Activism
November 7 Music et al
Bob Newhart
November 7 – December 11, 1960: The Button-Down Mind of Bob Newhart comedy album returns to Billboard #1.
John meets Yoko
November 7, 1966: John Lennon visited the Indica Gallery in London where he met Yoko Ono who was displaying her art. The Indica Gallery was in the basement of the Indica Bookshop in Mason's Yard, just off Duke Street in Mayfair, London and co-owned by John Dunbar, Peter Asher, and Barry Miles, and was supported in its early years by Paul McCartney. (see Nov 19)
November 7 Peace Love Art Activism
Vietnam
Harvard protests
November 7, 1966: Secretary of Defense Robert S. McNamara faced a student protest when he visited Harvard University to address a small group of students. As he left a dormitory, about 100 demonstrators shouted at him and demanded a debate. When McNamara tried to speak, supporters of the Students for a Democratic Society shouted him down. McNamara then attempted to leave, but 25 demonstrators crowded around his automobile so that it could not move. Police intervened and escorted McNamara from the campus. (click >>>Harvard) (see Nov 15)
Draft deferments cancelled
November 7, 1967: the Selective Service Commission announced that college students arrested in anti-war demonstrations would lose their draft deferments. (see draft) (see Nov 11)
WAR POWERS ACT
November 7, 1973: both the House and Senate passed the War Powers Act, overriding President Nixon's veto.
November 7 Peace Love Art Activism
Feminism
UN Declaration
November 7, 1967: the U.N. Declaration on the Elimination of Discrimination Against Women was adopted, stating that discrimination against women was fundamentally unjust and constituted an offense against human dignity. It set out equal rights for women in education, civil law, electoral politics and the workplace, among other articles. [text] (see January 15, 1968)
Hillary Rodham Clinton
November 7, 2000: the Presidential election ended without a clear winner. Hillary Rodham Clinton is elected to the United States Senate, becoming the first First Lady of the United States to win public office. (election, see Nov 26; next F, see January 22, 2001)
November 7 Peace Love Art Activism
LGBTQ
Briggs Initiative defeated
November 7, 1978: voters rejected the Briggs Initiative by more than a million votes John Briggs had dropped out of the California governor's race, but received support for Proposition 6, also known as the Briggs Initiative, a proposal to fire any teacher or school employee who publicly supported gay rights. Harvey Milk campaigned against the bill and attended every event hosted by Briggs. In the summer, attendance had greatly increased at Gay Pride marches in San Francisco and Los Angeles, partly in response to Briggs. President Jimmy Carter, former Governor Ronald Reagan, and Governor Jerry Brown speak out against the proposition. (see April 1, 2001)
Initiative Measure 416
November 7, 2000: anti-gay forces in Nebraska push through the discriminatory Initiative Measure 416 at the ballot, constitutionally prohibiting the state from respecting any form of family status or recognition for same-sex couples. (see Nov 27)
Same-sex marriage denied
November 7, 2006: constitutional amendments denying same-sex couples the freedom to marry passed in seven more states – Colorado, Idaho, South Carolina, South Dakota, Tennessee, Virginia, and Wisconsin. Arizona becomes the first state to reject an anti-gay marriage amendment at the ballot. (see December 14, 2006)
slowly but surely things changed…
November 7, 2013: the US Senate approved a ban on discrimination in the workplace based on sexual orientation and gender identity, voting 64 to 32 in a bipartisan show of support that was rare for any social issue. It was the first time in the institution's history that it had voted to include gay, lesbian, bisexual and transgender people in the country's nondiscrimination law. (see Nov 15)
November 7 Peace Love Art Activism
IRAQ War I
November 7, 1991:  the last oil well fire in Kuwait is extinguished. (see April 14 – 16, 1993)
November 7 Peace Love Art Activism
Cannabis
Colorado/Nevada
November 7, 2000: fifty-four percent of voters in Colorado approved Amendment 20, which amended the state's constitution to recognize the medical use of marijuana. The law took effect on June 1, 2001. It removed state-level criminal penalties on the use, possession and cultivation of marijuana by patients who possess written documentation from their physician. The law established a confidential state-run patient registry that issues identification cards to qualifying patients…
Sixty-five percent of voters in Nevada approved Question 9, which amended the states' constitution to recognize the medical use of marijuana. The law took effect on October 1, 2001. The law removed state-level criminal penalties on the use, possession and cultivation of marijuana by patients who have 'written documentation' from their physician… The law establishes a confidential state-run patient registry that issues identification cards to qualifying patients." (see May 14, 2001)
November 7 measures
November 7, 2017: The Cannabis News headline on the day'selection results said: "Marijuana Won Tuesday's Election."
In Philadelphia, Lawrence Krasner, an outspoken advocate of non-enforcement of laws against marijuana use, was elected district attorney.

In Detroit, voters strongly approved two measures that will allow medical marijuana businesses to operate in more areas of the city and stay open longer. Recreational marijuana legalization is likely to be petitioned onto the Michigan ballot next November, and the Detroit results are seen as good news for the state initiative.

In Athens, Ohio, home of Ohio University, voters approved a city ordinance to completely eliminate fines and court costs for possessing and cultivating up to 200 grams (about 7 ounces) of marijuana. The vote was 77 percent to 22 percent in favor.

In Virginia, Democratic Governor-Elect Ralph Northam had made marijuana decriminalization a centerpiece of his campaign, emphasizing the disproportionate number of black Virginians who are arrested on marijuana charges in the state. Blacks are 2.8 times more likely to be busted for pot than whites in Virginia.
November 7 Peace Love Art Activism
Sexual Abuse of Children
November 7, 2002:  U.S. Roman Catholic bishops picked Kathleen McChesney , the FBI's top-ranking woman, to head a new office charged with making sure American church leaders adhere to clerical sex abuse policy. McChesney was named director of the Office for Child and Youth Protection, a critical post as the bishops try to re-establish their credibility. [NYT article] (see Nov 13)
November 7 Peace Love Art Activism
ADA
November 7, 2013: Jesse M. Furman of Federal District Court in Manhattan ruled that New York City had violated the rights of about 900,000 of its residents with disabilities by failing to accommodate for their needs during emergencies, Furman found that the city, through "benign neglect," was in violation of the Americans With Disabilities Act. [NYT article] (see Nov 8)
November 7 Peace Love Art Activism
Women's Health
TERRORISM
November 7, 2017: a window was broken and an incendiary device was placed inside a women's health clinic in Champaign, IL.
The FBI investigated the attempted arson as a civil rights violation. Authorities investigated the act as an attempted arson.
The FBI says the attempted arson violates the FACE act, which protects people's right to reproductive health care. (Terrorism, see Nov 20;  Champaign, see March 13, 2018)
Affordable Care Act
November 7, 2017: the University of Notre Dame reversed it October 27 decision and announced that faculty, students, and staff would be able to obtain coverage for contraceptives through their university-sponsored insurance plans. [Indy Star article] (WH, see Nov 22; ACA, see Dec 21; ND, see Feb 7)
November 7 Peace Love Art Activism
Nuclear/Chemical News
November 7, 2017: diplomat, Federica Mogherini, the European Union's top diplomat, issued yet another stern warning that the Iran nuclear agreement that was reached in 2015 could not be reopened for negotiation or changed, as President Trump had vowed to do.
"Renegotiating part of the agreement or the entire agreement is not an option," said Mogherini, who served as the bloc's high representative for foreign affairs and security policy. [NYT article]  (next N/C N,see Nov 9; next Iran, see January 12, 2018)
November 7 Peace Love Art Activism
Environmental Issues
November 7, 2019: the Trump administration changed a 25-year-old policy to make it easier for coastal communities to take sand from protected ecosystems to improve their beaches.
The shift made it cheaper for some of the wealthiest communities in the country to replenish their beachfronts, which were increasingly under threat from more frequent and intense storms, rising seas and other effects of climate change. Critics said that would come at the expense of vulnerable coastal ecosystems.
"Undeveloped coastal islands and beaches will now be opened up to sand mining that will imperil birds and other wildlife, destroy important habitat and reduce the protections these places provide against impacts of storms and erosion," said Karen Hyun, vice president for coastal conservation at the National Audubon Society, in a statement. [NYT article] (next EI, see Nov 13)
November 7 Peace Love Art Activism