November 17 Peace Love Art Activism
Native Americans
November 17, 1828: the Alabama General Assembly passed "An Act to extend the jurisdiction of the State of Alabama over the Creek Nation." The law became effective January 29, 1829. Alarmed at the state attempt to codify legal encroachment into Creek territory, tribal leaders turned to the federal government to plead for intervention and defense. Instead, the federal authorities seized the growing state pressure on Creek sovereignty as an opportunity to further aspirations to relocate the Creeks out of the southern region.
In March 1829, President Andrew Jackson announced that federal protection only existed for the Creeks willing to leave Alabama for the Western Territory, writing:
"Where you now are, you and my white children are too near to each other to live in harmony and peace…Beyond the great river Mississippi, where a part of your nation has gone, your father has provided a country large enough for all of you, and he advises you to remove to it…In that country, your father, the President, now promises to protect you, to feed you, and to shield you from all encroachment…My white children in Alabama have extended their law over your country. If you remain in it, you must be subject to that law. If you remove across the Mississippi, you will be subject to your own laws, and the care of your father, the President…It is for your nation's good, and your father requests you to hear his counsel."
Shortly after the passage of the Alabama law, prominent Creeks Opothle Yoholo and Jim Boy were summoned to appear before the Montgomery County Circuit Court on charges of assault against a white man. Opothle Yoholo and Jim Boy argued they were not subject to the court's jurisdiction, but the judge proceeded with the case and awarded the alleged victim $4500 in damages.         In 1832, the Alabama Supreme Court upheld the extension act as constitutional, in Caldwell v. State, and later that year the General Assembly passed another law, this time criminalizing tribal laws and customs that conflicted with Alabama law. By 1837, 23,000 Creeks had emigrated out of the Southeast. (see May 28, 1830)
November 17 Peace Love Art Activism
Anarchism
Bolsheviks
November 17, 1917: The Bolsheviks, a broad-based Socialist group supported by workers and soldiers and led by V. I. Lenin, seized power from the tsarist Romanov dynasty, which had ruled Russia for over three centuries. [Nat'l Geo article] (see May 16, 1918)
Dissolution of the USSR & Velvet Revolution
November 17, 1989: riot police put down student protests against the communist government in Czechoslovakia. The incident started a series of non-violent protests that finally forced the communists from power two weeks later. (see Nov 28)
November 17 Peace Love Art Activism
Feminism
November 17, 1923: following annual conference of national and state National Women's Party officers in Washington, D.C., deputation of NWP officers meets with President Calvin Coolidge to ask his support for an equal rights amendment. Coolidge voiced support for equal rights but would not endorse an amendment per se. (see December 10, 1923)
November 17 Peace Love Art Activism
BLACK HISTORY
UNC/KKK
November 17, 1937:  over 1,000 white students and faculty at the University of North Carolina at Chapel Hill gathered to attend a speech openly advocating for white supremacy by the Imperial Wizard of the Ku Klux Klan, Dr. Hiram Evans. The UNC Political Science Department and the Carolina Political Union hosted the event, entitled "America and the Klan." Amidst the rise of Nazism in Europe, Dr. Evans told students, "What America needs most now to restore the good old days when nations loved each other is a universal dose of the Ku Klux Klan." [EJI article]
News Music
In 1938: Lead Belly (born Huddie William Ledbetter) (1888 – 1949) sang about his visit to Washington, DC with his wife and their treatment while in the nation's capitol in his song, "Bourgeois Blues". (next BH, see November 22, 1938; see NM for expanded chronolgy)
Adam Clayton Powell
November 17, 1955:  Rev. Adam Clayton Powell, Democrat from Harlem and the leading African-American in Congress, announced the formation of an "organized civil right bloc" in Congress.
The event marked the beginning of a civil rights caucus that eventually led to the formal organization of the Congressional Black Caucus, on March 30, 1971. (see Nov 25)
Albany (Georgia) Movement
November 17, 1960:  Student Nonviolent Coordinating Committee workers encouraged and coordinated civil rights activism in Albany, Ga., culminating in the founding of the Albany Movement as a formal coalition. (next BH, see Nov 26)
U. S. Civil Rights Commission
November 17, 1961: a report by the U. S. Civil Rights Commission identified police brutality as a "serious problem" nationwide. The Commission's findings soon proved to be prophetic. Police use of excessive force, unjustified fatal shootings of African-Americans, and discriminatory arrest patterns would be major causes of the urban riots that erupted in the summer of 1964 and continue for three more summers. The Kerner Commission report on the riots, issued on February 29, 1968, confirmed the role of police misconduct as a serious problem and a cause of the riots. (see Nov 28)
Albany Movement
November 17, 1961: often forgotten in most histories of the civil rights movement, the Albany (Georgia) Movement, which began on this day, involved a series of civil rights actions by a coalition of SNCC, the NAACP and SCLC. Police Chief Laurie Pritchett adroitly avoided confrontations that would bring unfavorable national publicity to him and the city. (In 1963, Birmingham, Alabama, Sheriff Bull Connor's would use fire hoses and police dogs against demonstrators which galvanized the nation and generated support for a federal civil rights law.) Leaders of the Albany Movement asked the Kennedy administration to protect their efforts to secure African-American voting rights, but the administration did not respond. In fact, at one point the Justice Department indicted some of the leaders of the Albany Movement on various criminal charges. In the end, the Albany struggle was unsuccessful. William Anderson, a local doctor was its president. (see AM for expanded story)
137 SHOTS
November 17, 2015: "No pay for killer cops!" That was what the family members of Malissa Williams were chanting earlier in front of Cleveland's city hall in response to news that Michael Brelo – one of the 13 cops who fatally shot both Williams and her friend Timothy Russell 137 times– would soon  be back policing the streets.
"Everybody knows this is murder," said Alfredo Williams, Malissa's brother said at a press conference. "I have never heard of anything like this in my life. He knows he did wrong." (see 137 for ongoing story)
November 17 Peace Love Art Activism
News Music
November 17, 1958: the Kingston Trio's "Tom Dooley" hit #1 on the Billboard pop chart.
While not a protest song as such, protest folk probably owed its commercial success to the Kingston Trio, three guys in crew cuts and candy-striped shirts who honed their act not in Greenwich Village cafes, but in the fraternities and sororities of Stanford University in the mid-1950s.
Without the enormous profits that the Trio's music generated for Capitol Records, it is unlikely that major-label companies would have given recording contracts to those who would challenge the status quo in the decade to come. Joan Baez and Bob Dylan, for instance, may have owed their musical and political development to forerunners like Woody Guthrie and Pete Seeger, but they probably owed their commercial viability to the Kingston Trio. (see October 20, 1960)
Big Girls Don't Cry
November 17 – December 21, 1962 – "Big Girls Don't Cry" by the Four Seasons #1 Billboard Hot 100.
"Double Fantasy"
November 17, 1980, The Beatles post break-up: John Lennon released his final album, "Double Fantasy" along with his wife Yoko Ono It was the seventh and final studio album released by Lennon in his lifetime. At first the LP was not received very well, but 3 weeks later, when John was murdered it became a worldwide commercial success, and went on to win the 1981 Album of the Year at the 24th Annual Grammy Awards. (see Dec 8)
November 17 Peace Love Art Activism
Vietnam
November 17, 1965: elements of the 66th North Vietnamese Regiment moving east toward Plei Mei encounter and ambush an American battalion. Neither reinforcements nor effective firepower can be brought in.
When fighting ended that night, 60 percent of the Americans were casualties and almost one of every three soldiers in the battalion had been killed. [Daily Beast article] (see Nov 20)
November 17 Peace Love Art Activism
My Lai Massacre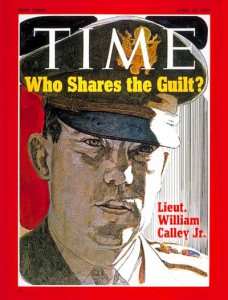 November 17, 1970: Lieutenant Calley's court-martial began for six counts of premeditated murder that he had been charged with nearly a year before. A conviction of these charges could come with a death sentence. During the trial, the military prosecutor insisted that Calley ordered his men to deliberately murder civilians, a direct defiance of the U.S. Rules of Engagement. Calley's defense was that he was simply following the orders of Captain Medina. Medina denied any such order. [NYT article] (see My Lai for expanded story; next Vietnam, see Nov 21)
November 17 Peace Love Art Activism
The Cold War
November 17, 1969: Soviet and U.S. negotiators meet in Helsinki to begin the Strategic Arms Limitation Talks (SALT). [DoS aticle](see February 21 > 28, 1972)
November 17 Peace Love Art Activism
Watergate Scandal
November 17, 1973: President Nixon told an Associated Press managing editors meeting in Orlando, Fla., that "people have got to know whether or not their president is a crook. Well, I'm not a crook."(see Watergate for expanded story)
November 17 Peace Love Art Activism
Iran hostage crisis
November 17, 1979: Iranian leader Ruhollah Khomeini ordered the release of 13 female and African American hostages being held at the U.S. Embassy in Tehran.
On the same day, U.S. President Carter froze all Iranian assets in the United States and U.S. banks abroad in response to the taking of 63 American hostages at the U.S. embassy in Tehran, Iran. [CNN timeline] (see January 28, 1980)
November 17 Peace Love Art Activism
USSR dissolves
November 17, 1989: riot police put down student protests against the communist government in Czechoslovakia. The incident started a series of non-violent protests that finally forced the communists from power two weeks later. (see USSR for expanded chronology)
November 17 Peace Love Art Activism
Stop and Frisk Policy
November 17, 2019: former New York Mayor Michael R. Bloomberg reversed his longstanding support of the aggressive "stop-and-frisk" policing strategy that he pursued for a decade and that led to the disproportionate stopping of black and Latino people across the city.
"I was wrong," Mr. Bloomberg declared. "And I am sorry." [NYT story]
November 17 Peace Love Art Activism
SEPARATION OF CHURCH AND STATE
November 17, 2021: the US Conference of Catholic Bishops voted overwhelmingly to approve a document that some conservative bishops had hoped would serve as a call to ban communion for President Joe Biden and other elected officials who support abortion rights.
The document — which passed with 222 in favor, eight against and three abstentions — would need Vatican approval before any action is taken that would directly target any elected official.
A draft of the document, which emerged from a summer of work, contained measured wording that fell far short of refusing communion to Biden or others who support abortion rights. The only line that was seemingly pointed at the White House said, "Lay people who exercise some form of public authority have a special responsibility to embody Church teaching in their service of the common good."
Biden, while visiting Italy last month, said Pope Francis told him he was happy he was a "good Catholic" and said he should continue receiving communion. [CNN article] (next Separation, see June 5, 2023)
November 17 Peace Love Art Activism