Dion Paul Van Bill
Musicians travel and so musicians' paths cross. And sometimes musicians decide to record together. Here's the story of four guys who at first might seem to be too different to record together, but after a moment one might think, Why did they wait so long?
Fame will eat the soul
'Til you just can't fake it
Fame will eat the soul
And your heart's gonna break
Fame will eat the soul
'Til you just can't take it no more, take it no more
New York Is My Home
Dion DiMucci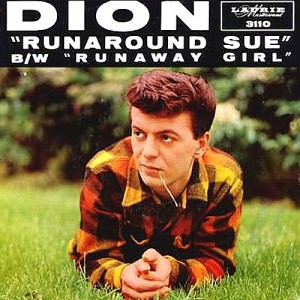 So this guy whose full name is Dion DiMucci, but let's just call him Dion because that is how you know him, right? He of the Bronx, NY. He lived near Belmont Avenue, thus the group name: The Belmonts and later Dion and the Belmonts.
If you've ever visited the Museum at Bethel Woods Center for the Art, early in the Main Gallery you'll see the sleeve for his big September 1961 hit: Runaround Sue, a song he co-wrote with Ernie Maresca.
The Beatles and the British Invasion did a job on Dion and artists like him. He didn't disappear, by any means, but his name was no longer a household one. In 1968, he briefly returned to the limelight with Abraham, Martin, and John.
If you asked him at any time though he'd say,  New York is my home.
Dion Paul Van Bill
Paul Simon
And another New Yorker by the name of Paul Simon, who teamed up famously with Art Garfunkel initially as Tom and Jerry, but then success came in the bright light of Bob Dylan's success as Simon and Garfunkel. Despite his Newark, NJ roots, if you asked him at any time since, he'd say New York is my home.
You'll also see Paul and Art on their 1966 Sounds of Silence album cover in the Museum, a little later on, near those brighter and more colorful album covers.
Dion Paul Van Bill
Collaboration
Now it's decades later and Dion has written a song called New York Is My Home and he asked his old Big Apple buddy Paul to sing along. Dion's voice is still smooth and wonderful and Paul's harmonies are right on.
In a Rolling Stone magazine article, Kory Grow wrote: Dion originally wrote the tune as a solo recording, but soon realized he'd like to bring his old friend Simon into the fold. "We share a love for rock & roll street music the way it was done when we were kids," he says. "I knew Paul would get this song. And he did. Soon after I sent it to him, he called and said he'd become obsessed with it. He added his own distinct touches to the production. He's from Queens; I'm from the Bronx. We're both at home in New York. What a trip, a labor of love for us."
Oh how far you've come, Mr DiMucci!
Dion Paul Van Bill
Earlier
And this was not the first collaboration between the two. In 1989, Paul joined Dion for "Written On A Subway Wall/Little Star" for Dion's Yo Frankie album.
Dion Paul Van Bill
Bill Medley
Singer songwriter William Thomas Medley is best known as one half of The Righteous Brothers and his bass-baritone voice,. We recognize it immediately with "You've Lost That Lovin' Feelin'."
When we picture Bill, we likely flash back to his time with Bobby Hatfield.  Well-dressed.  In  search  of a club.
Medley has had a long career and  was nominated for Best Arrangement Accompanying Vocalist in the 1972 Grammy Awards for his recording of "Freedom and Fear", a track from Michel Colombier's album Wings.
In 1988, Medley received a Grammy Award for Best Pop Performance by a Duo or Group with Vocals for his duet with Jennifer Warnes on "(I've Had) The Time of My Life".
Dion Paul Van Bill
Van
To try to summarize the career of Van Morrison is a few paragraphs is a fruitless task. Suffice to say, Van Morrison has made–and continues to make–some of the most important rock music of any rock musician. He can whisper. He can shout. Simply…he can sing.
Naming his second album, Astral Weeks, can bring shivers to fans.  Warner Brothers released it on November 29, 1968.
Two years later he released Moondance. More shivers. Can i just have one more dance with you…
Dion Paul Van Bill
Three Chords and  the Truth
51 years later, Van has released his 41st album. That's right. 41st. March Winds In February opens the album. And I start to shiver.
Fame Will Eat the Soul is the second cut.  I can't sit still. Then around minute two there's another voice. Wow. When I first heard it I wondered. Then I found out. Bill Medley! Bill Medley!
Why haven't you two done something before. Will you two please do more. A whole album. The new Righteous Brothers?  No. It's Them Righteous Brothers, eh?
Dion Paul Van Bill