November 15 Peace Love Art Activism
Black History
Anti-slavery pamphlets banned
November 15, 1830:  North Carolina passed two laws designed to limit the influence of an anti-slavery pamphlet and discourage its dissemination, mandating the punishment of death for those who twice violated the law.
Titled "An Act to Prevent the Circulation of Seditious Publications," North Carolina's first law banned bringing into the state any publication with the tendency to inspire revolution or resistance among enslaved or free Black people; a first violation of the law was punishable by whipping and one-year imprisonment, while those convicted of a second offense would "suffer death without benefit of clergy."
The second law forbade all persons in the state from teaching the enslaved to read and write. A white person convicted of violating the law would be subject to a $100-200 fine or imprisonment; a free Black person would face a fine, imprisonment, or between 20 and 39 lashes; and an enslaved Black person convicted of teaching other enslaved people to read or write would receive 39 lashes. [EJI article] (next BH, see February 1831)
Jimmie Lee Jackson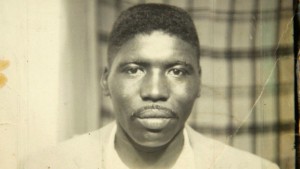 On February 18, 1965, during a protest near the Perry County Jail in Perry, Alabama, twenty-six-year-old Jimmie Lee Jackson, his mother Viola Jackson, and his 82-year-old grandfather, Cager Lee, ran into a cafe pursued by Alabama State Troopers. Police clubbed Cager Lee to the floor in the kitchen. His daughter Viola attempted to pull the police off, she was also beaten.
When Jimmie Lee attempted to protect his mother, one trooper threw him against a cigarette machine. A second trooper shot Jimmie Lee twice in the abdomen. Jimmie Lee Jackson died 8 days later.
A grand jury will not indict James Fowler, the trooper who shot Jackson, but on May 10, 2007, 42 years after the homicide, an Alabama grand jury did indict the former state trooper for the February 18, 1965 murder of Jimmie Lee Jackson.
On this date, November 15, 2010, James Fowler apologized for his shooting of Jimmie Lee Jackson, but insisted that he had acted in self-defense, believing that Mr. Jackson was trying to grab his gun. Fowler was sentenced to six months in prison. Perry County commissioner, Albert Turner Jr, called the agreement "a slap in the face of the people of this county." Fowler served 5 of the 6 months. [BH, see June 26, 2011; Fowler, see July 5, 2015]
BLACK & SHOT
November 15, 2015: white Minneapolis police officers Mark Ringgenberg and Dustin Schwarze fatally shot Jamar Clark, 24, an unarmed black man. (B & S, see Nov 19; Minneapolis, see Nov 23)
November 15 Peace Love Art Activism
Feminism
Voting Rights
November 15, 1913: first issue of The Suffragist published. Rheta Louise Childe Dorr was its first editor. (see Nov 18)
Suffragist Tortured, Night of Terror
November 15, 1917: "Night of Terror" pickets (arrested Nov 10) transferred to Occoquan Workhouse, where Superintendent Raymond Whittaker, just back from White House meeting of district commissioners, set in motion a brutal reception for newly arrived prisoners. Whittaker summarily dismissed demands for political prisoner status and watched guards hurl Dora Lewis into a dark cell, smash her head against an iron bed, and knock her. Her cellmate, Alice Cosu, thought Lewis was dead and suffered a heart attack. They beat Lucy Burns, chained her hands to the cell bars above her head, and left her hanging for the night, bleeding and gasping for air. Julia Emory showed support and sympathy by assuming same position. The next day, 16 women went on hunger strike. (San Francisco site full story) (see Nov 18)
November 15 Peace Love Art Activism
Calvin Graham
Battle of Guadalcanal
November 15, 1942: during the battle of Guadalcanal, the South Dakota was hit forty-seven times by enemy fire. One explosion threw Calvin down three decks of stairs. He was seriously wounded by shrapnel that tore through his jaw and mouth. In spite of his injuries, he helped pull fellow sailors from danger. Half the ship's crew of 3,300 were killed or wounded. He was awarded the Bronze Star, the Purple Heart and the Navy Unit Commendation medal.
36 years later…
November 15, 1978: the General Accounting Office received Graham's claim from back-pay due him from his World War II service. (see Calvin Graham for full sad story)
November 15 Peace Love Art Activism
The Cold War
 Nikita Khrushchev
November 15, 1957: in a long and rambling interview with an American reporter, Soviet leader Nikita Khrushchev claims that the Soviet Union has missile superiority over the United States and challenges America to a missile "shooting match" to prove his assertion. The interview further fueled fears in the United States that the nation was falling perilously behind the Soviets in the arms race. (NYT article) (see December 9, 1958)
November 15 Peace Love Art Activism
November 15 Music et al
Beatles before their US appearance
November 15, 1959: Paul McCartney, John Lennon and George Harrison auditioned for a British talent program called TV Star Search at the Hippodrome Theatre in Lancashire. They had been known as The Quarrymen but for this audition, they took the name "Johnny and the Moondogs." They played two Buddy Holly songs: "Think It Over" and "It's So Easy." They must have been good as they were invited back for the next round of audition the next day. They returned to Liverpool the same night, having no money to rent a hotel room, and therefore missing out on the next round of auditions. (see April 23 & 24, 1960)
November 15 Peace Love Art Activism
Vietnam
Brown University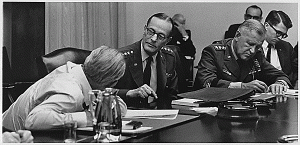 November 15, 1966: Gen. Earle Wheeler, Chairman of the Joint Chiefs of Staff, addressed a gathering at Brown University and approximately 60 students walk out to protest his defense of U.S. involvement in Vietnam. Some of those who remained shouted and heckled Wheeler, while others attempted to storm the stage. Outside, over 100 students continued the protest. (Wheeler article) (see Dec 12)
March for Peace in Washington, DC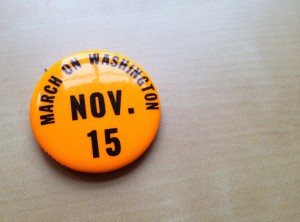 November 15, 1969: 500,000 people marched for peace in Washington, DC . It was the largest antiwar rally in U.S. history. Some of the speakers: McCarthy, McGovern, Coretta King, Dick Gregory, Leonard Bernstein. Singers: Arlo Guthrie, Pete Seeger, Peter, Paul, & Mary, John Denver, Mitch Miller, touring cast of Hair . (NYT article) (see Nov 20)
November 15 Peace Love Art Activism
Irish Troubles
November 15, 1985: Britain and Ireland signed an accord giving Dublin an official consultative role in governing Northern Ireland. (see Troubles for expanded story)
November 15 Peace Love Art Activism
Sexual Abuse of Children
Bankruptcy filing
November 15, 2004: US Roman Catholic bishops elected Bishop William Skylstad as their new president. His Washington diocese faced bankruptcy due to the volume of compensation claims made by alleged victims of child abuse. [SFG article] (see Dec 3)
Boy Scouts
November 15, 2020: the New York Times reported that more than 81,000 people had come forward with sex-abuse claims against the Boy Scouts of America, describing a decades-long accumulation of assaults at the hands of scout leaders across the nation who had been trusted as role models.
The claims, which lawyers said far eclipsed the number of abuse accusations filed in Catholic Church cases, continued to mount ahead of a November 16 deadline established in bankruptcy court in Delaware, where the Boy Scouts had sought refuge this year in a bid to survive.
Paul Mones, a lawyer who had been working on Boy Scouts cases for nearly two decades, said the prevalence of abuse detailed in the filings was breathtaking and might reflect only a fraction of victims. (next SA of C, & next BSA, see January 28, 2021)
November 15 Peace Love Art Activism
ADA
November 15, 2006: the Road-to-Freedom tour kicked off. The 50-state bus tour and photographic exhibit chronicles the history of the grassroots "people's movement" that led to passage of the Americans with Disabilities Act (ADA). (see October 22, 2012)
November 15 Peace Love Art Activism
Native Americans
 The Code Talkers
November 15, 2008: President George W. Bush signed The Code Talkers Recognition Act of 2008 into law. The Act recognized every Native American code talker who served in the US military during WWI or WWII with a Congressional Gold Medal for his tribe (to be retained by the Smithsonian Institution) and a silver medal duplicate to each code talker. (see February 14, 2011)
Nanticoke Lenni-Lenape
November 15, 2018:  New Jersey Attorney General Gurbir S. Grewal announced a settlement with the Nanticoke Lenni-Lenape Tribal Nation under which the State acknowledged it had officially recognized the 3,000-member Tribe as an American Indian Tribe since 1982.
In addition to affirming its historic recognition of the Nanticoke Lenni-Lenape Nation, the State would pay the Tribe a total of $2.4 million under the settlement agreement.
The State also agreed to formally notify all relevant state and federal agencies of the Tribe's official recognition status. [State of NJ report] (next NA, see January 19, 2019)
November 15 Peace Love Art Activism
Occupy Wall Street
Zuccotti Park
November 15, 2011: day 60 of Occupy Wall Street. NYPD began to clear Zuccotti Park. Mayor Bloomberg released the following statement: "At one o'clock this morning, the New York City Police Department and the owners of Zuccotti Park notified protesters in the park that they had to immediately remove tents, sleeping bags and other belongings, and must follow the park rules if they wished to continue to use it to protest. Many protesters peacefully complied and left. At Brookfield's request, members of the NYPD and Sanitation Department assisted in removing any remaining tents and sleeping bags. This action was taken at this time of day to reduce the risk of confrontation in the park, and to minimize disruption to the surrounding neighborhood." (NYT article) (see Nov 18)
November 15 Peace Love Art Activism
LGBT
Gay marriage
November 15, 2013, LGBT: Gov. Neil Abercrombie signed legislation into law, making Hawaii the 15th state to legalize gay marriage. (NYT article) (see Nov 18)
November 15 Peace Love Art Activism
Immigration History
November 15, 2017:  after the United States Citizenship and Immigration Services agency had rejected nearly 100 applications to renew permits that let immigrants stay and work in the United States legally because the applications had been delayed in the mail.
Last week the Agency had said nothing could be done; the decisions were final.
On November 15, the agency reversed its position. In light of the delays, it agreed to allow those rejected because of mail delays to resubmit their renewals for Deferred Action for Childhood Arrivals. [NYT article] (see Nov 20)
November 15 Peace Love Art Activism
Consumer Protection
November 15, 2018: the Food and Drug Administration announced a series of restrictions aimed at combating a growing public health menace — flavored e-cigarettes and tobacco products that have lured young people into vaping and smoking.
And in a bold regulatory move, the agency said it would move to outlaw two traditional tobacco products that disproportionately harm African-Americans: menthol cigarettes and flavored cigars.
The proposed menthol ban would be the most aggressive action the F.D.A. had taken against the tobacco industry in nearly a decade, and it was notable given the Trump administration's business-friendly approach to regulatory issues. But the proposal is likely to face a protracted legal battle, so it could be years in the making. [NYT report] (see July 8, 2019)
November 15 Peace Love Art Activism
DEATH PENALTY
November 15, 2019: Rodney Reed had long claimed his innocence in the murder of a woman 23 years earlier and was days away from his execution when an appeals court stepped in to suspend his death sentence indefinitely.
The dramatic decision by the Court of Criminal Appeals in Texas halted the execution of Reed and ordered the court where he was originally tried to consider new evidence in the case, including testimony from eyewitnesses who have come forward in recent months pointing toward the victim's fiancé as another suspect.
The court's ruling came just hours after the Texas Board of Pardons and Paroles had also supported halting the execution and recommended that Gov. Greg Abbott grant a 120-day reprieve for Mr. Reed, 51, one of 215 prisoners on Texas' death row.  [NYT story]  (next DP, see February 13, 2020)
November 15 Peace Love Art Activism
Trump Impeachment Inquiry
David Holmes
November 15, 2019:  David Holmes confirmed to House impeachment investigators that he had overheard a call between President Trump and a top American diplomat in July in which the president asked whether Ukraine was going to move forward with an investigation he wanted.
Holmes, testified privately that he was at a restaurant in Kiev, Ukraine's capital, when he overheard Trump on a cellphone call loudly asking Gordon D. Sondland, the American ambassador to the European Union, if Ukraine's president had agreed to conduct an investigation into one of his leading political rivals. Mr. Sondland, who had just come from a meeting with top Ukrainian officials and the country's president, replied in the affirmative.
"So, he's going to do the investigation?" Trump asked, according to a copy of Mr. Holmes's opening statement posted by CNN and confirmed by The New York Times. (see TII for expanded coverage of whole inquiry)
Trump Impeachment Inquiry/Public
Ambassador Marie Yovanovitch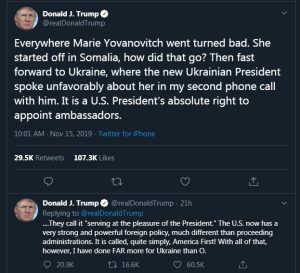 November 15, 2019: Ambassador Marie Yovanovitch appeared at the Democrats' second open impeachment hearing to discuss her career and the circumstances under which her posting to Kyiv was prematurely halted earlier this year.
She told Congress that she was recalled after a smear campaign led by President Trump's allies.
Trump criticized her on Twitter even as she testified live on television.
Trump posted two tweets about Yovanovitch during the session that linked her to problems in the troubled countries in which she had been posted and restated the president's power to appoint and remove diplomats as he wishes. [NPR story]
November 15 Peace Love Art Activism