November 16 Peace Love Art Activism
LSD
Louis Lewin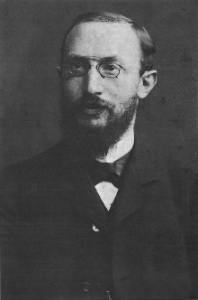 In 1886 Louis Lewin, a German pharmacologist, published the first systematic study of the the cactus from which mescal buttons were obtained (his own name was subsequently given to the plant: Anhalonium lewinii).
The plant was new to science, but not to the Indians of Mexico and the American Southwest. It was (according to Aldous Huxley's 1954 essay, The Doors of Perception), "a friend of immemorially long standing. Indeed, it was much more than a friend. In the words of one of the early Spanish visitors to the New World, "they eat a root which they call peyote, and which they venerate as though it were a deity."
Albert Hoffman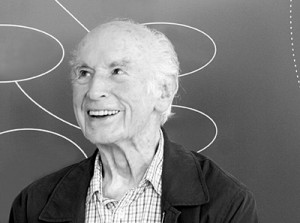 November 16, 1938: Albert Hofmann, a chemist working for Sandoz Pharmaceutical in Basel, Switzerland, was the first to synthesize LSD-25. He discovered LSD, a semi-synthetic derivative of ergot alkaloids, while looking for a blood stimulant.
He set it aside for five years, until April 16, 1943, when he decided to take a second look at it. While re-synthesizing LSD, he accidentally absorbed a small amount of the drug through his fingertips and discovered its powerful effects.(see April 16, 1943)
November 16 Peace Love Art Activism
BLACK HISTORY
John Porter lynched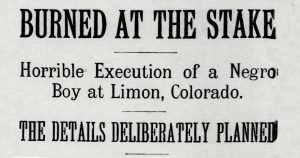 November 16, 1900: early in 1900 a black family, Preston Porter, Sr and his two sons, "John" and Arthur,  moved to the Limon, Colorado area to work on the railroad.
On November 8, a white girl named Louise Frost was found dead in Limon.  Newspapers reported that  the Porters had left Limon for Denver a few days after the girl was found dead. White authorities focused suspicions on them.
On November 12th, authorities arrested all three and took them to the Denver jail.  After four days, newspapers reported that sixteen-year-old Preston "John" Porter Jr had confessed to the crime "in order to save his father and brother from sharing the fate that he believes awaits him."
Despite the Governor's order that the risk of lynching was to great to return John to Limon, the Denver sheriff transported John there by train.
A mob of more than 300 white people from throughout Lincoln County awaited the train, removed Porter, and lynched him by chaining him to a railroad stake and burning him alive.
Newspapers described the lynching as follows:
John was said to have been reading a Bible and was allowed to pray before his lynching. When the flames reached his body, reports documented his screams for help as he writhed in pain, crying, "Oh my God, let me go men!…Please let me go. Oh, my God, my God!" When the ropes binding John to the stake had burned through, such that his body had fallen partially out of the fire, members of the mob threw additional kerosene oil over him and added wood to the fire. It was reported that John's last words were "Oh, God, have mercy on these men, on the little girl and her father!"
No investigation into the lynching was conducted and the coroner concluded John died "at the hands of parties unknown." [EJI article] (next BH & next Lynching, see March 15, 1901; for for expanded chronology, see American Lynching 2)
Sixteenth Street Baptist Church bombing
November 16, 1977:  reported in the New York Times: The state rested its case in the Birmingham church bombing trial today after presenting a witness who said that she saw packages of what appeared to be dynamite at the home of Robert E. Chambliss two weeks before the explosion in September 1963 that took the lives of four black children. (see Nov 18)
Colin Kaepernick
November 16, 2019: 30 minutes before its scheduled start, Colin Kaepernick changed the location of his planned NFL workout, moving the event to Drew High School in Riverdale, Georgia, roughly 60 miles away. In a statement after the workout, the free agent quarterback slammed the NFL for a lack of transparency.
Kaepernick's agent Jeff Nalley told reporters that representatives from eight teams attended the event.
The NFL responded with a statement saying they are "disappointed that Colin did not appear for his workout." According to the NFL's statement, 25 teams had sent representatives to the original location. [CBS News article] (next BH & CK, see Nov 23 or see CK for expanded story0
November 16 Peace Love Art Activism
Cold War
November 16, 1945:  in a move that stirred up some controversy, the US shipped 88 German scientists to America to assist the nation in its production of rocket technology. Most of the men had served under the Nazi regime and critics questioned the morality of placing them in the service of America. Nevertheless, the U.S. government, desperate to acquire the scientific know-how that had produced the terrifying and destructive V-1 and V-2 rockets for Germany during WWII, and fearful that the Russians were also utilizing captured German scientists for the same end, welcomed the men with open arms.  (see January 31, 1946)
November 16 Peace Love Art Activism
Religion and Public Education
November 16, 1947:  in support of Vashti McCollum's case, a Baptist group said that programs of religious instruction in public school buildings were "an invasion of the time-honored doctrine of the separation of church and state." (see Nov 20)
November 16 Peace Love Art Activism
Vietnam
Kennedy to…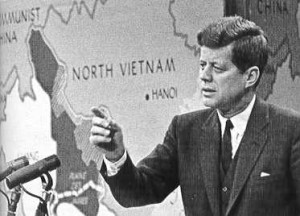 November 16, 1961: President Kennedy decided to increase military aid to South Vietnam without committing U.S. combat troops. (NYT Article) (see Nov 18)
…Clinton
November 16, 2000: Bill Clinton became the first sitting U.S. President to visit Vietnam.  [NYT article] (see March 2, 2003)
November 16 Peace Love Art Activism
Beatles Christmas Show
November 16, 1963: tickets for The Beatles' Christmas Show sold out. CBS News bureau London – at the suggestion of Beatles' manager Brian Epstein – sent a news crew to the British seaside resort of Bournemouth where they film a Beatles concert, thousands of screaming fans, and a few Beatles' comments on camera.  This film clip is later sent to New York. (see Nov 21)
"Deep Purple"
November 16 – 22, 1963,  "Deep Purple" by Nino Tempo and April Stevens #1 on the Billboard Hot 100. [In 1968 Richie Blackmore suggested the title as the name for his new band named after his grandmother's favorite song.]
Jimi Hendrix
November 16 – 29, 1968: Electric Ladyland the Billboard #1 album.  (see June 20, 1969)
Mind Games
November 16, 1973: US release of Lennon's fourth album, Mind Games.  (see Nov 24)
Bob Dylan
November 16, 2016: the Nobel Academy said on its website that it had received a letter from Dylan explaining that due to "pre-existing commitments" he was unable to travel to Stockholm in December. "We look forward to Bob Dylan's Nobel Lecture, which he must give ― it is the only requirement ― within six months counting from December 10." (see Dec 10)
November 16 Peace Love Art Activism
US Labor History
NFL Strike Ends
November 16, 1982, the National Football League Players Association ended a 57-day strike that shortened the season to nine games. The players wanted, but failed to win until many years later, a higher share of gross team revenues. [NYDN article] (see December 19, 1984)
"persuader rule"
November 16, 2016: U.S. District Judge Sam Cummings issued a permanent injunction blocking an Obama administration "persuader rule" requiring law firms to publicly disclose any work they do for employers surrounding union organization efforts. The rule drew fierce resistance from employers and lawyers, who said it violated their duty to protect client confidentiality and the attorney-client privilege. (USLH, see March 1, 2017; Persader rule, see July 18, 2018)
November 16 Peace Love Art Activism
Native Americans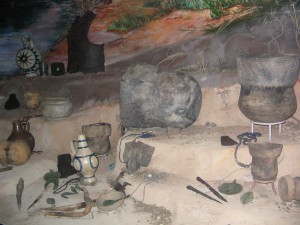 November 16, 1990: The Native American Graves Protection and Repatriation Act required federal agencies and institutions that receive federal funding to return Native American "cultural items" to lineal descendants and culturally affiliated Indian tribes and Native Hawaiian organizations. Cultural items include human remains, funerary objects, sacred objects, and objects of cultural patrimony. A program of federal grants assists in the repatriation process and the Secretary of the Interior could assess civil penalties on museums that failed to comply.
In 1992, the celebration of the 500th anniversary of the arrival of Christopher Columbus to the Americas prompted protests from many Native American tribes and supporters, prompting cities including Denver and San Francisco to stop their quincentenary celebrations. (see Feb 11 – July 15, 1994)
November 16 Peace Love Art Activism
Environmental Issues
Powering Past Coal Alliance
November 16, 2017: one of the biggest announcements at the United Nations climate talks came when Canada and Britain began a new global alliance aimed at phasing out the use of coal power by 2030. But to this point the countries, states and provinces that joined the "Powering Past Coal Alliance" accounted for less than 3 percent of coal use worldwide.
Keystone Pipeline spill
November 16, 2017:  about 5,000 barrels of oil, or about 210,000 gallons, gushed out of the Keystone Pipeline in South Dakota, blackening a grassy field in the remote northeast part of the state and sending cleanup crews and emergency workers scrambling to the site.
"This is not a little spill from any perspective," said Kim McIntosh, an environmental scientist with the South Dakota Department of Environment and Natural Resources. No livestock or drinking water sources appeared to be threatened, Ms. McIntosh said, and no farm buildings or houses are within a mile.
The spill, near Amherst, S.D., came just days before regulators in neighboring Nebraska were to decide whether to grant the final permit needed to begin construction on a different pipeline proposal, the Keystone XL, which would be operated by the same company. [Reuters article] (see Nov 20)
November 16 Peace Love Art Activism
FREE SPEECH
November 16, 2018:  Judge Timothy J. Kelly of Federal District Court in Washington directed the White House to restore the press credentials of Jim Acosta of CNN, a win for media advocates and news organizations in a major legal test of press rights under President Trump.
Kelly ruled that the Trump administration had most likely violated Mr. Acosta's due process rights when it revoked his press badge after a testy exchange with the president at a news conference last week.
The ruling was a significant but narrow victory for CNN. Judge Kelly, who was appointed by Mr. Trump, declined to weigh in on the First Amendment issues cited by the network, and the White House had the right to appeal. For now, Mr. Acosta can resume working on the White House grounds. [NYT report] (see February 15, 2019)
November 16 Peace Love Art Activism