December 10 Music et al
Roots of Rock
Fats Domino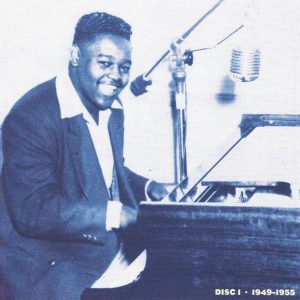 They call, they call me the fat man
'Cause I weight two hundred pounds
All the girls they love me
'Cause I know my way around
I was standin', I was standin' on the corner
Of Rampart and Canal
I was watchin', watchin'
Watchin' all these creole gals
December 10, 1949: Fats Domino recorded his first sides for Imperial Records. He recorded The Fat Man, one of the earliest rock and roll records. The title also turned into Domino's nickname and stayed with him through his years of success.

Domino sang and played piano, along with Earl Palmer on drums, Frank Fields on string bass, Ernest McLean on guitar, and sax players Herbert Hardesty, Clarence Hall, Joe Harris, and Alvin "Red" Tyler.

On February 18, 1950 it reached number two on the R&B Singles chart. It was Domino's debut single, the B-Side being "Detroit City Blues". Imperial advertising claimed it sold 10,000 copies in New Orleans in 10 days, and the record became a national hit in late January 1950. It sold one million copies by 1953
Beatles
John Lennon leaves Hamburg
December 10, 1960: John Lennon traveled back to England by train and boat. Stuart Sutcliffe continued stay in Hamburg which effectively ended of his time in The Beatles. (see February 9, 1961)
CBS/Beatles
December 10, 1963: CBS aired the four-minute segment on The Beatles on Walter Cronkite's CBS Evening News. The Kennedy assassination had been pre-empted the segment's original air date. 
Grateful Dead & Rock Venues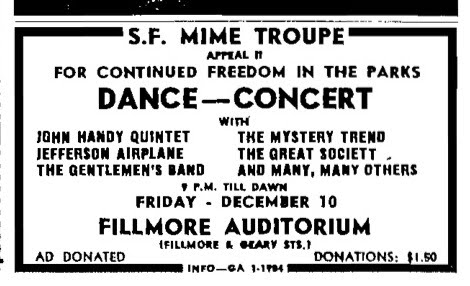 December 10, 1965: the San Francisco Fillmore auditorium held its first rock 'n' roll concert (thanks to promoter Bill Graham), a benefit for the San Francisco Mime Troupe. Unbilled but also playing that night: the Grateful Dead, having just changed its name from the Warlocks. (RV, see January 8, 1966; GD, see January 22, 1966)
December 10 – 16, 1966: "Good Vibrations" by the Beach Boys #1 on the Billboard Hot 100.
The John Sinclair Freedom Rally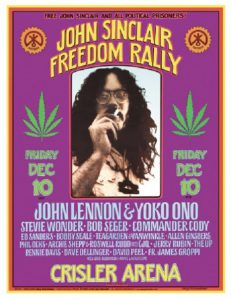 Exactly 8 years later, on December 10, 1971 John Lennon, now a solo artist after the Beatle breakup, headlined The John Sinclair Freedom Rally, a protest and concert in response the imprisonment of John Sinclair whom the courts gave ten years in prison for the possession of two marijuana cigarettes. The concert was held in Crisler Arena at the University of Michigan in Ann Arbor, Michigan. Two days after the event, Sinclair was released.
It ain't fair, John Sinclair
In the stir for breathing air
Won't you care for John Sinclair?
In the stir for breathing air
Let him be, set him free
Let him be like you and me
They gave him ten for two
What else can the judges do?
December 10 Music et al
Bob Dylan
December 10, 2016: Bob Dylan did not attend the Nobel Banquet in the Stockholm City Hall. Azita Raji, the United States Ambassador to Sweden, gave an acceptance speech in his place. (NYT article)(see June 4, 2017)
 December 10 Music et al,  December 10 Music et al,  December 10 Music et al,  December 10 Music et al,  December 10 Music et al,  December 10 Music et al,  
Please follow and like us: