February Music et al
Gil Evans
In February 1961: Gil Evans's "Out of the Cool" released. Recorded at Van Gelder Studio. The Penguin Guide to Jazz selected this album as part of its suggested "Core Collection" calling it "Evans' masterpiece under his own name and one of the best examples of jazz orchestration since the early Ellington bands."
February Music et al
Bob Dylan
Freewheelin' photo
In February 1963: Columbia staff photographer Don Hunstein photographed Dylan and Suze Rotolo, together again after seven months' separation, for the cover of The Freewheelin' Bob Dylan. Hunstein recalled: "We went down to Dylan's place on Fourth Street, just off Sixth Avenue, right in the heart of the Village. It was winter, dirty snow on the ground . . . Well, I can't tell you why I did it, but I said, Just walk up and down the street. There wasn't very much thought to it. It was late afternoon you can tell that the sun was low behind them. It must have been pretty uncomfortable, out there in the slush." (see Dylan for additional chronolgy;  see FW for more)
Song writing burst
February – December 1967: during this span, Dylan composed more than thirty songs, which he and The Hawks (still minus Levon Helm) recorded as well as numerous cover songs on a two-track reel-to-reel system that Garth Hudson had set up. Most songs were recorded at the rented house that Rick Danko, Garth Hudson, and Richard Manuel had rented, Big Pink. (see May 17)
Bob Dylan
In February 1973: in California, Dylan completes his work on the sound track to Sam Peckinpah's Pat Garrett & Billy the Kid. Musicians included Booker T Jones, Roger McGuinn, and Bruce Langhorne. One of Dylan's best known songs, Knockin' On Heaven's Door came out of these sessions. [thesound article] (see January 3, 1974)
February Music et al
Duke Ellington & John Coltrane
In February 1963: Duke Ellington (64 years old) and John Coltrane (37 years old) released Duke Ellington & John Coltrane.  In a Sentimental Mood, written by Ellington in 1936 as an instrumental and later given lyrics was one of the songs done on the album The song had been theme song for at least nine radio shows; included in eight movie soundtracks; and two Broadway shows.
February Music et al
Jimi Hendrix
In February 1964: won first prize in an Apollo Theater amateur contest.  First prize was twenty-five dollars. (see March 1964)
February Music et al
LSD/Owsley Stanley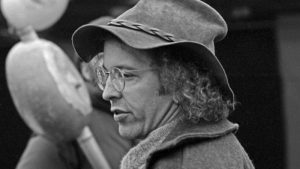 In February 1965: Owsley Bear Stanley first succeeded in synthesizing crystalline LSD. Earliest distribution was March 1965. (see Feb 21)
February Music et al
Ken Kesey
In February 1966: newspapers began reporting that Ken Kesey was not dead but in Mexico.  (2008 NYT article) (see Feb 5)
February Music et al
A Love Supreme
In February 1965: John Coltrane released A Love Supreme album. Recorded at Van Gelder Studios.
February Music et al
News Music
In February 1965: the Impressions released People Get Ready, a Curtis Mayfield composition. (see Mar 25)
February Music et al
The Beatles  & Monterey Pop
In February 1967, organizers asked the Beatles to contribute a drawing to the upcoming Monterey International Pop Festival. Paul McCartney was on the Board of Governors for the Festival and he insisted that the relatively unknown Jimi Hendrix appear at the show.
The Beatles had stopped touring, so they did not want to appear at the festival. Instead, the Art Director for the Festival, Tom Wilkes, asked Derek Taylor if the Beatles could contribute something for the official festival program. The Beatles created an original illustration with felt marker, colored pencil and ink which said "Peace to Monterey" at the top.
The Beatles were busy working on their landmark album, Sgt. Pepper, at the time, so the drawing is "from Sgt. Peppers Lonely Hearts Club Band." The message on the drawing continues: "Loving You, it happened in Monterey a long time ago." In classic Beatles humor, the drawing is signed "Sincerely, John, Paul, George and Harold."
February Music et al