August Music et al
Quarrymen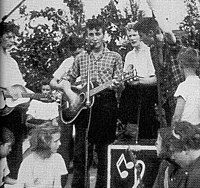 ---
In August 1956: named after his school, John Lennon forms The Quarrymen, The band performed what was known in England as "skiffle" music which was originally an early 20th century American style music. (see July 6, 1957)
---
Ringo Rory Storm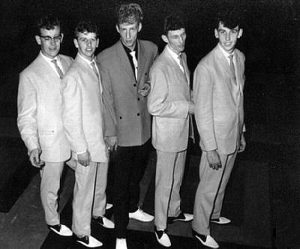 ---
In August 1959: Ringo Starr begins drumming for Rory Storm and the Hurricanes. (Ringo would be Rory's drummer until August 18, 1960). (see Aug 29)
---
---
Beat Brothers
---
In August 1961: Tony Sheridan and the Beatles or Beat Brothers released "My Bonnie/The Saints (Go Marching In) in Germany. (see Oct 28)
---
August Music et al
Sam Cooke
---
In August 1963,  Sam Cooke released Night Beat album.
---
---
Bob Dylan
---
In August, 1964: "I'm Going to Get My Baby Out of Jail" by Len Chandler & Bernice Johnson Reagon. Dylan "stole" the Len Chandler tune to accompany his "The Death of Emmett Till." (see 1962-03-11) (see Aug 8)
---
---
August Music et al
John Sebastian
---
In August 1965: The Lovin' Spoonful (John Sebastian age 19) released their first single, "Do You Believe in Magic" (see Aug 13)
---
August Music et al
James Brown
---
In August 1968, James Brown released "Say It Loud, I'm Black and I'm Proud" (see Nov 9)
---
---
August Music et al
Santana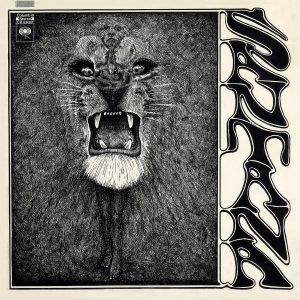 ---
In August, 1969: Santana (Carlos Santana age 22) released its first album, Santana. In a contemporary review for Rolling Stone, Langdon Winner panned Santana as "a masterpiece of hollow techniques" and "a speed freak's delight – fast, pounding, frantic music with no real content". He compared the music's effect to methedrine, which "gives a high with no meaning", finding Rollie and Santana's playing repetitively unimaginative amidst a monotony of incompetent rhythms and inconsequential lyrics.
---
John & Yoko
---
In August 1971: John & Yoko rent a loft apartment at 105 Bank Street in Greenwich Village. (NYCGO article) (see Aug 1)
---
August Music et al
Eric Clapton #1
---
In August 1974: Eric Clapton's cover of Bob Marley's "I Shot the Sheriff" reached #1 on US singles charts.
---
---
August Music et al
Please follow and like us: