August 1 Peace Love Art Activism
US Labor History
Frank Little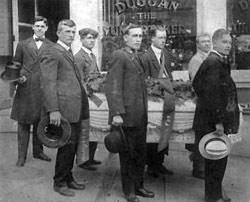 August 1, 1917: after organizing a strike of metal miners against the Anaconda Company, six masked men dragged Wobbly organizer Frank Little from his Butte, Mont., hotel room and hung him from the Milwaukee Railroad trestle. Years later writer Dashiell Hammett would recall his early days as a Pinkerton detective agency operative and recount how a mine company representative offered him $5,000 to kill Little. Hammett says he quit the business that night.  (IWW article on Little) (see Sept 5)
Philadelphia Transportation Company
August 1, 1944: as the US entered World War II, Philadelphia, Pennsylvania, quickly became one of America's largest war production sources. As many as 600,000 workers relied on the Philadelphia Transportation Company (PTC) for transportation to factories and other workplaces.
On August 1, 1944, white PTC employees started a strike to protest the company's decision to promote eight black workers to the position of trolley driver, a job previously reserved for white men. The men were promoted after President Franklin D. Roosevelt issued Executive Orders 8802 and 9436, which prohibited companies with government contracts from discrimination based on race or religion and forced companies to include a nondiscrimination clause in their contracts.
White PTC employees James McMenamin, James Dixon, Frank Thompson, and Frank Carney led the strike, which they threatened would continue until the black workers were demoted. The strike grew to include over 6000 workers, crippling war production and impacting the entire city. It prevented nearly two million people from traveling and cost businesses almost $1 million per day. (Hidden City Philadelphia article) (see Aug 3)
August 1
Peace Love Art Activism
Black History
Marcus Garvey
August 1 > 31, 1920: the Universal Negro Improvement Association held its first International Convention of the Negro Peoples of the World at Madison Square Garden and scheduled a massive parade in Harlem. During this convention, the UNIA adopts and signs a Declaration of Rights of the Negro Peoples of the World, adopts a "nation" flag with the colors of the Red, Black, and Green, and elects officials for its provisional government. Garvey was elected Provisional President of Africa. (next BH, see Aug 10; see Garvey for expanded story)
Harlem Revolt
August 1, 1943: Harlem Riot of 1943, a NYPD policeman hit an African American woman who was being arrested for disturbing the peace at the Braddock Hotel in Harlem. Robert Bandy, a black soldier in the US Army tried to stop the police officer from striking the woman again. The situation rapidly escalated; the police officer drew his service revolver and shot Bandy in the shoulder.
Bandy's wound was not serious, but he was taken to a nearby hospital, and crowds quickly gathered at the hospital, the hotel, and police headquarters. An onlooker shouted that an African American soldier had been killed, provoking a riot.
Hundreds of businesses were destroyed and looted, the property damage approaching $5,000,000. Overall, six people died and nearly 400 were injured. Five hundred men and women were arrested in connection with the riot. (see 20015 NY Daily News article)  Dail(BH, see Aug 11,; RR, see August 10, 1946; Harlem Riot 1964, see July 16, 1964)
Sarah Keys Evans refuses
August 1, 1952: Sarah Keys Evans refused to give up her seat on a state-to-state charter bus. (next BH, see Sept 4; Sarah Keys, see September 1, 1953)
Washington, DC Revolt
August 1, 1967: race Revolts in Washington, D.C. (2008 Washingtonian article) (BH, see Aug 3; RR, see January 23, 1968) 
August 1
Peace Love Art Activism
Nuclear News
AEC
August 1, 1946: the Atomic Energy Commission was established as President Harry S. Truman signed the Atomic Energy Act, which transfered the control of atomic energy from military to civilian hands. Almost a year after World War II ended, Congress established the United States Atomic Energy Commission to foster and control the peace time development of atomic science and technology. The National Laboratory system was established from the facilities created under the Manhattan Project. and Argonne National Laboratory was one of the first laboratories authorized under this legislation as a contractor-operated facility dedicated to fulfilling the new Commission's mission. (USNRC site) (see Dec 14)
NORAD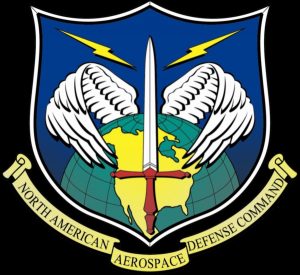 August 1, 1957: the United States and Canada announced the creation of NORAD (North American Aerospace Defense) Command, a unified military unit tasked with early warning and defense coordination. NORAD brought the US and Canada into closer cooperation for air defense through a system of radar and sensors to guard against possible long-range Soviet strategic bombers armed with nuclear weapons.
The US Army Corps of Engineers supervised the excavation of Cheyenne Mountain in Colorado and the construction of the tech command and control headquarters. (NAADC site) (see Aug 26)
August 1
Peace Love Art Activism
Calvin Graham
August 1, 1951: Graham left the US Marine Corps after injuring his back in a fall. (see Graham for expanded story)
August 1
Peace Love Art Activism
Native Americans
Resolution 108
August 1, 1953: the federal policy of terminating Native-American tribes began on this day with the passage of House Concurrent Resolution 108. Termination meant that a tribe was no longer officially recognized as a sovereign nation by the federal government. Termination was part of the policy of assimilating Native-Americans into mainstream American life. Between 1953 and 1964, a total of 109 tribes were terminated. The Ponca Tribe of Nebraska was the last to be terminated, in 1966.
By the 1960s as a result of the Native American rights movement attitudes had changed among Native-Americans and other Americans. Both President Lyndon Johnson and President Richard Nixon supported a policy of self-determination. See President Nixon's speech on July 8, 1970, when he declared "Forced termination is wrong," and the end of the termination policy January 4, 1975. (Stanford School of Medicine article) (see August 15, 1953)
North Dakota Voter ID
August 1, 2016: U.S. District Judge Daniel Hovland struck down a North Dakota law requiring photo IDs in order to vote, ruling that the law unfairly burdened the Native American voters who comprised one-fourth of the state's electorate. Hovland rejected the state's argument that the law was "necessary" to prevent voter fraud, writing that "[t]he undisputed evidence before the Court reveals that voter fraud in North Dakota has been virtually non-existent." (NY Times article) (see Aug 16)
August 1
Peace Love Art Activism
Moondog Alan Freed
August 1, 1954: Moondog Jubilee Alan Freed, working as a disc jockey in New York, throws the "Moondog Jubilee of Stars Under the Stars" at Ebbets Field in Brooklyn, New York. The performing line-up included black artists Fats Domino and Muddy Waters. (see February 23, 1955)
Bob Newhart
August 1 – September 25, 1960: comedian Bob Newhart's The Button-Down Mind of Bob Newhart comedy album is Billboard #1.
Hard Day's Night
August 1 – 14, 1964:  "A Hard Day's Night" #1 on the Billboard Hot 100. (see Aug 11)
Atlantic City Pop Festival
August 1 – 3, 1969: Atlantic City (NJ) Pop Festival took place at the Atlantic City Race Track. Approximately 100,000 people were there.  (see Atlantic City for expanded story)
Concert for Bangladesh
August 1, 1971: George Harrison and Ravi Shankar organized and hosted The Concert for Bangladesh raising nearly a quarter of a million dollars for the hungry of the poor country. The concert ushered in a new type of proactive political activism (Beatles, see Sept 9; Bangladesh, see Dec 16; concert movie, see March 23, 1972)
Cultural milestone: MTV
August 1, 1981: MTV (Music Television) made its debut at 12:01 a.m. The first music video shown on the rock-video cable channel was, appropriately, Video Killed the Radio Star, by the Buggles. MTV's original five veejays were Martha Quinn, Nina Blackwood, Mark Goodman, J.J. Jackson and Alan Hunter. MTV changed the way that popular music was presented from the traditional way of simply listening to watching as well as listening. [HUFFPOST article on first videos]  (MTV, see March 1983; CM, see July 29, 1987)
August 1
Peace Love Art Activism
Independence Day
August 1, 1960: Benin independent from France. (see Aug 3)
August 1
Peace Love Art Activism
Austin Rampage
August 1, 1966: 25-year old Charles Whitman, a student at the University of Texas at Austin and a former Marine, killed 16 people and wounded 32 others during a shooting rampage on and around the university's campus.
August 1
Peace Love Art Activism
Vietnam
August 1, 1968: 541,000 U.S. troops in Vietnam (see Aug 25 – 29)
August 1
Peace Love Art Activism
Watergate
August 1, 1972: a $25,000 cashier's check, apparently earmarked for the Nixon campaign, wound up in the bank account of a Watergate burglar, The Washington Post reports. (see Watergate for expanded story)
August 1
Peace Love Art Activism
Nominations
August 1, 1972, Thomas Eagleton, the Democratic vice-presidential nominee, withdraws from the race after revealing he was once treated for mental illness. (2012 NPR article)
August 1
Peace Love Art Activism
Irish Troubles
August 1, 1981:  The seventh hunger striker died. Kevin Lynch (25) died after 71 days on hunger strike. Lynch was a member of the Irish National Liberation Army (INLA). (see Troubles for expanded story)
August 1
Peace Love Art Activism
Terrorism
August 1, 1989: a terrorist group in Lebanon said that it had hanged hostage Marine Lieut. Col. William R. Higgins and distributed a grisly videotape that showed a figure identified as the American twisting at the end of a rope. (NYT article) (next T, see Dec 18; Higgins, see July 6, 1990)
August 1
Peace Love Art Activism
Native Americans
August 1, 2016: U.S. District Judge Daniel Hovland struck down a North Dakota law requiring photo IDs in order to vote, ruling that the law unfairly burdened the Native American voters who comprised one-fourth of the state's electorate. Hovland rejected the state's argument that the law was "necessary" to prevent voter fraud, writing that "[t]he undisputed evidence before the Court reveals that voter fraud in North Dakota has been virtually non-existent." [NYT article] (see Aug 16)
August 1
Peace Love Art Activism