August 16 Peace Love Art Activism
Calvin Graham
August 16, 1942: Graham enlisted at the Naval Recruiting Station in Houston, TX. The age certification, signed by Graham's mother, showed a birth date of April 3, 1925, making Graham 17. After receiving recruit training, Graham was transferred for duty to the USS South Dakota. (see Calvin Graham for the whole sad story)
August 16 Peace Love Art Activism
Vietnam
August 16, 1945: two days after Japan indicated a willingness to surrender in the war, Ho Chi Minh issued an appeal to the Vietnamese people urging them to seize control of their country before Allied troops arrived in Indochina. The following uprising succeeded in overthrowing the puppet leader Bao Dai and control both Hanoi and Saigon. The uprising became known as the "August Revolution." (see Sept 2)
August 16 Peace Love Art Activism
BLACK HISTORY
Rufus Lesseur lynched
August 16, 1904: a mob of unmasked white men in Marengo County, Alabama, lynched Rufus Lesseur, a 24-year-old Black man, and left his body riddled with bullets.
Less than two days earlier, a white woman in Thomaston, Alabama, claimed that a Black man had entered her home and frightened her. After someone claimed that a hat found near the woman's home belonged to Mr. Lesseur, a mob of white men formed and kidnapped him. The white men transported a terrified Mr. Lesseur into the nearby woods, and locked him in a tiny calaboose, or makeshift jail for more than a day.
At 3:00 a.m. on August 16, without an investigation, trial, conviction of any offense, or a sentencing proceeding, a mob of white men broke into the locked shack, seized Mr. Lesseur, dragged him outside, and lynched him, filling his body with bullets.
Although he was lynched by a mob of unmasked white men in a town with only 300 residents, state officials claimed that no one could be identified, arrested, or prosecuted for his murder. (next BH, see In 1905; next Lynching, see April 14, 1906 or for for expanded chronology, see American Lynching 2)
"SCOTTSBORO BOYS"
August 16, 1959: living in NYC Roy Wright had had a career in the US Army and the Merchant Marines. After his wife admitted to infidelities Wright shot and killed his wife and then committed suicide. (next BH, see Sept 8; see Scottsboro Travesty for the whole story)
August 16 Peace Love Art Activism
John Sinclair
August 16, 1969: White Panther Party founder, John Sinclair, convicted for selling 2 joints to an undercover agent. He was sentenced to 10 years in prison. [2011 Michigan Daily article] (see Aug 19)
August 16 Peace Love Art Activism
August 16 Music et al
Pete Best
August 16, 1960: Pete Best became The Silver Beetles' drummer. The band's current line-up included John, Paul, George, Pete and Stuart Stutcliffe. The band traveled to Hamburg, Germany. (see Aug 17)
Richie Havens
August 16, 1967: Richie Havens (age 26) released third, but first best known album, Mixed Bag.  [AllMusic Review by Jim Newsom] (see "in September")
Woodstock
August 16, 1969: day two of the Woodstock Music and Art Fair
Elvis
August 16, 1977, Elvis Presley died at age 42. From the August 17 NYT article: Elvis Presley, the first and greatest American rock‐and‐roll star, died yesterday at the age of 42. Mr. Presley, whose throaty baritone and blatant sexuality redefined popular music, was found unconscious in the bedroom of his home, called Graceland, in Memphis yesterday at 2:30 P.M.
August 16 Peace Love Art Activism
Iraq War II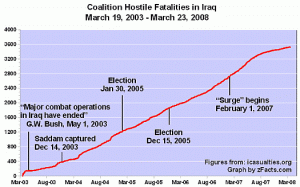 August 16, 2007:  coalition death toll in Iraq reached 4,000. (see Sept 16)
August 16 Peace Love Art Activism
Lynette A. Fromme
August 16, 2009: Lynette A. Fromme, who had attempted to assassinate President Ford, was released from federal prison. [NBC news article]
August 16 Peace Love Art Activism
Native Americans
August 16, 2016: Alaska began to provide Yup'ik language ballot assistance for the first time in more than 100 communities around Alaska, including the 29 identified in the Toyukak settlement (re providing language assistance for Native Americans). The state had already provided language assistance and translated the official election pamphlet into Spanish and Tagalog. [Alaska public article] (see Sept 10)
August 16 Peace Love Art Activism
STAND YOUR GROUND LAW
August 16, 2017: a second study conducted by David Humphreys of the University of Oxford in the U.K.showed that murders climbed 22 percent in Florida in the decade after the state enacted its `Stand Your Ground' self-defense law, even after accounting for a spike in justifiable homicides.
Before the law took effect in October 2005, Florida residents had a right to use lethal force when they felt their life was endangered by a home intruder. The `Stand Your Ground' law extended this right beyond the home, justifying deadly force for self-defense in other situations.
On average, from 1999 to 2005, lawful homicides accounted for just 3.4 percent of all homicides in Florida. Between 2006 and 2015, the proportion of lawful homicides rose, accounting on average for 8.7 percent of homicide. (see August 23, 2019)
That rise translated into a 75 percent increase in justifiable homicides after the `Stand Your Ground' law took effect. But it also means lawful homicides don't explain the surge in murders because they made up just a fraction of the total fatalities, said Humphreys.
August 16 Peace Love Art Activism
Immigration History
Children remain separated
August 16, 2018: officials said that out of the 2,654 migrant children who the government had separated from their parents, largely because of the Trump administration's "zero tolerance" policy for those crossing the border illegally, 565 children remained separated and in federal custody.
The Trump administration said there were some cases in which families would not be reunited, including because of the criminal or immigration history of an adult in the family; evidence of child abuse; and questions about whether the parents and children were truly related.
Some parents were deported before they could be reunited with their children. (see Aug 23)
Hotel detention centers
August 16, 2020: the NY Times reported that the Trump administration had been using major hotel chains to detain children and families taken into custody at the border, creating a largely unregulated shadow system of detention and swift expulsions without the safeguards that are intended to protect the most vulnerable migrants.
Government data obtained by The New York Times, along with court documents, showed that hotel detentions overseen by a private security company had ballooned in recent months under an aggressive border closure policy related to the coronavirus pandemic.
More than 100,000 migrants, including children and families, had been summarily expelled from the country under the measure. But rather than deterring additional migration, the policy appears to have caused border crossings to surge, in part because it eliminates some of the legal consequences for repeat attempts at illegal crossings. (next Immigration, see Aug 29)
August 16 Peace Love Art Activism