August 15 Peace Love Art Activism
BLACK HISTORY
Cincinnati Riots
August 15 – 29, 1829: in Cincinnati, Ohio, mobs of 200-300 ethnic whites attacked the black areas of the predominantly Black First Ward, wanting to push blacks out of the city. Many of the whites were Irish men
Some blacks moved away, but others organized to defend themselves. The town officials did little to defend the blacks until 24 August. On that day the Mayor, Jacob Burnet, dismissed charges against ten blacks who had been arrested; he imposed fines on eight whites.
By the end of August, 1100 to 1500 blacks had left the city: some as refugees from the violence, seeking shelter anywhere in the area. Another group, which had already been considering emigration, organized to relocate to Canada. [Black Past article] (Cincinnati, see April 11, 1836)
Nat Turner
In 1830:  Nat Turner was moved to the home of Joseph Travis, the new husband of Thomas Moore's widow. His official owner was Putnum Moore, still a young child. Turner described Travis as a kind master, against whom he had no complaints. (see NT for an expanded chronology)
Dred Scott
In 1830: after Peter Blow's failure to farm in Alabama, he moved to Missouri with his slaves (including Dred Scott). (see DS for expanded chronology; next BH, see Jan 1)
Springfield, IL Riot, Day 2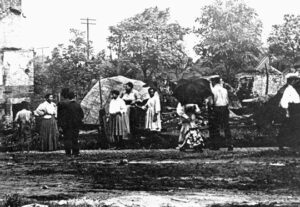 August 15, 1908: at nightfall white rioters regrouped in downtown Springfield, IL. The new mob marched west to the state arsenal, hoping to get at several hundred blacks who had taken refuge there, but they were driven off by state troops who charged the crowd with bayonets fixed to their rifles. The crowd then marched to a predominantly white, middle-class neighborhood and seized and hung an elderly wealthy black resident. After this second killing, enough troops arrived in the capital to prevent further mass attacks. Nonetheless, what the press called "guerilla-style" hit-and-run attacks against black residents continued through August and into September.  (next BH, see Dec 26: next RR, see May 28, 1917; next Lynching, see February 12, 1905; for for expanded chronology, see American Lynching 2)
Shady Grove Baptist Church
August 15, 1962: the Shady Grove Baptist Church, in Leesburg, GA 10 miles from Albany, GA, and served as the center for a voter registration campaign was bombed and destroyed by fire before dawn. Later that day the City Commission rebuffed a delegation's demands for desegregation of Albany's public facilities. (see Albany for expanded story)
SOUTH AFRICA/APARTHEID
August 15, 1989: F. W. de Klerk is sworn in as acting president of South Africa, replacing Mr. Botha. Saying the country is about to enter an era of change, Mr. de Klerk reaffirmed an earlier promise to phase out white rule. (see Oct 15)
August 15 Peace Love Art Activism
Native Americans
…let them eat grass or their own dung
August 15, 1862: when two other bands of the Dakota, the southern Mdewakanton and the Wahpekute, turned to the Lower Sioux Agency for supplies, they were rejected. Indian Agent (and Minnesota State Senator) Thomas Galbraith managed the area and would not distribute food without payment.
At a meeting of the Dakota, the U.S. government, and local traders, the Dakota representatives asked the representative of the government traders, Andrew Jackson Myrick, to sell them food on credit. His response was said to be, "So far as I am concerned, if they are hungry let them eat grass or their own dung."  [US-Dakota War dot org article] (see August 18, 1862)
Gold on Sioux land
August 15, 1876: US law removed Indians from Black Hills after gold was found. Sioux leaders Crazy Horse and Sitting Bull led their warriors to protect their lands from invasion by prospectors following the discovery of gold. This led to the Great Sioux Campaign staged from Fort Laramie.
Gold was discovered in Deadwood in the Dakota territory by Quebec brothers Fred and Moses Manuel. The mine was incorporated in California on Nov 5, 1877, as the Homestake Mining Company. [Wikipedia article] (see February 28, 1877)
Public Law 280
August 15, 1953: Public Law 280 established "a method whereby States might assume jurisdiction over reservation Indians." [UCI site] (see August 10, 1961)
August 15 Peace Love Art Activism
FEMINISM
Voting Rights
August 15, 1918: first group of Lafayette Park protesters (arrested Aug. 6) tried, convicted, and sentenced to 10 to 15 days in old District workhouse. Denied demand for treatment as political prisoners, 24 women begin hunger strikes. (see Aug 20)
Women's Health
August 15, 1930: Lambeth Conference (a decennial assembly of Anglican bishops), one of the Resolution 15 approved of limited contraception. It read: Where there is clearly felt moral obligation to limit or avoid parenthood, the method must be decided on Christian principles. The primary and obvious method is complete abstinence from intercourse (as far as may be necessary) in a life of discipline and self-control lived in the power of the Holy Spirit. Nevertheless in those cases where there is such a clearly felt moral obligation to limit or avoid parenthood, and where there is a morally sound reason for avoiding complete abstinence, the Conference agrees that other methods may be used, provided that this is done in the light of the same Christian principles. The Conference records its strong condemnation of the use of any methods of conception control from motives of selfishness, luxury, or mere convenience. [Lambeth conference site] (see December 31, 1930)
August 15 Peace Love Art Activism
Fair Housing
August 15, 1936: Techwood Homes opened. It was the first public housing project in the United States. Located in Atlanta, Georgia, it replaced a shantytown known as Tanyard Bottom or Tech Flats. The apartments included bathtubs and electric ranges in each unit, 189 of which had garages. Central laundry facilities, a kindergarten and a library were also provided. (see September 1, 1937)
By 1996, homeownership totaled 66.3 million American households, the largest number ever. Except for a few historic buildings, Techwood Homes was demolished in 1996 before the 1996 Summer Olympics.
In 1998, HUD opened Enforcement Center to take action against HUD-assisted multifamily property owners and other HUD fund recipients who violate laws and regulations. Congress approved Public Housing reforms to reduce segregation by race and income, encourage and reward work, bring more working families into public housing, and increase the availability of subsidized housing for very poor families.
By the year 2000, America's homeownership rate reaches a new record-high of 67.7 percent in the third quarter of 2000. A total of 71.6 million American families own their homes – more than at any time in American history. [Living New Deal article] (see July 19, 2013)
August 15 Peace Love Art Activism
INDEPENDENCE DAYS
South Korea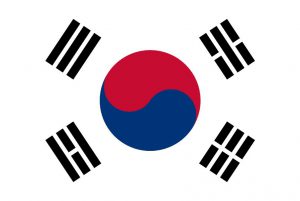 August 15, 1945:  South Korea independent from Japan. (see Aug 17)
India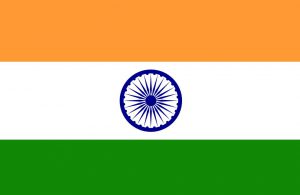 August 15, 1947:  India independent from the United Kingdom. (see January 4, 1948)
Republic of the Congo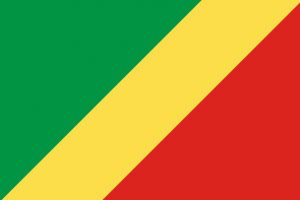 August 15, 1960: Republic of the Congo independent from France. (see ID for list of 1960s Independence Days)
Bahrain
August 15, 1971: Bahrain independent of the United Kingdom. (see Dec 2)
August 15 Peace Love Art Activism
August 15 Music et al
Dean Martin
August 15 – 21, 1964: "Everybody Loves Somebody" by Dean Martin #1 on the Billboard Hot 100. (see Aug 19)
The Beatles @ Shea Stadium
August 15, 1965:  at 8 pm EST The Beatles took the stage at Shea Stadium in New York City, marking the very first time a rock band would headline a stadium concert and a major victory for promoter Sid Bernstein, who had arranged the gig after his gamble of booking the then-unknown group at Carnegie Hall had paid off. Tickets for the show, sold merely by word of mouth created by kids who asked Bernstein about the next Beatles show while he strolled in Central Park, sold out in just three weeks, beating the stadium's old seating record with 56,000 seats sold.
The security force numbered two thousand . The concert, filmed  by both BBC and NBC, also featured openers Brenda Holloway, The King Curtis Band, and The Young Rascals. (see Aug 24)
Bob Dylan
August 15, 1969: despite the constant rumor at the Woodstock festival site that Dylan would appear there, Dylan and his family boarded the Queen Elizabeth 2 for the United Kingdom and to perform at the Isle of Wight. His son, Jesse, hit his head on a doorknob and the family left the ship. Jesse was OK and the family flew to England instead.
In mid-July, he had signed in mid-July to play the festival. (see Isle of Wight, August 30 – 31)
Jefferson Airplane
August 15, 1966: Jefferson Airplane released their debut album, Jefferson Airplane Takes Off. The personnel differed from the later "classic" lineup and the music is more folk-rock than the harder psychedelic sound for which the band later became famous. Signe Toly Anderson was the female vocalist and Skip Spence played drums. Both left the group shortly after the album's release and were replaced by Grace Slick and Spencer Dryden, respectively.( Jorma Kaukonen (age 25), Paul Kantner (age 25), Jack Casady (age 22), Marty Balin (age 24), Grace Slick (age 26), Spencer Dryden (age 28).
Quill
In 1967, the band Quill formed in Boston and performed mainly throughout the mid-east. (see in April)
August 15: day one of the Woodstock Music and Art Fair, Bethel, NY.
Woostock Music and Art Fair, Bethel, NY
Day 1 featured:
Richie Havens
Swami Satchidananda
Sweetwater
Bert Sommer
Tim Hardin
Ravi Shankar
Melanie
Arlo Guthrie
Joan Baez
August 15 Peace Love Art Activism
Vietnam
August 15, 1973: the U.S. bombing of Cambodia ended, officially halting 12 years of combat activity in Southeast Asia. (see January 1974)
Bob Dole
August 15, 1996: Bob Dole nominated for President and Jack Kemp for Vice President, at the Republican National Convention in San Diego.
August 15 Peace Love Art Activism