August 17 Peace Love Art Activism
August 17 Peace Love Art Activism
Immigration History
August 17, 1587: Virginia Dare became the first child of English parents to be born on American soil, on what is now Roanoke Island, N.C. [North Carlolina 'pedia article] (see March 26, 1790)
Feminism
Emma Goldman
August 17, 1894: Goldman released from prison. Her account of the experience appears in the New York World the next day. (see Goldman for expanded story)
Voting Rights
August 17, 1917: after three days of brutal attacks on pickets by mobs and police, six pickets arrested (Edna Dixon, Lavinia Dock, Lucy Ewing, Catherine Flanagan, Natalie Gray, Madeleine Watson) and sentenced to 60 days at Occoquan Workhouse, this time without pardon from President Wilson. (see Aug 28)
August 17 Peace Love Art Activism
US Labor History
August 17, 1918: the jury's deliberations in the IWW trial in Chicago took less than 2 hours. It returned a verdict of guilty for all. The defendants were stunned. Wobbly leader and defendant Bill Haywood stated, "I believe Judge Landis's instructions pointed clearly to an acquittal,"  At sentencing, the defendants were given heavy fines and prison terms ranging up to 20 years. Haywood jumped bail, finding refuge in the Soviet Union. (Haywood, see May 18, 1928)
In 1919, following World War I, there was a wave of strikes. More than 40,000 coal workers and 120,000 textile workers walked off the job. In Boston, a police strike caused chaos in the city. The labor unrest was associated with the Red scare and agitators were rounded up and the public turned suspicious of labor unions.
From 1919 – 1921 there was the First Red Scare: In 1971, Murray Levin in his book,  Political Hysteria in America: The Democratic Capacity for Repression wrote that the "Red Scare" was "a nation-wide anti-radical hysteria provoked by a mounting fear and anxiety that a Bolshevik revolution in America was imminent—a revolution that would change Church, home, marriage, civility, and the American way of Life."  [Washington dot edu article] (see Jan 21)
August 17 Peace Love Art Activism
INDEPENDENCE DAYS
Indonesia
August 17, 1945:  Indonesia independent from the Netherlands. [Vilonda article] (see Sept 2)
Gabon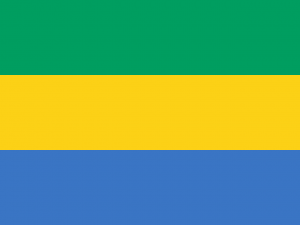 August 17, 1960: Gabon independent from France. [SAHO article] (see many for full list of 1960 Independence days)
August 17 Peace Love Art Activism
August 17 Music et al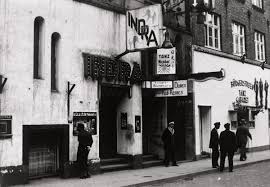 August 17, 1960: The Beatles arrived very early in the morning om Hamburg and the Indra Club was closed. A manager from a neighboring club found someone to open it up, and the group slept on the red leather seats in the alcoves.
The group played at the club on the same night. Management  said that they could sleep in the Bambi Kino's storeroom. The Bambi Kino was small cinema and the storage room was cold, noisy, and directly behind the movie screen.
Paul McCartney later said, "We lived backstage in the Bambi Kino, next to the toilets, and you could always smell them. The room had been an old storeroom, and there were just concrete walls and nothing else. No heat, no wallpaper, not a lick of paint; and two sets of bunk beds, with not very much covers—Union Jack flags—we were frozen."[30] Lennon remembered: "We were put in this pigsty. We were living in a toilet, like right next to the ladies' toilet. We'd go to bed late and be woken up next day by the sound of the cinema show and old German fraus [women] pissing next door." After having been awoken in this fashion, the group were then obliged to use cold water from the urinals for washing and shaving. They were paid £2.50 each a day, seven days a week, playing from 8:30-9:30, 10 until 11, 11:30-12:30, and finishing the evening playing from one until two o'clock in the morning.
German customers found the group's name comical, as "Beatles" sounded like "Peedles", which meant a small boy's penis.[see Aug 18)
Bob Dylan
August 17, 1963: Peter, Paul, and Mary's cover of "Blowin' In the Wind" reached number two on the Billboard pop chart, with sales exceeding one million copies. (see Aug 28)
People Got to Be Free
August 17 – September 20, 1968: "People Got to Be Free" by the Young Rascals #1 on the Billboard Hot 100.
August 17:  Abbie Hoffman interrupted The Who's set to protest John Sinclair's imprisonment. (next BH, see Dec 11, 1971)
August 17 Peace Love Art Activism
The Cold War
August 17, 1960: the trial of U-2 pilot Francis Gary Powers began in Moscow. (see Powers for expanded story)
Cuban Missile Crisis
August 17, 1962: US Central Intelligence Agency Director John McCone stated at a high-level meeting that circumstantial evidence suggested that the Soviet Union was constructing offensive missile installations in Cuba. Dean Rusk and Secretary of Defense Robert McNamara disagree with McCone, arguing that the build-up is purely defensive. (Cold War, see Aug 25; see Cuban Missile Crisis for more)
August 17 Peace Love Art Activism
Vietnam
August 17, 1965: after a deserter from the 1st Vietcong regiment revealed that an attack was imminent against the U.S. Marine base at Chu Lai, the American army launched Operation Starlite. In this, the first major battle of the Vietnam War, the United States scored a resounding victory. Ground forces, artillery from Chu Lai, ships, and air support combined to kill nearly 700 Vietcong soldiers. U.S. forces sustain 45 dead and more than 200 wounded. (see Aug 30)
August 17 Peace Love Art Activism
US Labor History
Juan de la Cruz
August 17, 1973: Juan de la Cruz, 60, and his wife were walking a picket line along the highway between Arvin and Weedpatch, California. As a caravan of non-union workers drove out of the fields, five shots were fired from one of the pick-up trucks. Juan de la Cruz saved his wife, shoving her to the ground, but was himself killed by a twenty-two caliber semiautomatic rifle slug just below his heart.
Bayani Advencula, a 20 year old Filipino worker, was identified as the pick-up truck passenger who fired the rifle into the picket line. Advencula was charged with murder and then freed on $1,500 bail. Advencula was later acquitted of all charges by a Kern County jury. The county paid for the cost of his trial. [Chavez site PDF]  (see January 15, 1974)
UFCW
August 17, 1985: members of a local of the United Food and Commercial Workers (UFCW) union in Austin, Minnesota, go on strike against the Hormel Foods Corporation, ignoring the advice of their national union. Highlighting the confusion within the labor movement, the workers continue their action even after the company vows to reopen the plant with replacement workers. Some union members cross the picket lines and the strike drags on for ten months with no gains for union members. The futile action is emblematic of a labor movement in disarray. [Cornell PDF] (see Sept 22)
Student Rights
August 17, 2015: the National Labor Relations Board dismissed a petition by Northwestern football players who were seeking to unionize, effectively denying their claim that they were university employees and should be allowed to collectively bargain. In a unanimous decision that was a clear victory for the college sports establishment, the five-member board declined to exert its jurisdiction in the case and preserved one of the N.C.A.A.'s core principles: that college athletes were primarily students.
The board did not rule directly on the central question in the case — whether the players, who spend long hours on football and help generate millions of dollars for Northwestern, are university employees. Instead, it found that the novelty of the petition and its potentially wide-ranging impacts on college sports would not have promoted "stability in labor relations." [NYT article] (LH, see Aug 27; SR, see June 5, 2017)
August 17 Peace Love Art Activism
CLINTON IMPEACHMENT
August 17, 1998: President Bill Clinton became the first sitting president to testify before a grand jury investigating his conduct. After the questioning at the White House is finished, Clinton goes on national TV to admit he had an inappropriate relationship with Monica Lewinsky.
August 17, 2000: CNN learned that in July Independent Counsel Robert Ray impaneled a new grand jury as part of an investigation into the scandal involving President Bill Clinton and former White House intern Monica Lewinsky.  (see Clinton for more)
August 17 Peace Love Art Activism
LGBTQ
Iraq War II
August 17, 2009: the AP reported that Iraqi militiamen were torturing and killing gay Iraqi men with impunity in a systematic campaign that had spread from Baghdad to several other cities, a prominent human rights group said in a report. Human Rights Watch called on the Iraqi government to act urgently to stop the abuses, warning that so-called social cleansing poses a new threat to security even as other violence recedes. [Gulf News article] (see Aug 21)
Jim Cato and Joe Stapleton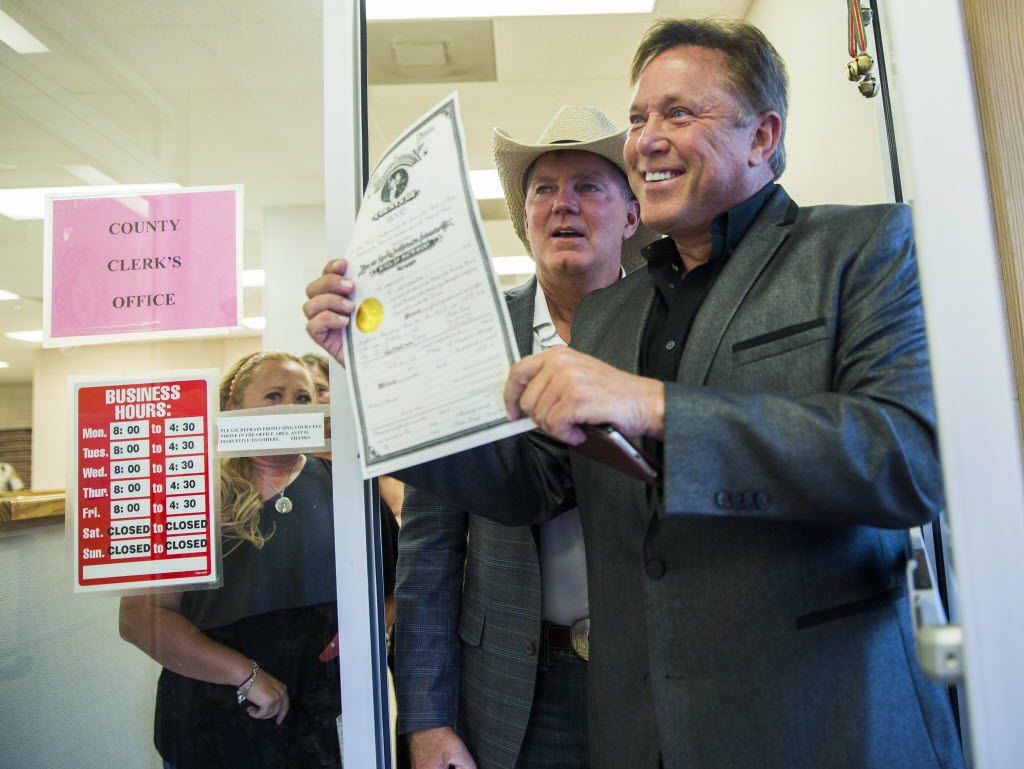 August 17, 2015: attorneys for a gay couple who sued a Texas county clerk who denied them a marriage license on religious grounds announced they had reached a settlement of the lawsuit. In a statement, attorneys for Jim Cato and Joe Stapleton said that they've settled their federal lawsuit against Hood County Clerk Katie Lang for what they've spent in attorneys' fees — almost $44,000. Cato and Stapleton had filed the lawsuit July 6 after they'd been refused a marriage license for almost a week after the Supreme Court recognized the right of gay couples to marry. The couple was granted a license the day they filed their lawsuit. [NBC News article] (see Aug 26)
August 17 Peace Love Art Activism
Activism, August 17 Peace Love Activism, August 17 Peace Love Activism,