August 24 Peace Love Art Activism
US Labor History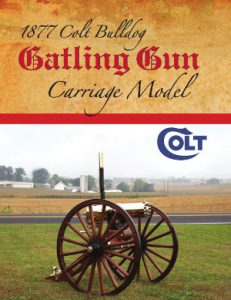 August 24, 1877:  The Gatling Gun Co.—manufacturers of an early machine gun— wrote to B&O Railroad Co. President John W. Garrett during a strike, urging their product be purchased to deal with the "recent riotous disturbances around the country." Said GGC, "Four or five men only are required to operate (a gun), and one Gatling … can clear a street or block and keep it clear" [Popular Mechanics story] (see July 1881)
August 24 Peace Love Art Activism
The Road to Bethel and the Woodstock Festival
First annual Maverick Festival
August 24, 1915: (from The Road to Woodstock, by Michael Lang) the first annual Maverick Festival. A flyer promised "wild sports going on" and the dancer Lada, who "illumes beautiful music like poems, and makes you feel its religion…you cry, it is so esquisite to see….All this in the wild stone-quarry theatre, in the moonlight, with the orchestra wailing in rapture, and the jealous torches flaring int eh wind! In the afternoon, there is also a concert, with a pageant, and strange doings on the stage….There will be a village that will stand but for a day, which mad artists have hung with glorious banners and blazoned in the entrance through the woods."
Bacchanalian fetes
In the 1920s, "there were bacchanalian fetes, with ecentric celebrants wearing handmade costumes for all-night revelry." (see Chronology for expanded story)
August 24 Peace Love Art Activism
BLACK HISTORY
Ben Hart
August 24, 1923: from EJI  story…a 34-year-old black farmhand Ben Hart was killed based on suspicion that he was a "Peeping Tom" who had that morning peered into a young white girl's bedroom window near Jacksonville, Florida. According to witnesses, approximately ten unmasked men came to Hart's home around 9:30 p.m. claiming to be deputy sheriffs and informing Hart he was accused of looking into the girl's window. Hart professed his innocence and readily agreed to go to the county jail with the men, but did not live to complete the journey.
Shortly after midnight the next day, Hart's handcuffed and bullet-riddled body was found in a ditch about three miles from the city. Hart had been shot six times and witnesses reported seeing him earlier that night fleeing several white men on foot who were shooting at him as several more automobiles filled with white men followed.
Police investigating Hart's murder soon determined he was innocent of the accusation against him; he was at his home 12 miles away when the alleged peeping incident occurred. (next BH, see February 8, 1925; next Lynching, see May 4, 1927 or see AL3 for expanded chronology of early 20th century lynching)
SCOTTSBORO BOYS Travesty
August 24, 1952: Haywood Patterson died of cancer. He was 39 years old. (see SB for expanded story)
Emmett Till
August 24, 1955:  Emmett Till and a group of teenagers entered Bryant's Grocery and Meat Market in Money, Mississippi to buy refreshments after a long day picking cotton in the hot afternoon sun. What exactly transpired inside the grocery store that afternoon is unknown. Till purchased bubble gum and some of the kids with him would later report that he either whistled at, flirted with, or touched the hand of Carolyn Bryant, the store's white female clerk and wife of the owne. (see Till for more)
Medgar Evers assassination
August 24, 1992: the Mississippi Supreme Court delayed indefinitely the third trial of Byron De La Beckwith in the 1963 assassination of Medgar Evers, civil rights leader. The court said it would decide later if the state may prosecute Beckwith in the 29-year-old case. Beckwith's lawyers had asked the court to review a lower court's refusal to dismiss the murder charge, which they say violated Beckwith's right to a speedy trial and due process. [1994 NYT story] (BH, see, Nov 3; ME, see Dec 16)
Dee/Moore Murders
August 24, 2007: James Ford Seale, a reputed Ku Klux Klansman, was sentenced to three life terms for his role in the 1964 abduction and murder of Henry Hezekiah Dee and Charles Eddie Moore in Mississippi. [2016 San Diego Union Tribune story on Seale's death] (BH, see Sept 27; D/M, see September 9, 2008)
August 24 Peace Love Art Activism
The Red Scare
August 24, 1954: President Dwight Eisenhower signed into law [text of his statement] the Communist Control Act, outlawing the Communist Party. This was the first American law ever to outlaw a specific political party or group. The law also outlawed membership in the Communist Party or support for a "Communist-action" organization. Apart from two minor cases, no administration tried to enforce it, and the Supreme Court has never ruled on its constitutionality.
This law is not to be confused with the Smith Act, passed on June 29, 1940, which made it a crime to advocate the violent overthrow of the government. The top leaders of the Communist Party were convicted of violating the Smith Act, and on June 4, 1951, in Dennis v. United States, the Supreme Court upheld the convictions and the constitutionality of the Smith Act. NYT article (see Sept 4)
August 24 Peace Love Art Activism
Nuclear/Chemical News
France
August 24, 1958: France became the world's fourth thermonuclear power as it exploded a hydrogen bomb in the South Pacific. (see Aug 27)
Korea
August 24, 2018: President Trump abruptly called off a trip to North Korea by Secretary of State Mike Pompeo, citing a lack of progress in nuclear disarmament talks and acknowledging for the first time that his diplomatic overture to the North Korean leader, Kim Jong-un, had run into trouble.
Trump said the negotiations had been hindered by a lack of support from China, which he blamed on its bitter trade dispute with the United States. High-level talks with Pyongyang would not resume, he said, until the United States and China resolved those issues. [NYT article] (see Oct 20)
Fukushima Daiichi
August 24, 2023: workers in Japan started releasing treated radioactive water from the Fukushima Daiichi nuclear power plant into the Pacific Ocean.
The Chinese government announced it was immediately suspending aquatic imports, such as seafood, from Japan.
A review by the UN's nuclear watchdog said that the discharge would have a negligible radiological impact to people and the environment, but some nations remain concerned. [NPR article] (next N/C N, see )
August 24 Peace Love Art Activism
Vietnam & South Vietnam Leadership
Roger Hilsman Jr
August 24, 1963: assistant secretary of state for Far Eastern affairs, Roger Hilsman Jr, took it upon himself to draft a cable to new US Ambassador to Vietnam, Henry Cabot Lodge, stating that the US government could no longer tolerate a situation in which "power lies in Nhyu's hands." Lodge was to tell key military leaders that "we must face the possibility that Diem himself cannot be preserved." Kennedy on vacation and preoccupied with other domestic matters, approved the cable. South Vietnam's military leaders backed off from a coup. [2014 NYT Hilsman obit] (Vietnam,  see Sept 21; SVL, see Nov 1)
Sterling Hall Bombing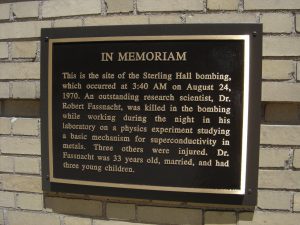 August 24, 1970: the Sterling Hall Bombing occurred on the University of Wisconsin–Madison campus. It was committed by four young people as a protest against the University's research connections with the US military during the Vietnam War and resulted in the death of a university physics researcher, 33-year-old researcher Robert Fassnacht and injuries to three others. (Vietnam, see Sept 6; Cambodia, see Sept 25)
1964 Democratic National Convention
August 24 – 27, 1964: at the Democratic National Convention in Atlantic City incumbent President Lyndon B. Johnson nominated for a full term with Senator Hubert Humphrey of Minnesota as his running mate. NYT article
August 24 Peace Love Art Activism
August 24 Music et al
The Beatles
Psychedelics
August 24, 1965: Roger McGuinn and David Crosby (of the Byrds) and Peter Fonda among others visited the Beatles in Beverly Hills, CA during a break in their tour. LSD was used by all except Paul McCartney. The Beatles credit the Byrd's musical influence on the subsequent recording of their subsequent Revolver album. (Beatles, see Aug 25; LSD, see August 31; Revolver, see August 5, 1966)
Mark David Chapman
August 24, 1981: Mark David Chapman is sentenced to 20 years to life in prison. [NY Daily News story] (see February 10, 1986)
Increase in use of psychedelics 
August 24, 2022: data collected by the National Institutes of Health from April 2021 through October 2021 indicated that the percentages of young people who said they used hallucinogens in the past year had been fairly consistent for the past few decades, until 2020 when rates of use began spiking.
In 2021, 8% of young adults said they have used a hallucinogen in the past year, the highest proportion since the survey began in 1988.
Reported hallucinogens included LSD, mescaline, peyote, shrooms, PCP and MDMA (aka molly or ecstasy).
Only use of MDMA declined has decreased, from 5% in 2020 to 3% in 2021. [NPR article] (next LSD, see Dec 27 )
August 24 Peace Love Art Activism
Dissolution of the USSR & INDEPENDENCE DAY
August 24, 1991:  Ukraine declared independence from Soviet Union. (see Aug 25)
August 24 Peace Love Art Activism
Women's Health
August 24, 2015: Mercy Medical Center in California, part of a Catholic hospital system, operated under binding "ethical and religious directives" issued by the United States Conference of Catholic Bishops. Applying these directives, which refer to sterilization for the purpose of contraception as "intrinsically evil," had denied Rachel Miller's doctor's request to perform a tubal ligation, but under the threat of a potential lawsuit from the ACLE approved a the doctor's request. (see Aug 31)
August 24 Peace Love Art Activism
Immigration History
August 24, 2021: the Supreme Court refused to block a court ruling ordering the Biden administration to reinstate a Trump-era policy that forces people to wait in Mexico while seeking asylum in the U.S.
With the three liberal justices in dissent, the court said the administration likely violated federal law in its efforts to rescind the program informally known as Remain in Mexico.
The justices said in their unsigned decision that the Biden administration appeared to act arbitrarily and capriciously by rescinding the policy, formally known as the Migrant Protection Protocols. They also cited last year's decision in the Department of Homeland Security v. Regents of University of California case. That decision blocked the Trump administration's effort to undo the Obama-era program protecting young immigrants that came to the U.S. as children. [NPR story] (next IH, see Dec 9)
August 24 Peace Love Art Activism
Cannabis
August 24, 2022: data collected by the National Institutes of Health from April 2021 through October 2021 indicated that the amount of people from ages 19 to 30 who reported using marijuana were at the highest rates since 1988 when the NIH first began the survey. The amount of young adults who said in 2021 that they used marijuana in the past year (43%), the past month (29%) or daily (11%) were at the highest levels ever recorded. Daily use — defined in the study as 20 or more times in 30 days — was up from 8% in 2016. The amount of young adults who said they used a marijuana vape in the past month reached pre-pandemic levels, after dropping off in 2020. It doubled from 6% in 2017 to 12% in 2021. [NPR article] (next Cannabis, see Oct 6 or see CAC for expanded chronology )
Crime and Punishment
August 24, 2023: former President Donald J. Trump surrendered at the Fulton County jail in Atlanta and was booked on 13 felony charges for his efforts to reverse his 2020 election loss in Georgia. [NYT article] (next C & P, see )
August 24 Peace Love Art Activism