August 21 Peace Love Art Activism
BLACK HISTORY
Slave Revolts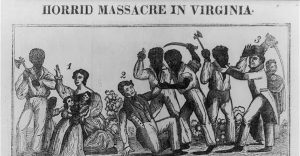 August 21 – 22, 1831: inspired by the success of a Haitian revolution in 1790 that freed the island's slaves and threw off French rule, Nat Turner's rebellion was the most successful of all slave revolts. Turner, a slave preacher, inspired fellow slaves with his apocalyptic visions of white and black angels fighting in heaven. He gathered up his seven original followers and, without the organization or planning of Prosser and Vesey, launched his rebellion by entering his owner's home and killing the entire family, save for a small infant. They moved from one farm to the next, killing all slave-owning whites they found. As they progressed through Southampton county, other slaves joined in the rebellion.
The next day, Turner and his eighty followers were intercepted by the state militia. In the confrontation that followed, Turner escaped and remained free for nearly two months. In those two months though, the militia and white vigilantes instituted a reign of terror over slaves in the region. Hundreds of blacks were killed. White Virginians panicked over fears of a larger slave revolt and soon instituted more restrictive laws regulating slave life. Turner and his followers were captured on October 30 Following his discovery, capture, and arrest, Turner was interviewed in his jail cell by Thomas Ruffin Gray, a wealthy South Hampton lawyer and slave owner. The resulting extended essay, "The Confessions of Nat Turner, The Leader of the Late Insurrection in South Hampton, VA.," was used against Turner during his trial.  [Documenting the American South article] (see Nov 10)
Samuel Wilbert Tucker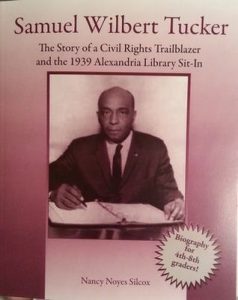 August 21, 1939: five African-American men recruited and trained by African-American attorney Samuel Wilbert Tucker conducted a sit-in at the then-segregated Alexandria, Va., library and were arrested after being refused library cards. [2014 Alexandria Times article]  (see February 29, 1940)
Emmett Till
August 21, 1955:  Till arrived in Money, Mississippi, to stay at the home of his great uncle Moses Wright. (see Till for the rest of the story)
Black Panthers
August 21, 1971: San Quentin Prison guards shot and killed George Jackson, Black Panther member and writer of Soledad Brother during an escape attempt. He had been imprisoned in 1961 for an armed robbery (robbing a gas station at gunpoint) and at age 18 was sentenced to serve one year to life in prison. He had remained in prison because of his behavior while there.  (BH, see Aug 30; BP, see March 28, 1972 )
Vernon Dahmer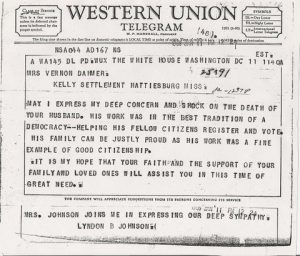 August 21, 1998: a jury convicted Imperial Wizard Sam Bowers of ordering the Klan's 1966 killing of Vernon Dahmer in Hattiesburg, Miss. Bowers was sentenced to life in prison, where he died in 2006.  [NYT obit] (BH, see Sept 13; Dahmer, see January 8, 2016)
August 21 Peace Love Art Activism
Vietnam
Tourane
August 21, 1858: 2,500 French troops attack Tourane [now Da Nang] to protect French missionaries and other nationals already there. Fighting will continue until 1862. [Alpha History article] (see June 5, 1862)
South Vietnam Leadership
August 21, 1963: after promising outgoing US Ambassador Frederick Nolting that he (President Diem) would take no further repressive steps against the Buddhists and before the new American ambassador, Henry Cabot Lodge, arrived, President Diem and his brother Ngô Đình Nhu (Diem's chief political adviser) ordered that phone lines of all the senor American officials in Saigon be cut and then sent out hundreds of their Special Forces into pagodas of Saigon, Hue, and other cities. More than fourteen hundred monks and nuns, students, and ordinary citizens were rounded up and taken away. Martial law was imposed, public meetings forbidden, and troops were authorized to shoot anyone found on the streets after nine o'clock. (V & SLV, see Aug 24)
Catholic Left
August 21, 1971:  antiwar protesters associated with the Catholic Left raid draft offices in Buffalo, New York, and Camden, New Jersey, to confiscate and destroy draft records. [NYT article]  (see Sept 9)
August 21 Peace Love Art Activism
Pledge of Allegiance
August 21, 1952: the Supreme Council of the Knights of Columbus at its annual meeting adopted a resolution urging that the change be made universal and copies of this resolution were sent to the President, the Vice President (as Presiding Officer of the Senate) and the Speaker of the House of Representatives. (see Pledge for expanded story)
August 21 Peace Love Art Activism
August 21 Music et al
August 21, 1955: the Juvenile Delinquency and Crime Commission in Houston, Texas, claimed success on this day in its anti-rock and roll crusade. The effort involved pressuring radio stations not to play recordings with "lewd or suggestive" lyrics. All nine Houston radio stations were cooperating. Almost all of the artists on the Commission's list were black. (next Fear of Rock, see Aug 26)
Out of Our Heads
August 21 – September 10, 1965: The Rolling Stones' Out of Our Heads Billboard #1 album.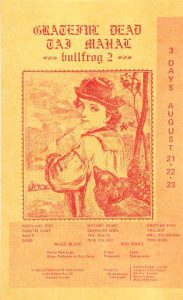 August 21, 22, and 23: Bullfrog II Festival, held on the Pelletier Farm, St Helens, Oregon.
August 21 Peace Love Art Activism
Native Americans
Alcatraz Takeover
August 21, 1970: the group of Indians who had occupied Alcatraz Island for nine months "exposed" their weapons–one bow and two toy pistols–and then threw the toy pistols into the waters of the San Francisco Bay. (see Nov 21)
Leonard Peltier
August 21, 1987: the State Department said that Leonard Peltier, was a "convicted criminal" and criticized the Soviet Union for considering his request for political asylum.  Supporters on the Leonard Peltier Defense Committee, have said his case is a human rights issue. Dacajeweiah, a Peltier supporter, told reporters that the committee had had no indication that the United States would free him to go to the Soviet Union if asylum was granted.  [www.whoisleonardpeltier.info article] (Peltier, see December 31, 1991; Native Americans, see June 29, 1988)
August 21 Peace Love Art Activism
Dissolution of the USSR
INDEPENDENCE DAY
August 21, 1991:  Latvia declares its independence from the Soviet Union. [Washington Post article] (see Aug 24)
August 21 Peace Love Art Activism
Iraq War II
August 21, 2006:  President George W Bush acknowledged Iraq had "nothing" to do with 9/11. [Think Progress article] (see Aug 29)
August 21 Peace Love Art Activism
LGBTQ
August 21, 2009: leaders of the Evangelical Lutheran Church in America voted to lift a ban that prohibited sexually active gays and lesbians from serving as ministers. [PBS article]  (see Sept 10)
August 21 Peace Love Art Activism
TERRORISM
August 21, 2014: Thomas Windell Smith, 24, pleaded guilty to one count of conspiring to violate housing rights. Smith was sentenced to serve five years probation including eight months of home confinement after pleading guilty last year to burning a cross in a black neighborhood in Ozark. Smith admitted that he and Steven Joshua Dinkle burned the cross at the entrance of a black community on May 8, 2009 to intimidate the residents.
Dinkle reportedly used materials from his home to build the wooden 6-foot cross and wrapped it with cloth. He and Smith transported the cross to the black neighborhood, poured fuel on it and set it on fire in view of several houses.
Dinkle, the former Exalted Cyclops of the Ozark chapter of the International Keystone Knights of the Ku Klux Klan, received a two-year prison sentence for the offense.
Dinkle's mother, Pamela Morris, was also charged with impeding the investigation. [AL dot com article] (Terrorism, see January 23, 2015; Morris, see February 6, 2015)
August 21 Peace Love Art Activism
Immigration History
Release of children
August 21, 2015: on July 24 federal judge Dolly M. Gee of Federal District Court for the Central District of California gave the Obama administration two months to change its detention practices to ensure the rapid release of children and their parents caught crossing the border illegally.
Her opinion last month found that the administration had violated the terms of a 1997 court-ordered settlement governing the treatment of unaccompanied children — minors who tried to enter illegally without a parent. The judge determined that the settlement, in a case known as Flores, covered all children in immigration detention, including those held with a parent.
After considering final arguments from both sides, federal judge Dolly M. Gee of Federal District Court for the Central District of California on this date issued an order to put her ruling into effect. She ordered the administration to release children "without unnecessary delay" to a parent or other relative in the United States and, in a significant new mandate, to release the parent as well unless that person posed a flight risk or a threat to national security. The settlement requires the release of children from secure detention within five days.
Judge Gee also prohibited the administration from holding children in secure facilities that are not licensed to care for minors. She ordered the Border Patrol to upgrade the "deplorable" conditions in its front-line stations to ensure a "safe and sanitary" environment for children. She said the new measures must be in place by Oct. 23. (see Sept 4)
Indefinite holding of children
August 21, 2019: the Trump administration unveiled a regulation that would allow it to detain indefinitely migrant families who cross the border illegally, replacing a decades-old court agreement that imposed a limit on how long the government could hold migrant children in custody and specified the level of care they must receive.
The White House has for more than a year pressed the Department of Homeland Security to replace the agreement, known as the Flores settlement, a shift that the administration sais is crucial to halt immigration across the southwestern border. (see Sept 2)
August 21 Peace Love Art Activism