1969 Vancouver Pop Festival
Paradise Valley Resort
1969 festival #35
August 22, 23, and 24 1969
Each year as I post a short piece about the many rock festivals that took place in 1969, I seem to find a few more. On my latest list, the Vancouver Pop Festival is number 35.
Paradise Valley Resort (now the Cheakamus Centre) is about 40 miles north of Vancouver, British Columbia.
Promoter Bert Gartner had planned on selling 30,000 tickets for each of the three days. He sold 15,000. The MC was well-known radio DJ Terry Mulligan. Bikers showed up and "did" security.
1969 Vancouver Pop Festival
Dead or not?
There is some dispute as to whether the Grateful Dead played the event. Some sites state they did; others dispute it. Unusual is that there is no recording of their performance, something that almost always occurred.
The Jerry Garcia's Middle Finger site comes down on the "did not play" side with the following information:
Here are the listings from the great San Francisco Express Times, vol. 2 no. 32 (August 21, 1969), p. unk. There's lots of interest here, of course. But I have circled the item that interests me most greatly. It's under the listings for Sunday, August 24, 1969, and reads as follows:
Hippy Hill: Trans-Cultural Rip-Offs, Inc. presents Steve Gaskin & the Grateful Dead in concert with Shiva Fellowship. Bring dope (the sacrament) and good vibes. noon. free.
"Hippy Hill", a.k.a. Hippie Hill, is apparently at the far eastern edge of Golden Gate Park, close to the entry from the Haight-Ashbury neighborhood. It seems like a perfectly good place to go share a sacrament and a free show by the Dead.
I show the listing referred to below. It is too small to read, but if you click on it you will likely be able to see a larger view: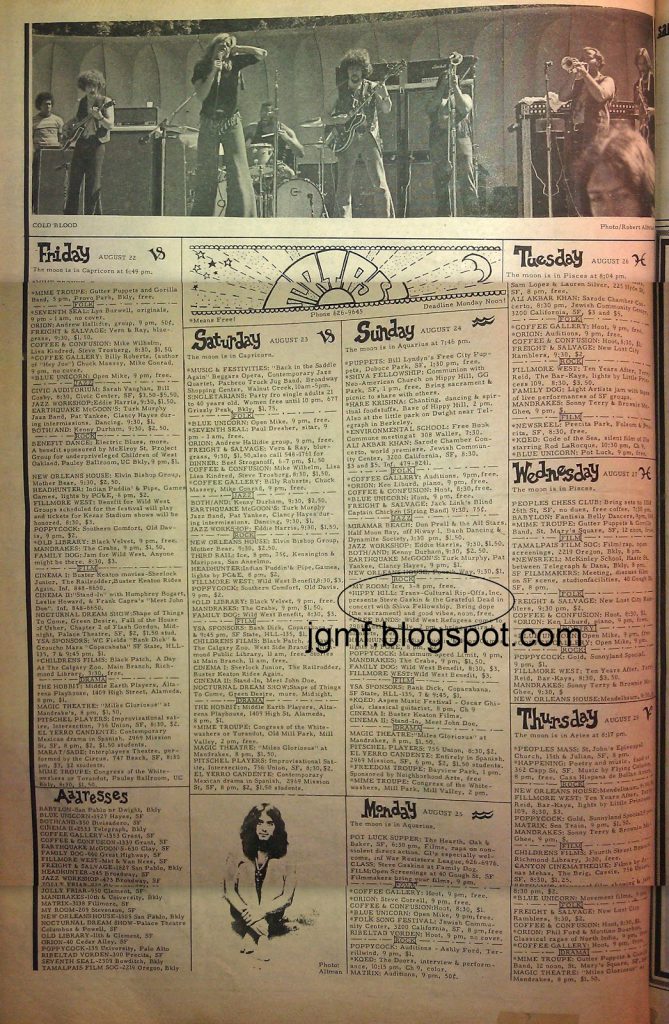 1969 Vancouver Pop Festival
MC Terry Mulligan
In 2011, MC Terry Mulligan wrote his biography, My Life…So Far. In it he included his memories about the event. He felt it had held much promise, but failed to deliver.  He also said that the Grateful Dead did not play. Among the several paragraphs about the event, Mulligan includes…
I had my own experience with an unruly music event when…I introduced the acts at the Vancouver Pop Festival–three days of rain, cold and miserable hippies….
Nobody was ready for the pissing rain and cold. People were in sleeping bags on the wet ground in a mountain valley that was mostly shielded from the sun.
I was the guy who promoted the event on the air, so many people thought it was my event. Every half-hour there was somebody loud and angry in my face, spittle flying. "My old lady just got robbed." "These are bogus tickets." "You took my money, man!"
1969 Vancouver Pop Festival
Vancouver Sun report
Yet like any event, perspectives change with who one was and where one sat. Vancouver Sun reporter Eileen Johnson wrote:
…the music was excellent, the sound system worked fine, the weather couldn't have been been better, the light show was a delight, and there were so few people…no one could have suffered from overcrowding
1969 Vancouver Pop Festival
Attendee David Chesney
And yet another statement from the same article by attendee David Chesney,
It was like every outlaw motorcycle gang in the Pacific Northwest came to this thing….The bizarre part was when Little Richard came on. All these bikers right up front. …Little Richard was mincing it up big time, and questioning their sexuality while flaunting his.
1969 Vancouver Pop Festival
Next 1969 festival: Isle of Wight