August 8 Peace Love Art Activism
BLACK HISTORY
TERRORISM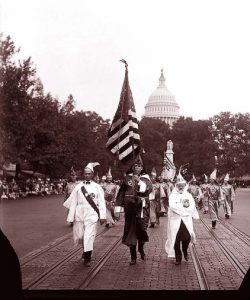 August 8, 1925: more than 35,000 Ku Klux Klan members marched down Constitution Avenue in Washington, D.C., wearing their Klan robes but not their masks. The march marked the high point of the Klan's power in the 1920s when it had a strong national presence and was almost as focused on attacking the Catholic Church as it was on African-Americans. [Atlantic article]  (BH, see Aug 25; Terrorism, see September 1, 1926)
BLACK & SHOT
August 8, 2014: Ferguson, Missouri, Police Officer Darren Wilson shot and killed Michael Brown, an unarmed 18-year-old. Wilson claimed he shot Brown as the teen ran at him after the two fought over his gun. But multiple witnesses, including the majority of those heard by a grand jury, said Brown did not run toward the officer. Many said Brown had his hands up when he was shot and killed. On Nov. 24, a grand jury voted not to indict Wilson, setting off protests across America. NYT article (B & S, see Aug 11; Brown, see June 20,  2017)
137 SHOTS
August 8, 2017: the city of Cleveland will pay Jessica Barnes, Jasmine Bruce, Dominique Knox, Eric Maxwell, and Tanis Quach, and National Lawyers Guild Legal Observer Jordan Workman.$50,000 each for being falsely arrested in May 2015 while they demonstrated against the acquittal of Michael Brelo.
Brelo was found 'not guilty' of voluntary manslaughterin the November 2012 deaths of Timothy Russell and Malissa Williams. The Cleveland Police officer was on trial for firing 49 rounds at Russell and Williams, who were unarmed.
The verdict had prompted several protests in and around downtown Cleveland.
The six were wrongfully arrested, jailed, and prosecuted for several months, before the charges were finally dismissed.
According to the lawsuit, Cleveland Police intentionally kept the protesters in jail to prevent them from returning to the streets to protest. While locked up for 36 hours, they were subjected to bed bugs, contaminated drinking water, and mold. (see 137 for expanded story)
August 8 Peace Love Art Activism
Nuclear/Chemical News
ICPUAE
August 8, 1955: the Geneva Conference on the Peaceful Uses of Atomic Energy (ICPUAE) was opened, sponsored by the United Nations. By the time the conference ended on 20 August, hundreds of papers had been read and discussed. Dr. Homi Bhabha was elected to preside over the conference. In his presidential address, he said, "nuclear energy would provide a short cut to the prosperity of the developing countries that the industrialized countries were now beginning to enjoy." Varied uses of nuclear energy were considered, but particularly in the field of generation of electricity.  [NCBI article] (see May 20, 1956)
Trump threatens Korea
August 8, 2017: President Trump threatened to unleash "fire and fury" against North Korea if it endangered the United States, as tensions with the isolated and impoverished nuclear-armed state escalated into perhaps the most serious foreign policy challenge yet of his administration.
In language that evoked the horror of a nuclear exchange, Trump sought to deter North Koreafrom any actions that would put Americans at risk. But it was not clear what specifically would cross his line. Administration officials had said that a pre-emptive military strike, while a last resort, was among the options they have made available to the president.
"North Korea best not make any more threats to the United States," Mr. Trump told reporters at his golf club in Bedminster, N.J., where he is spending much of the month on a working vacation. "They will be met with fire and fury like the world has never seen."  [NYT article] (see Sept 26)
August 8 Peace Love Art Activism
August 8 Music et al
August 8 – 15, 1960: Brian Hyland's "Itsy Bitsy Teenie Weenie Yellow Polka Dot Bikini" #1 Billboard Hot 100.
August 8, 1964: released fourth album, Another Side of Bob Dylan. Became 1964's 10th biggest selling album.  He recorded the entire album on  June 9.
'Abbey Road' album cover
August 8, 1969: the photo session for the cover of The Beatles 'Abbey Road' album took place on the crossing outside Abbey Road studios. Photographer Iain McMillan, balanced on a step-ladder in the middle of the road took six shots of John, Ringo, Paul, and George walking across the zebra crossing while a policeman held up the traffic. The band then returned to the studio and recorded overdubs on 'The End', 'I Want You (She's So Heavy)' and 'Oh! Darling'. (see Aug 15 – 18)
August 8 Peace Love Art Activism
Vietnam
R W Apple
August 8, 1967: President Johnson called Barry Zorthian, the embassy public affairs official in Saigon, and told him that R W Apple, the chief of the NY Time's Saigon office, was clearly a Communist and should be thrown out of Vietnam and not to speak to Apple again. (see Aug 31)
August 8, 1970: Daniel Ellsberg and Patricia Marx married; Marx changes her name to Ellsberg.
August 8 Peace Love Art Activism
VP Agnew Scandal
August 8, 1973: Vice President Spiro T. Agnew branded as "damned lies" reports he had taken kickbacks from government contracts in Maryland and vowed not to resign. (see Oct 10)
August 8 Peace Love Art Activism
Watergate Scandal
August 8, 1974: President Richard M. Nixon announced his resignation effective Aug 9. (see Watergate for expanded story)
August 8 Peace Love Art Activism
Irish Troubles
August 8, 1981:  ninth hunger striker dies. Thomas McElwee (23) died after 62 days on hunger strike. This weekend marked the tenth Anniversary of the introduction of Internment and there were widespread riots in Republican areas. Three people were killed during disturbances over the weekend. (see Troubles for expanded story)
August 8 Peace Love Art Activism
César E. Chávez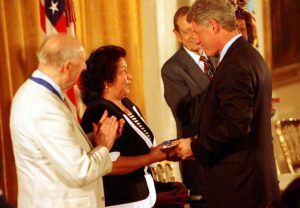 August 8, 1994: President Clinton posthumously presented the Presidential Medal of Freedom to César E. Chávez. His widow, Helen, accepted the medal. [PDF] (May 30, 1995)
August 8 Peace Love Art Activism
Sexual Abuse of Children
August 8, 2003:  seeking a resolution to the sex abuse crisis, the Roman Catholic Archdiocese of Boston offered $55 million to settle more than 500 clergy sex abuse lawsuits, according to a document obtained by The AP. Those who say they were abused as children by clergy would have 30 days to accept the offer, and 95 percent of the claimants would have to participate. Attorney Jeffrey Newman, who represented more than 200 alleged victims, said, "We think it's a very good start, but it's only a start." [Boston Globe article]  (see Aug 23)
August 8 Peace Love Art Activism
Feminism
August 8, 2009: Sonia Sotomayor became the third woman and the first Hispanic to serve on the Supreme Court. [CNN story on Sotomayor]  (see Dec 7)
August 8 Peace Love Art Activism
STAND YOUR GROUND LAW
August 8, 2013:  Paul Miller, the 66-year-old Flagler Beach resident sentenced to life in prison in June for the murder of Dana Mulhall, his neighbor, in 2012, was moved to what may be his permanent home for the rest of his life: Dade Correctional Institution in Florida City, south of Miami, some 350 miles from his home–and spouse–in Flagler Beach. (see Nov 27)
August 8 Peace Love Art Activism