September 8 Peace Love Art Activism
Cold War
Korea divided
September 8, 1945: U.S. troops land in Korea to begin their postwar occupation of the southern part of that nation, almost exactly one month after Soviet troops had entered northern Korea to begin their own occupation. Although the U.S. and Soviet occupations were supposed to be temporary, the division of Korea quickly became permanent. [NYT article]  (see Nov 16)
SEATO
September 8, 1954: the Southeast Asia Treaty Organization  formed. It was an international organization for collective defense in Southeast Asia created by the Southeast Asia Collective Defense Treaty, or Manila Pact. It was primarily created to block further communist gains in Southeast Asia. [Study dot com article] (see Nov 27)
September 8 Peace Love Art Activism
BLACK HISTORY
Clyde Kennard
September 8, 1959: in 1955, Clyde Kennard, a black U.S. Army veteran and Mississippi native, had attempted to enroll in Mississippi Southern College, an all-white public university in the city of Hattiesburg. Mr. Kennard's credentials met the criteria for admission, but his application was denied because he was unable to provide references from five alumni in his home county.
In December 1958, in a letter to a local newspaper, Mr. Kennard announced his intent to re-apply to the university. In response, the Mississippi Sovereignty Commission – a state agency formed to protect segregation – hired investigators to research Mr. Kennard's background and uncover details that could be used to discredit him; these attempts were unsuccessful. Soon after, Mr. Kennard withdrew his application after the governor of Mississippi personally requested that he do so.
On September 8, 1959, Mr. Kennard once again tried to apply for admission to Mississippi Southern College. In a letter written to the college's administration, he declared that, if again rejected, he would sue the University for denying him admission based on his race. After he unsuccessfully tried to register for courses on September 15, 1959, Mr. Kennard was charged with illegal possession of alcohol.
Despite this legal retaliation, Mr. Kennard continued his attempts to register at Mississippi Southern. In September of 1960, he was arrested and charged with assisting in stealing $25 worth of chicken feed from a local store. Although there was little evidence against him, an all-white jury convicted him of being an accessory to burglary, and he was sentenced to seven years in state prison. [Northwestern article] (BH, see January 5, 1960; Kennard, see July 4, 1963)
James H Meredith
September 8, 1965: Columbia University Law School accepted Meredith. (BH, see Sept 24; Meredith, see June 5, 1966)
Black Panthers
September 8, 1968: a jury deliberated for four days and in the end come up with a compromise verdict, convicting Huey Newton of voluntary manslaughter. He was acquitted of the assault charge and the kidnap charges were dropped. FBI director J. Edgar Hoover declared the Black Panther Party "greatest threat to the internal security of the country". [jrank dot org article] (see Sept 28)
BLACK & SHOT
September 8, 2015: the city of Baltimore reached a $6.4 million settlement in a lawsuit filed by the family of Freddie Gray, the 25-year-old man black man who died in April after suffering a critical injury while in police custody. The settlement plan would go to the city's spending oversight board on the following day for formal approval, the mayor's office said. Gray's death triggered sometimes violent protests, accompanied by devastating looting and arson in Baltimore, and prompted a national outcry. It ultimately led to the firing of Police Commissioner Anthony Batts. [Washington Post article]  (see Nov 15)
Colin Kaepernick
September 8, 2020: Colin Kaepernick made his return as a playable character on the sport's biggest video game, "Madden 21."
EA Sports announced that an update that allowed players to add Kaepernick to any NFL lineup for the first time since 2016. [NBC News story] (next BH, see Nov 2; next CK, see Nov 23 or see Kaepernick for expanded chronology)
September 8 Peace Love Art Activism
Consumer Protection
September 8, 1961: statistical evidence linking heavy smoking with heart disease was reported in the Journal of the American Medical Association.
Drs. Daniel J Nathan and Dr. David M. Spain had studied 3,000 men. They found that for smokers of over 40 cigarettes daily and aged under 51 years, their chance of having coronary heart disease almost doubled. Further, among those studied that had coronary heart disease, 57% of heavy smokers suffered heart attacks, as compared to only 31% of light smokers. The doctors said it remained an "open question" whether the statistics were proof that heavy smoking was a cause of hardening of coronary arteries. Only a four-sentence article on page 3 appeared in the New York Times. (see January 11, 1964)
September 8 Peace Love Art Activism
US Labor History
United Farm Workers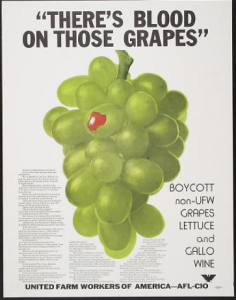 September 8, 1965: Filipino American grape workers walk out on strike against Delano, California, table and wine grape growers, protesting years of poor pay and working conditions. Latino farm workers soon joined them, and the strike and subsequent boycott lasted more than five years. [UFW article]  (see Sept 16, 1965)
NJ Unions
September 8, 2015: another 16 New Jersey public worker unions asked the U.S. Supreme Court to consider whether the state's highest court erred by declaring a pension funding agreement between the state and employees unenforceable.
In a petition filed with the U.S. Supreme Court, lawyers for 16 labor groups — including the New Jersey Education Association, Communications Workers of America and the Policemen's Benevolent Association — argued that the New Jersey Supreme Court should have applied the protections of the federal Contract Clause to the deal.
Hetty Rosenstein, state director for the CWA, that the organizations will "leave no stone unturned."
"One way or another we will protect these pensions. We will never allow the state of New Jersey to destroy the pensions that 800,000 people depend on," she said. (see Dec 4)
September 8 Peace Love Art Activism
Cultural Milestone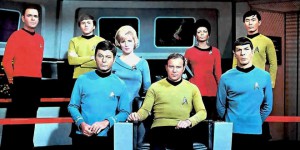 September 8, 1966: the TV series "Star Trek" premiered on NBC. (see February 5, 1967)
September 8 Peace Love Art Activism
Watergate Scandal
September 8, 1974: though never indicted of any crimes, Gerald Ford gave an unconditional pardon to Richard Nixon.  [Ford's pardon proclamation] (see Watergate for expanded story)
September 8 Peace Love Art Activism
Religion and Public Education
SEPARATION OF CHURCH AND STATE
September 8, 1981: voters in the Clear Creek, Iowa, school district voted overwhelmingly on this day to reject a proposal to make the Bible a textbook in the district's schools. The vote was 689 to 90. The Iowa Civil Liberties Union hailed the vote as a victory over "religious zealots." (Religion & Separation see January 6, 1983)
September 8 Peace Love Art Activism
Dissolution of Yugoslavia
INDEPENDENCE DAY
September 8, 1991: the Republic of Macedonia becomes independent. [NYT article] (Yugo, see Oct 8; ID see Sept 9)
September 8 Peace Love Art Activism
Iraq War II
September 8, 2006:  a Senate report faulted intelligence gathering in the lead-up to the 2003 U.S. invasion of Iraq. [NYT article] (see Nov 5)
September 8 Peace Love Art Activism
Terry Jones
September 8, 2010:  Jones remained steadfast, claiming he has received more than 100 death threats and that he has begun carrying a pistol. That evening, Imam Muhammad Musri emerges from a meeting with Jones, saying he is hopeful Jones will change his mind. (see Sept 9)
September 8 Peace Love Art Activism
Occupy Wall Street
September 8, 2011: "Chris" launched the Tumblr page, "We Are the 99 Percent," (see Sept 17)
September 8 Peace Love Art Activism
Westboro Baptist Church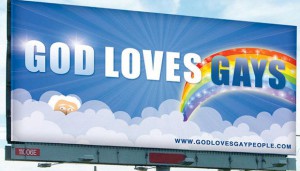 September 8, 2014: a new billboard with the message "Gods Loves Gays" debuted in Topeka, Kansas, the home city of the Westboro Baptist Church. "The Facebook God," a satirical Facebook page with more than 1.7 million "likes," raised more than $80,000 on the crowd-funding platform Indiegogo in order to mount the billboard. "This hate group goes around saying that God hates gay people," an animated depiction of God says in a YouTube video uploaded to the Indiegogo page. "Nonsense! I love gay people. These Westboro psychos protest at the funerals of soldiers, murdered children and more. How dare they!" (see March 24, 2016)
September 8 Peace Love Art Activism
LGBTQ
September 8, 2015: Kim Davis was released from jail but would not say whether she would begin issuing marriage licenses to same-sex couples, was not at work the next day. A lawyer for Ms Davis, Mathew D Staver, said Ms. Davis would "return soon.". After spending five nights in jail, he said, Ms Davis "needs some rest and time with the family."
Ms. Davis spoke at a rally after she was ordered freed, saying: "I just want to give God the glory. His people have rallied, and you are a strong people." Kim Davis has emerged as a heroine to religious conservatives.
The Federal District Court judge who ordered Ms. Davis detained, David L Bunning, said she could go free because her office was "fulfilling its obligation to issue marriage licenses to all legally eligible couples." But he warned Ms Davis not to interfere "directly or indirectly, with the efforts of her deputy clerks to issue marriage licenses to all legally eligible couples." [Washington Post article] (see Sept 14)
September 8 Peace Love Art Activism
Sexual Abuse of Children & BSA
September 9, 2022: federal judge Laurie Selber Silverstein  gave final approval to the Boy Scouts of America's plan to exit bankruptcy, marking an end to the largest sexual abuse case against a single organization in American history.
Silverstein confirmed the plan a little more than a month after signaling she would do so in a 300-plus page opinion that found a trust at the heart of Scouts' proposal would be adequate to compensate victims of abuse.
Silverstein had rejected one portion of the plan in her July opinion: A $250 million settlement with the Church of Jesus Christ of Latter Day Saints, which she said would protect the church from claims of abuse that weren't directly tied to Scouting. Scouts subsequently scrapped the settlement, leaving victims with claims against the church free to pursue them outside the bankruptcy.
Central to the bankruptcy plan was a $2.46 billion trust fund for survivors — down from $2.7 billion without the contribution from the Mormon church. In return, the Boy Scouts of America and local councils, troops' sponsors and insurance companies that contributed to the fund can no longer be sued for past abuse. Abuse victims will be able to file separate claims against the Mormon church and insurance companies who did not settle.  [USA Today article] (next BSA, see ; next SAoC, see )
September 8 Peace Love Art Activism
Women's Health
September 8, 2023: Mexico's supreme court decriminalized abortion nationwide.
The judgement came two years after the court ruled in favor of a challenge to the existing law in the northern state of Coahuila. It had ruled that criminal penalties for terminating pregnancies were unconstitutional.
Mexico's states and the federal government had since been slow to repeal penal codes. The new ruling legalized abortion across all 32 states.
The supreme court said the denial of the possibility of a termination violated the human rights of women. [BBC article] (next WH, see Sept 28)
September 8 Peace Love Art Activism