Activist Colin Kaepernick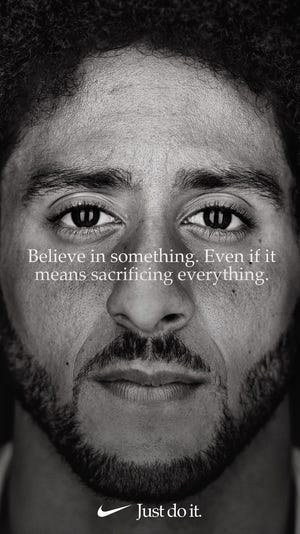 Above Average
Colin Kaepernick was born on November 7, 1987. He had above average athletic abilities in basketball, baseball, and football. In fact several colleges offer scholarships to him to play baseball.  In fact in 2009 the Chicago Cubs selected him in the 43rd round.
But, football was his first choice and when the University of Nevada, Reno offered a scholarship to him (the only offer from any college) he accepted it.
He had a great college football career as well as a great academic one. Kaepernick maintained a 4.0 grade point average during his college years and graduated in 2011 with a bachelor's degree in business management.
Activist Colin Kaepernick
San Francisco 49er Success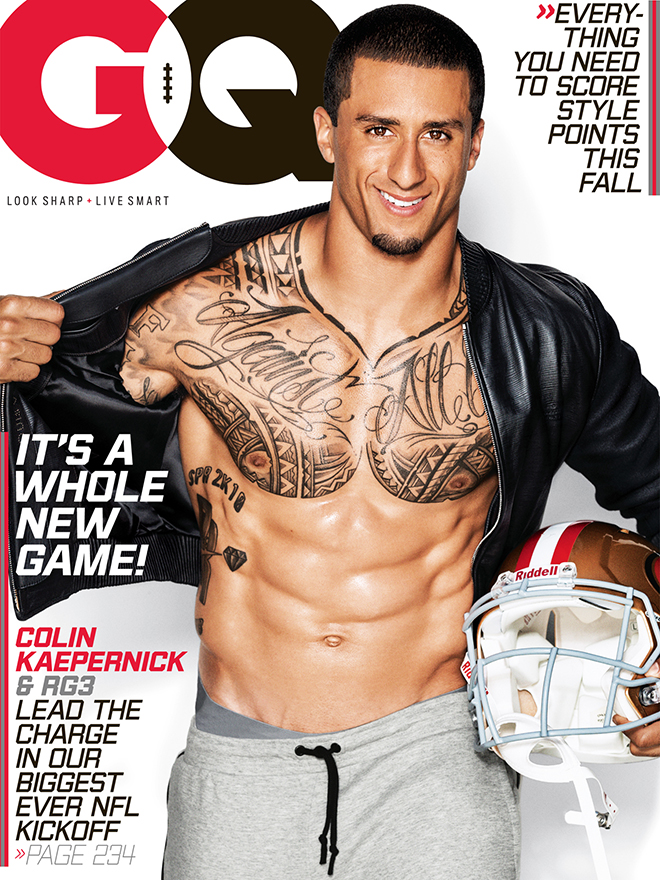 On April 29, 2011, the San Francisco selected Kaepernick as their fourth pick in the second round (36th overall) and for that season he was the back up to Alex Smith, the 49er's outstanding quarterback.
Due to a Smith injury, Kaepernick got his first NFL start on November 19, 2012. He completed 16-of-23 for 246 yards with two touchdowns in a 32–7 win against a highly ranked Chicago Bears defense.
He remained the starter for the rest of the season and led the 49ers to an 11–4–1 record and a berth in the NFL playoffs. In the first round, he led San Francisco to a victory over the Green Bay Packers.
In the NFC Championship, the 49ers defeated the Atlanta Falcons 28–24  and advanced to Super Bowl XLVII against the Baltimore Ravens.  The 49ers fell behind early and could not come back, losing by a score of 31–34.
Activist Colin Kaepernick
And so IT began
By the 2016 season, due coaching changes and his own injuries, Kaepernick playing time began in a limited way. During two preseason games, on August 14 & August 20, 2016, Kaepernick sat during the anthem. Kaepernick wasn't in uniform and didn't play during either game.
No one noticed the sitting.
That changed on August 26, 2016. He gained attention for his protest: "I am not going to stand up to show pride in a flag for a country that oppresses black people and people of color," Kaepernick said.
Activist Colin Kaepernick
Statement
August 28, 2016: Kaepernick met with the media two days later and for the first time since the protest gained national attention. He reiterated that he was acting to give a voice to people who didn't have one.
"I'm going to continue to stand with the people that are being oppressed. To me, this is something that has to change. When there's significant change and I feel that flag represents what it's supposed to represent, and this country is representing people the way that it's supposed to, I'll stand."
Activist Colin Kaepernick
A Movement
September 11, 2016: NFL Seahawks, Dolphins, Chiefs and Patriots players demonstrated during nation anthem
The first Sunday of the NFL season took place on the 15th anniversary of the September 11 terrorist attacks in 2001. This made the national anthem ceremonies on that day particularly emotional. Four Dolphins players — running back Arian Foster, safety Michael Thomas, wide receiver Kenny Stills and linebacker Jelani Jenkins — took a knee during the anthem after standing up for a 9/11 acknowledgment.
After the game, Foster explained that he loves the country and the rights it affords him. He later tweeted "don't let the love for a symbol overrule the love for your fellow human."
No Seahawks players took a knee during the anthem, but the entire team did link arms as a way of honoring the flag and continuing the conversation that Kaepernick started.
The Kansas Chiefs locked arms before kickoff of their game with the San Diego Chargers. Cornerback Marcus Peters held up a fist, saying he supported Kaepernick's efforts to raise awareness to the justice system.
Prior to Sunday Night Football, Patriots tight end Martellus Bennett and safety Devin McCourty also raised their fists after the national anthem. [Huff Post article]
Activist Colin Kaepernick
Eric Reid
September 12, 2016: Eric Reid knelt alongside Colin Kaepernick. 49ers teammates and Rams players raise their fists
Kaepernick maintained his protest, and was joined by several players set to take the field before Monday Night Football. As expected, safety Eric Reid knelt next to the quarterback during the national anthem, just as he did during the last week of the preseason. 49ers linebacker Eli Harold and safety Antoine Bethea stood, but with their fists raised in the air.
The 49ers players were joined by their opponents. Rams defensive end Robert Quinn (No. 94) and wide receiver Kenny Britt (No. 18) also stood with their fists in the air.  [USA Today article]
Activist Colin Kaepernick
Outside the NFL
Garfield High School's (Seattle)
September 16, 2016: all of Garfield High School's (Seattle) football players and coaches knelt during the national anthem.
Joined by a few players from the West Seattle Wildcats, Garfield High School's football players and coaches kneeled during "The Star-Spangled Banner," which head coach Joey Thomas said would continue for the rest of the season. Speaking with the Seattle Times, Thomas was candid about racial injustice and the team being compelled to protest the anthem, especially after players learned about the song's racist third verse.
No refuge could save the hireling and slave
From the terror of flight or the gloom of the grave,
And the star-spangled banner in triumph doth wave
O'er the land of the free and the home of the brave.
Laguna Creek High School (Sacramento)
September 16, 2016: twelve high school football players from Laguna Creek High School in Sacramento took a knee during the national anthem
According to the Sacramento Bee, a number of parents reportedly told the players to "stand up." The Elk Grove School District announced in a statement that it would not discipline the students, saying that although it supports standing for the national anthem, it "respects and supports our students' individual experiences and their right to exercise their freedom of speech and expression protected by the First Amendment of the United States Constitution."
Howard University
September 17, 2016: Howard University (Washington, DC) cheerleaders knelt during the national anthem
Before Howard took on Hampton University at the AT&T Nation's Football Classic, Howard University's cheerleaders took a knee during "The Star-Spangled Banner." Howard's players did not kneel, but raised their fists instead.
Activist Colin Kaepernick
Increased spread
September 18, 2016: more San Francisco 49ers joined Kaepernick, Dolphins continued protest
Kaepernick's teammates Antoine Bethea, Eli Harold, Jaquiski Tartt and Rashard Robinson joined in protesting during the national anthem by raising their right fists ahead of San Francisco's game vs. the Carolina Panthers.
Meanwhile in Foxboro three of the same Miami Dolphins players continued their protest. Arian Foster, safety Michael Thomas and wide receiver Kenny Stills all kneeled during the anthem. [USA Today article]
September 19, 2016: four Philadelphia Eagles raised their fists during the anthem
Prior to the game, Malcolm Jenkins said the Eagles would protest during the anthem. Jenkins was joined by Steven Means, Ron Brooks and Marcus Smith in raising a fist while standing during the anthem. [Washington Post article]
Oakland Unified School District's Honor Band
September 20, 2016: in support of Colin Kaepernick's protest against racial injustice, several members of Oakland Unified School District's Honor Band took a knee while playing "The Star-Spangled Banner." It happened toward the end of the song.
Band director Zack Pitt-Smith said he didn't know until rehearsal that the band was going to kneel, saying that the idea originally came from a few students and eventually spread around. John Sasaki, a spokesperson for the school district, stated that the organization was "proud" of its students for making the decision to kneel:
"They knew that this was a controversial issue across our nation, and yet they decided to go ahead with their protest knowing it would not be well-received by some Americans."
That evening, during his appearance on Conan, Marshawn Lynch was asked about his thoughts on Kaepernick kneeling during the national anthem. Lynch said he'd rather see Kaepernick "take a knee than stand up, put his hands up, and get murdered."  [East Bay Times article]
Activist Colin Kaepernick
NBA
Iman Shumpert
Cleveland Cavaliers player Iman Shumpert announced he would raise money for families impacted by police fatalities
On his Twitter and Instagram accounts, Shumpert announced that, for every steal he makes during the 2016-17 NBA season, he will donate money to organizations that aim to "improve the struggle between the badge and the citizen." While showing support for Kaepernick, he also noted that he would not be kneeling during the national anthem, despite originally hinting at it in a song he released on Sept. 16 titled "His Story," saying "I no longer believe taking a knee is the answer."
WNBA
In the Women's National Basketball Association, the entire Indiana Fever team and two Phoenix Mercury players knelt during the national anthem
Before the first game of the WNBA playoffs, every player on the Indiana Fever locked arms and kneeled during the national anthem, while the Mercury's Kelsey Bone and Mistie Bass joined them on the other side. Afterward, Fever coach Stephanie White told her team that she was "proud of y'all for doing that together."
Activist Colin Kaepernick
Time Magazine cover
September 22, 2016: Time magazine featured Colin Kaepernick on the cover in its October 3 issue.
It featured Kaepernick kneeling in his full 49ers uniform. The issue included a cover story from Sean Gregory, where Kaepernick's protest was a centerpiece in a larger conversation among athletes regarding sports activism and patriotism.
Also on September 22, Houston Texan's Duane Brown raised a fist while standing during the national anthem
Brown didn't play due to an injury, but did participate in the protest for the first time that season. He had been vocal about recent police shootings. [Time article]
Activist Colin Kaepernick
East Carolina University
October 1, 2016: in college football, before East Carolina took on the University of Central Florida, a few members of ECU's band took a knee during the national anthem. People in the crowd noticed, and the response was split between students and alum.
When it came time for the band to perform at halftime, there were many boos directed at them.
ECU chancellor Cecil Staton issued a statement shortly after, saying that the school "respects the rights of our students, staff and faculty to express their personal views."
Activist Colin Kaepernick
NBA
October 4, 2016: NBA's  Rockets and Knicks opened the season joined arm in arm The Celtics also showed unity as a team, standing together with their arms crossed and heads down.
November 6, 2016: Denver Broncos linebacker Brandon Marshall decided to stand during the anthem again. Before the Broncos' Sunday Night Football matchup against the Raiders, Marshall explained in an Instagram post why he would no longer kneel during the national anthem.
"I'm encouraged with the many productive discussions and progress that has taken place as the Denver Police department has decided to review its use of force policy, " Marshall wrote. "I'm proud to have joined so many of my peers throughout sports who've also made their own statements."   [Denver Post article]
March 1, 2017: the San Francisco 49ers announced that quarterback Colin Kaepernick opted out of the final season of his contract with the organization in order to become an unrestricted free agent.  (ESPN article)
Activist Colin Kaepernick
NFL 2017
August 12, 2017: in the NFL, Marshawn Lynch knelt after coming out of retirement. Lynch retired during the 2016 season, but returned to join the Oakland Raiders in the offseason. While he didn't play in the team's preseason opener, he made his thoughts on the last year's events regarding Kaepernick clear by taking a sit on the bench during the playing of the National Anthem.
August 13, 2017: NFL Michael Bennett remained seated during the national anthem. The outspoken Bennett had expressed support for Kaepernick in the past, and as the Seahawks faced the Chargers in preseason action, he remained seated for the national anthem.
Activist Colin Kaepernick
President Trump
September 24, 2017: President Trump called for football fans to boycott N.F.L. games unless the league fired or suspended players who refused to stand for the national anthem, saying that players must "stop disrespecting our flag and country."
"If NFL fans refuse to go to games until players stop disrespecting our country, you will see change take place fast," Mr. Trump wrote. [NYT article]
Activist Colin Kaepernick
Russell Okung
October 13, 2017: in an unusual and public call to arms, Russell Okung, a Los Angeles Chargers lineman, posted a letter on The Players' Tribune urging the league's 1,700 players to take a unified stand against pressure from N.F.L. team owners to curb demonstrations during the national anthem before games.
"We can either wait until we receive our respective marching orders, speak up individually, or find a way to collaborate, and exercise our agency as the lifeblood of the league," Okung, wrote.
Okung's nearly 900-word manifesto took N.F.L. owners to task for making decisions on anthem demonstrations, which had typically involved players kneeling or sitting during the anthem, without broadly consulting players. The demonstrations were originally intended to draw attention to racial inequality and police shootings of African-Americans.
Activist Colin Kaepernick
Grievance filed
October 15, 2017:  Kaepernick filed a grievance accusing NFL teams of improperly colluding to keep him out of the league.
Kaepernick reportedly retained an attorney to pursue the collusion claim and it will be Kaepernick's outside legal representation and not the NFL Players Association primarily in charge of preparing and presenting his grievance.
The collective bargaining agreement (CBA) between the league and the players' union prohibits teams from conspiring to make decisions about signing a player. but the CBA also said the mere fact that a player was unsigned and evidence about the player's qualifications to be on an NFL roster do not constitute proof of collusion.
Activist Colin Kaepernick
Trump again
October 16, 2017: President Trump reiterated that he wanted the National Football League to suspend players if they knelt during the pregame renditions of "The Star-Spangled Banner," saying the players were disrespecting the country. [Daily Mail article]
October 17, 2017: National Football League officials announced that they would not seek commitments from its players to stop kneeling during pregame renditions of the U.S. national anthem.
"We spent today talking about the issues that our players have been trying to bring attention to. About issues in our communities to make our communities better," NFL Commissioner Roger Goodell told reporters. [Washington Post article]
Activist Colin Kaepernick
NFL Racism
October 18, 2017: at the next day of the NFL meetings, NFL Houston Texan owner Robert McNair, in response to some players supporting Colin Kaepernick's kneeling in 2016 with their own associated protests, said, " "We can't have the inmates running the prison,"
NFL executive Troy Vincent, a former player, later stood up and said he was offended by McNair's characterization of the players as "inmates." Vincent said that in all his years of playing in the NFL — during which, he said, he had been called every name in the book, including the N-word — he never felt like an "inmate."
October 29, 2017: about 40 members of the Houston Texans knelt during the national anthem in protest of their team owner Robert McNair's "inmates running the prison" remarks. [USA article]
Activist Colin Kaepernick
Papa John's
November 1, 2017: Papa John's Founder and CEO John Schnatter claimed that the NFL kneeling protests were costing the company lots of money. Papa John's had been an official NFL sponsor since 2010, but has seen its stock drop 24 percent in 2017
Schnatter  blamed NFL commissioner Roger Goodell. Schnatter said, ""The NFL has hurt us by not resolving the current debacle to the players' and owners' satisfaction … The NFL has hurt Papa John's shareholders." [CNN article]
Man of the Year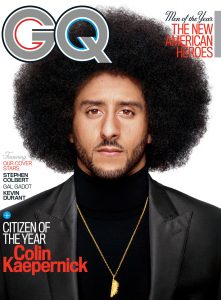 November 13, 2017: GQ magazine selected Kaepernick as its man of the year.
Activist Colin Kaepernick
Trump
November 20, 2017:  President Trump's attack on black athletes continued as he tweeted criticism of Oakland Raiders player Marshawn Lynch for sitting during "The Star-Spangled Banner" and then standing for Mexico's national anthem. The Raiders were playing the New England Patriots in Mexico.
Trump's tweet read in part: "Great disrespect! Next time NFL should suspend him for remainder of season. Attendance and ratings way down."  [Huff Post article]
Activist Colin Kaepernick
Alcatraz
November 23, 2017: Colin Kaepernick went to Alcatraz Island to join Native Americans protesting the genocide they said  Thanksgiving Day represents to them.
Kaepernick made the surprise visit to the site of the former Alcatraz Federal Penitentiary to join indigenous people who occupied the island off the coast of San Francisco between 1969 and 1971. There has been an annual sunrise gathering on the island since the takeover of Alcatraz to highlight the deadly, destructive impact on indigenous people of the arrival in America of European colonizers.
He received two eagle feathers from a Native American elder before delivering a brief speech at the UnThanksgiving Day event."I'm very humbled to share this space with all of you," he said. "Our fight is the same fight. We're all fighting for our justice, for our freedom. And realizing that we're in this fight together makes us all the more powerful."
Activist Colin Kaepernick
Recognition
Courageous Advocate Award
December 3, 2017: the ACLU of Southern California presented the Eason Monroe Courageous Advocate Award to Colin Kaepernick.
"Our next honoree took a stand. He took a stand knowing he would risk his job," Southern California ACLU Executive Director Hector Villagra said. "And he has lost his job, one that he loved and was supremely talented and skilled at. He took a stand knowing that some would criticize him, and he has been viciously and unfairly criticized. He has been called a traitor, because too many people in this country confuse dissent for disloyalty. He took a stand knowing some would even threaten him, and he has had his life threatened, which is why, though we are profoundly honored to have him here, we didn't publicize his presence tonight."
Kaepernick raised a fist as he received a standing ovation. [Slate article]
Time magazine cover
December 4, 2017: Time magazine announced that Colin Kaepernick was a finalist for their Person of the Year award.
December 5, 2017: Kaepernick received the the Sports Illustrated Muhammad Ali Legacy Award. According to its site, "The Legacy Award was created in 2008 to honor former athletes and sports figures who embody the ideals of sportsmanship, leadership and philanthropy as vehicles for changing the world." [USA Today article]
Activist Colin Kaepernick
2018
January 23, 2018: Colin Kaepernick was named a finalist for an award honoring players for their community service work.
Kaepernick and four other players were announced as finalists for the NFL Players Association's (NFLPA) Byron "Whizzer" White Community MVP award.
April 21, 2018: human rights organization Amnesty International  honored former NFL quarterback Colin Kaepernick with its Ambassador of Conscience Award for 2018, lauding his peaceful protests against racial inequality. The former San Francisco 49ers star was handed the award at a ceremony in Amsterdam by onetime teammate Eric Reid.
Amnesty International Secretary General Salil Shetty called Kaepernick "an athlete who is now widely recognized for his activism because of his refusal to ignore or accept racial discrimination."
Activist Colin Kaepernick
Step forward? Step backward?
May 23, 2018: the National Football League's 32 owners decided to overhaul N.F.L. policy on protocol for the national anthem. At their two-day meeting in Atlanta, the owners said that the league would allow players to stay in the locker room during the playing of "The Star-Spangled Banner," but said that teams would be fined if players "do not stand and show respect for the flag and the anthem."
Those teams can then punish players however they see fit.
July 10, 2018: the NFL players union filed a grievance over the league's new requirement that players stand for the national anthem or wait in their dressing rooms, a policy that followed President Donald Trump's denunciation of pregame protests.
The National Football League said on May 23 it would require any player who did not wish to stand during the playing of "The Star-Spangled Banner" before games to stay off the field until the ceremony ended.
Before the league announced the new policy, the NFL Players Association (NFLPA) had offered to discuss other ways to defuse tensions over the protests, which were prompted by a series of police killings of unarmed black men in Missouri, New York and other cities.
"The union's claim is that this new policy, imposed by the NFL's governing body without consultation with the NFLPA, is inconsistent with the collective bargaining agreement and infringes on player rights," the NFLPA said.
Activist Colin Kaepernick
Suspensions?
July 19, 2018: hours after The Associated Press reported that Miami Dolphins players who protest on the field during the anthem could be suspended for up to four games under a team policy issued, the NFL and the players union issued a joint statement saying the two sides were talking things out.
"The NFL and NFLPA, through recent discussions, have been working on a resolution to the anthem issue. In order to allow this constructive dialogue to continue, we have come to a standstill agreement on the NFLPA's grievance and on the NFL's anthem policy. No new rules relating to the anthem will be issued or enforced for the next several weeks while these confidential discussions are ongoing,"
August 30, 2018: arbitrator Stephen Burbank decided that NFL free agent Colin Kaepernick's grievance alleging the league's owners colluded to keep him out can go to trial. (see February 15, 2019 ahead)
Activist Colin Kaepernick
Niki Renewal
September 3, 2018: Colin Kaepernick signed a new, multiyear deal with Nike that made him a face of the 30th anniversary of the sports apparel company's "Just Do It" campaign. The campaign featured his image with the words, ""Believe in something. Even if it means sacrificing everything" over the image.
Nike would produce new Kaepernick apparel, including a shoe and a T-shirt.
Nike would also donate money to Kaepernick's "Know Your Rights" campaign.
Activist Colin Kaepernick
NFL Reset
October 17, 2018: NFL owners announced that their national anthem conduct policy was no longer in effect.
Team owners and commissioner Roger Goodell signaled that message at the exit of the NFL's annual fall meetings in New York when all the power brokers passed on revisiting punishment for forms of social protest by players. The league's anthem conduct policy had been suspended by team owners last July and hadn't been brought back to the table since, despite a handful of players continuing to protest social and racial inequalities during the pregame ceremony.
After the NFL's broadcast partners stopped showing the anthem on television and political rhetoric around the issue died down, the league passed on revisiting forms of punishment in what was billed as a meeting where any changes (if at all) could be made. [Yahoo news article]
Activist Colin Kaepernick
Sell out 
October 25, 2018: on line sales of Nike's Colin Kaepernick t-shirt sold out in 7 hours.
Activist Colin Kaepernick
Cheerleader
November 1, 2018: a San Francisco 49ers cheerleader appeared to take a knee during the national anthem. It was the first time that an NFL cheerleader had done so.
Activist Colin Kaepernick
2019
Grievance Settlement
February 15, 2019: Colin Kaepernick reached a settlement over his collusion grievance against the National Football Leage. His attorneys, Mark Geragos, and Ben Meiselas and the NFL released a joint statement announcing that a settlement had been reached by the league and the former San Francisco 49ers' quarterback and Carolina Panthers safety Eric Reid, who filed a similar grievance.
Activist Colin Kaepernick
Anti Kaepernick
Port Charlotte High School
February 27, 2019:  WINK TV reported that Charlotte County School District school authorities forced Alissa Perry,  a Port Charlotte High School math teacher, to take down a Black History Month poster because it featured former San Francisco quarterback Colin Kaepernick.
"Thank you all for participating in this," said Perry.
Perry made the poster to celebrate Kaepernick for Black History Month, but the poster stirred up a different type of emotion in a lot of parents.
The District said the front office was getting too many phone calls asking for the poster to be taken down.  Students said the school district cracked under pressure.
Trump rally
October 10, 2019: Trump supporters tossed 23-year-old Saul Eugene out of a Trump rally in Minneapolis. Eugene had worn a Colin Kaepernick shirt to a He also called th N- word. Eugene is white.
Activist Colin Kaepernick
Tryout
November 12, 2019: according to a copy of a memo to the league's 32 teams that was reviewed by The New York Times, the NFL invited Colin Kaepernick to work out for teams on November 16 at the Atlanta Falcons' facility so they could evaluate whether to sign him.
"Earlier this year, we discussed some possible steps with his representatives, and they recently emphasized his level of preparation and that he is ready to work out for clubs and be interviewed by them," the memo said. "We have therefore arranged this opportunity for him to work out, and for all clubs to have the opportunity to evaluate his current readiness and level of interest in resuming his N.F.L. career."
November 16, 2019: 30 minutes before its scheduled start, Colin Kaepernick changed the location of his planned NFL workout, moving the event to Drew High School in Riverdale, Georgia, roughly 60 miles away. In a statement after the workout, the free agent quarterback slammed the NFL for a lack of transparency.
Kaepernick's agent Jeff Nalley told reporters that representatives from eight teams attended the event.
The NFL responded with a statement saying they are "disappointed that Colin did not appear for his workout." According to the NFL's statement, 25 teams had sent representatives to the original location. [CBS News article]
November 23, 2019: ESPN reported that in the week after Colin Kaepernick worked out for seven NFL teams at Charles R. Drew High School in Riverdale, Georgia, no teams reached out to work him out, visit with him or sign him
Kaepernick's representatives also sent video of their client's workout to the 25 NFL teams that did not attend, but that did not led to any interest, either.
Activist Colin Kaepernick
Nike shoe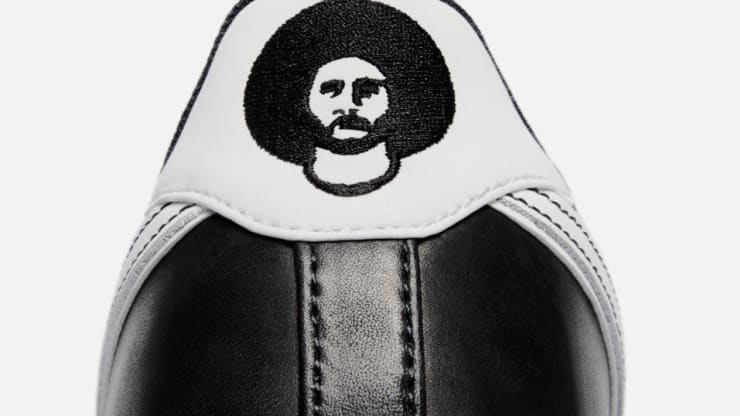 December 23, 2019: Nike's new "True to 7" shoe with former NFL quarterback Colin Kaepernick sold out on the first day of its North American release, according to the company's website.
"This Air Force 1 season, Nike partnered with a collective of collaborators to design an AF1 that connects to their life personally. Colin was identified because we believe his voice and perspective inspire many generations on and off the field," said a Nike spokesperson in an email.
The $110 black-and-white shoe sports an embroidered portrait of Kaepernick on the heel tab, reflective Swoosh and his personal logo on the tongue. [CNBC article]
Activist Colin Kaepernick
2020
Drew Brees controversy
June 3, 2020: New Orleans Saints quarterback Drew Brees said in an interview that he would never agree with N.F.L. players who knelt during the national anthem to protest police brutality, and he was immediately condemned.
June 4, 2020: a host of players, including some of Drew Brees's teammates, responded with statements of their own, calling Brees's comments hurtful and criticizing him for ignorance of or callousness to the struggles of African-Americans.
"Drew Brees, you don't understand how hurtful, how insensitive your comments are," Malcolm Jenkins, Brees's teammate, said in a video posted to Twitter. "I'm disappointed, I'm hurt, because while the world tells you, 'You are not worthy,' that your life doesn't matter, the last place you want to hear it from are the guys you go to war with and that you consider to be your allies and your friends.
"Even though we are teammates, I can't let this slide."
Later that day, Brees walked back his position in a post on Instagram, saying his earlier comments were "insensitive and completely missed the mark." Brees also asked for forgiveness and said that he took full responsibility for his words.
"I recognize that I should do less talking and more listening … and when the black community is talking about their pain, we all need to listen," he wrote.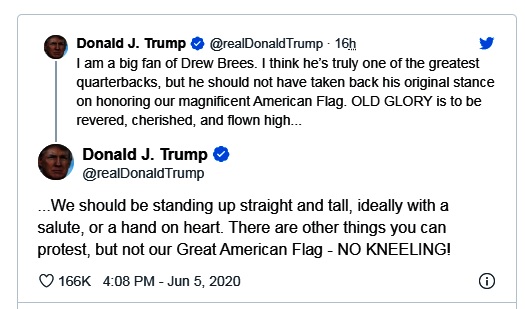 President Trump, who had praised Bree's first comment, criticized Bree's retraction. [NYT article]
Activist Colin Kaepernick
Commissioner Woke Goodell
though not mentioning Colin Kaepernick by name,  NFL commissioner Roger Goodell, issued his strongest support yet for the players seeking to fight racism and police brutality.
In a swift response to a video montage featuring star players asking the league to address systemic racism, Goodell said he apologized for not listening to the concerns of African-American players earlier and said he supports the players' right to protest peacefully.
Activist Colin Kaepernick
Kaepernick/Disney
July 6, 2020: Colin Kaepernick's production arm, Ra Vision Media, and Disney announced that Colin Kaepernick would be featured in an exclusive docuseries produced by ESPN Films as part of a first-look deal with The Walt Disney Co
The partnership would focus on telling scripted and unscripted stories that explore race, social injustice and the quest for equity. It also will provide a platform to showcase the work of minority directors and producers.
"I am excited to announce this historic partnership with Disney across all of its platforms to elevate Black and Brown directors, creators, storytellers, and producers, and to inspire the youth with compelling and authentic perspectives," Kaepernick said in a statement. "I look forward to sharing the docuseries on my life story, in addition to many other culturally impactful projects we are developing." [ESPN article]
Activist Colin Kaepernick
Madden 21
September 8, 2020: Colin Kaepernick made his return as a playable character on the sport's biggest video game, "Madden 21."
EA Sports announced that an update that allowed players to add Kaepernick to any NFL lineup for the first time since 2016. [NBC News story]
Activist Colin Kaepernick