Trump Impeachment Inquiry

September 2019
Pelosi announcement
September 24, 2019: after months of reticence by Democrats who had feared the political consequences of impeaching a president,  Speaker Nancy Pelosi announced that the House would initiate a formal impeachment inquiry against President Trump, charging him with betraying his oath of office and the nation's security by seeking to enlist a foreign power to tarnish a rival for his own political gain.
Pelosi's declaration set the stage for a history-making and exceedingly bitter confrontation between the Democrat-led House and a defiant president who has thumbed his nose at institutional norms.
Call transcript released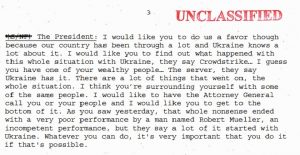 September 25, 2019: the White House released a reconstruction of the call that President Trump made to Urkraine   President   Volodymyr Zelensky in which Trump encouraged Zelensky to work with Attorney General William P. Barr and Rudolph W. Giuliani, the president's personal lawyer, on corruption investigations connected to former Vice President Joseph R. Biden Jr. and other Democrats.
Although there was no explicit quid pro quo in the conversation, Trump raised the matter immediately after Zelensky spoke of his country's need for more help from the United States. The call came only days after Mr. Trump had blocked $391 million in aid to Ukraine, a decision that perplexed national security officials at the time and for which he gave conflicting explanations. [NYT article]
Kurt Volker
September 27, 2019: Kurt Volker, the US special envoy for Ukraine, stepped down, which means a key player in Trump's interactions with Ukrainian President Volodymyr Zelensky has left the administration.
Trump Impeachment Inquiry
Pompeo subpoenaed

September 28, 2019: House Democrats subpoenaed Secretary of State Mike Pompeo, demanding that he promptly produce a tranche of documents and a slate of witnesses that could shed light on the president's attempts to pressure Ukraine to help tarnish Joe Biden, Jr..
The subpoena and demands for depositions were the first major investigative actions the House took since it launched impeachment proceedings in light of revelations that Mr. Trump pushed President Volodymyr Zelensky of Ukraine to investigate Biden Jr., possibly using United States aid as leverage. [NYT article]
Trump Impeachment Inquiry
October 2019
WH will not cooperate
October 8, 2019: the White House announced that it would not cooperate with what it called an illegitimate effort "to overturn the results of the 2016 election" and setting the stage for a constitutional clash with far-reaching consequences.
In a letter to House Democratic leaders, the White House said the inquiry had violated precedent and denied President Trump's due process rights in such an egregious way that neither he nor the executive branch would willingly provide testimony or documents. [NYT article]
Lev Parnas and Igor Fruman charged
October 10, 2019: authorities arrested Lev Parnas and Igor Fruman, two of Rudy Giuliani's Ukraine contacts, on charges of violating campaign finance laws. Federal investigations were also looking at Giuliani's financial dealings with the men. The two introduced Trump's personal lawyer to Ukrainian officials who pushed unfounded theories about corruption involving former Vice President Joe Biden and his son Hunter.
George P. Kent testifies

October 15, 2019: George P. Kent, the deputy assistant secretary of state in charge of Ukraine policy, arrived on Capitol Hill to face questions from investigators about his knowledge of the widening Ukraine scandal.
Kent, who appeared behind closed doors despite the State Department directing him not to do so, had raised concerns to colleagues early this year about the pressure being directed at Ukraine by President Trump and his private lawyer, Rudolph W. Giuliani, to pursue investigations into Trump's political rivals, according to people familiar with Kent's warnings.
As far back as March, they said, Mr. Kent was pointing to Mr. Giuliani's role in what he called a "disinformation" campaign intended to use a Ukrainian prosecutor to smear targets of the president. [NYT article]
Sondland testimony
October 17, 2019: US Ambassador to the European Union Gordon Sondland was directed by to work with Rudy Giuliani on Ukraine, he told Congress and was left with a choice: Abandon efforts to bolster a key strategic alliance or work to satisfy the demands of the President's personal lawyer.
Sondland said he wasn't aware until "much later" that Giuliani's agenda might have included an effort to "prompt the Ukrainians" to investigate former Vice President Joe Biden and his son Hunter and to involve the Ukrainians in the President's campaign.
The revealing testimony of the President's top diplomat showcased how Trump put on hold an effort to strengthen relations with the country until top US officials were in contact with Giuliani, who was pursuing an investigation into the Bidens, a potential political rival in Trump's reelection campaign. And Sondland said he was "disappointed" that Trump wouldn't commit to a meeting sought by Ukrainian President Volodymyr Zelensky until they spoke with Giuliani. [CNN article]
Mick Mulvaney quid pro quo

October 17, 2019: Mick Mulvaney, the acting White House chief of staff said that the White House withheld nearly $400 million in military aid to Ukraine to further President Trump's political interests.
Mulvaney told journalists that the aid was withheld in part until Ukraine investigated an unsubstantiated theory that Ukraine, not Russia, was responsible for hacking Democratic Party emails in 2016 — a theory that would show that Trump was elected without Russian help.
Mulvaney took back the statement later in the day. [NYT article]
Impeachment Inquiry = Lynching

October 22, 2019: President Trump described the Democrats' impeachment inquiry into him a "lynching" and said it was "without due process or fairness or any legal rights."
The president's use of the word drew immediate criticism.
"You think this impeachment is a LYNCHING? What the hell is wrong with you," Representative Bobby L. Rush, Democrat of Illinois and a former Black Panther leader, said in a Twitter post.
Disposition invasion

October 23, 2019: more than two dozen House Republicans, led by Florida Rep. Matt Gaetz, delayed a deposition hearing in the ongoing impeachment inquiry into President Donald Trump's conduct regarding Ukraine.
Gaetz and the group marched into the secure facility at Capitol Hill, where House Democrats were scheduled to interview Pentagon official Laura Cooper, a witness in the probe. Cooper helps oversee U.S. policy regarding Ukraine at the Defense Department. Lawmakers had expected to ask her about the Trump administration's decision to withhold military aid from the former Soviet nation.
Whistleblower will not sit

October 25, 2019:  attorneys for the whistleblower whose complaint kicked off the impeachment inquiry made clear their client would not sit for in-person interviews with investigators on Capitol Hill.
They wrote an op-ed in the Washington Post with the headline: "We represent the whistleblower. Their identity is no longer relevant."
Key quote: "Much of what has been disclosed since the release of our client's complaint actually exceeds the whistleblower's knowledge of what transpired at the time the complaint was submitted. Because our client has no additional information about the president's call, there is no justification for exposing their identity and all the risks that would follow." 
Charles M. Kupperman no-show
October 28, 2019: despite a subpoena, Charles M. Kupperman, the former deputy national security adviser and one of Mr. Trump's "closest confidential" advisers, did not appear to testify. He had notified lawmakers through his lawyer that he would not appear to testify. Kupperman's lawyer, Charles J. Cooper,  said that he was following orders from Trump.
"It is President Trump, and every president before him for at least the last half century, who have asserted testimonial immunity for their closest confidential advisers," Cooper, wrote. [NYT article]
Trump Impeachment Inquiry
October 29, 2019
Lt. Col. Alexander S. Vindman

October 29, 2019: Lt. Col. Alexander S. Vindman of the Army, the top Ukraine expert on the National Security Council (a decorated Iraq war veteran) told House impeachment investigators that the White House transcript of a July 25 call between President Trump and Ukraine's president omitted crucial words and phrases, and that his attempts to include them failed, according to three people familiar with the testimony.
The omissions, Colonel Vindman said, included Mr. Trump's assertion that there were recordings of former Vice President Joseph R. Biden Jr. discussing Ukraine corruption, and an explicit mention by Ukraine's president, Volodymyr Zelensky, of Burisma Holdings, the energy company whose board employed Mr. Biden's son Hunter.
Vindman twice registered internal objections about how Trump and his inner circle were treating Ukraine, out of what he called a "sense of duty,"  according to his opening statement.
Vindman was the first White House official to testify who listened in on the July 25 telephone call between Trump and President Volodymyr Zelensky of Ukraine. [NYT article]
Process resolution
October 29, 2019: House Democrats unveiled a resolution reaffirming their impeachment inquiry and setting out the process for it to continue examining whether the president improperly tried to pressure Ukraine into launching an investigation into a potential political rival.
The measure would enable public hearings and a release of the witness interviews already taken by House committees and would allow the president and his attorneys to cross-examine witnesses.
The move came after congressional Republicans and President Trump complained that the inquiry underway was unfair and lacked due process.
The resolution stated that after the inquiry phase was over, the investigating committees would send their findings to the House Judiciary Committee, which would determine whether to recommend articles of impeachment. [NPR story]
October ends
Christopher Anderson
October 30, 2019: according to a copy of Anderson's opening statement obtained by NPR, Christopher Anderson, a career foreign service officer in the State Department, told House impeachment investigators that President Trump's personal lawyer Rudy Giuliani stood in the way of the White House strengthening ties with Ukraine,.
Anderson, who spent five years working on Washington-Kyiv relations, described a meeting he had with former national security adviser John Bolton on the topic of having senior White House officials engage more with Ukraine. In it, Bolton noted a possible hitch.
"He cautioned that Mr. Giuliani was a key voice with the President on Ukraine which could be an obstacle to increased White House engagement," Anderson told the House committee. [NPR story]

Inquiry endorsed
October 31, 2019: the House of Representatives voted to endorse the Democratic-led impeachment inquiry into President Trump, in an action that set up a critical new public phase of the process.
The vote was 232-196 to approve a resolution that set out rules for an impeachment process for which there were few precedents and which promised to consume the country a little more than a year before the 2020 elections. It was only the third time in modern history that the House had taken a vote on an impeachment inquiry into a sitting president.
Two Democrats broke with their party to vote against the measure, while Republicans — under immense pressure from Trump to shut down the impeachment inquiry altogether — unanimously opposed it.
Minutes after the vote, the White House press secretary denounced the process as "a sham impeachment" and "a blatantly partisan attempt to destroy the president." [NYT article]
Trump Impeachment Inquiry
November
Whistleblower's offer
November 3, 2019: Mark Zaid, an attorney for the anonymous whistleblower whose allegations about President Donald Trump's dealings with Ukraine ignited the House impeachment inquiry into the President, said he offered to have Republican lawmakers submit questions to his client directly without having to go through the committee's Democratic majority.
The whistleblower had previously offered to answer lawmakers' questions under oath and in writing if they were submitted by the House Intelligence Committee as a whole. This new offer would be a direct channel of communication with the Republicans who are in the minority on that committee. Republican leadership has complained that the process is unfair and overly restrictive on their ability to question witnesses. [CNN story]
Trump Impeachment Inquiry

November 4, 2019:  four top White House officials who were supposed to testify for the House's impeachment inquiry declined to appear. John Eisenberg, the top lawyer at the National Security Council, failed to show up on Capitol Hill for his scheduled deposition time. He is believed to have made the call to lock down records of President Trump's call with Ukrainian President Volodymyr Zelenskiy in a special system.
Eisenberg's deputy, Michael Ellis, Rob Blair, who served as an adviser to acting White House chief of staff Mick Mulvaney on national security issues, and Brian McCormack, an energy official at the White House Office of Management and Budget, also did not testify.
The inquiry also hundreds of pages of transcripts from Marie Yovanovitch, the former U.S. ambassador to Ukraine, who testified on Oct. 11, and Michael McKinley, a former adviser to Secretary of State Mike Pompeo, who testified Oct. 16. [NPR story]
Gordon D. Sondland/Quid pro quo
November 5, 2019: in four new pages of sworn testimony released on this date, Gordon D. Sondland, the United States ambassador to the European Union offered Congress substantial new testimony revealing that he told Andriy Yermak, a top adviser to President Volodymyr Zelensky of Ukraine, that the country likely would not receive American military aid unless it publicly committed to investigations President Trump wanted.
Sondland's disclosure confirmed his involvement in essentially laying out a quid pro quo to Ukraine that he had previously not acknowledged. [NYT story]
Trump Impeachment Inquiry
On November 13, 2019, the impeachment inquiry began its public hearings.
Trump Impeachment Inquiry
David Holmes
November 15, 2019:  David Holmes confirmed to House impeachment investigators that he had overheard a call between President Trump and a top American diplomat in July in which the president asked whether Ukraine was going to move forward with an investigation he wanted.
Holmes, testified privately that he was at a restaurant in Kiev, Ukraine's capital, when he overheard Trump on a cellphone call loudly asking Gordon D. Sondland, the American ambassador to the European Union, if Ukraine's president had agreed to conduct an investigation into one of his leading political rivals. Mr. Sondland, who had just come from a meeting with top Ukrainian officials and the country's president, replied in the affirmative.
"So, he's going to do the investigation?" Trump asked, according to a copy of Mr. Holmes's opening statement posted by CNN and confirmed by The New York Times. (see TII for expanded coverage of whole inquiry)
Trump Impeachment Inquiry
Trump Impeachment Inquiry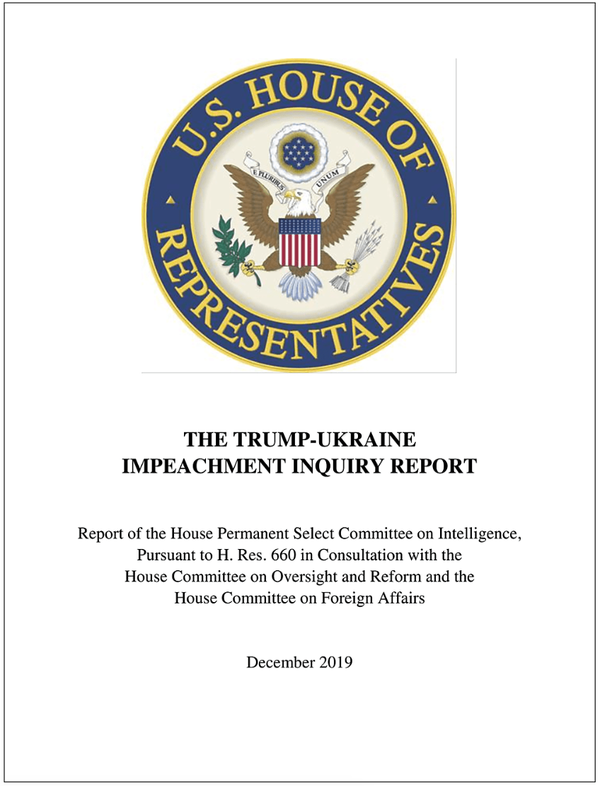 December 3, 2019: House Democrats released an impeachment report that found the president "placed his own personal and political interests above the national interests of the United States."
The report by the House Intelligence Committee was a sweeping indictment of the president's behavior, concluding that he sought to undermine American democracy and endangered national security, then worked to conceal his actions from Congress. Democrats left it to another committee to decide whether to recommend Mr. Trump's impeachment, but their report presented what are all but certain to be the grounds on which the House votes to formally charge him. [NYT article] (see TII for expanded chronology)
Trump Impeachment Inquiry
Articles announced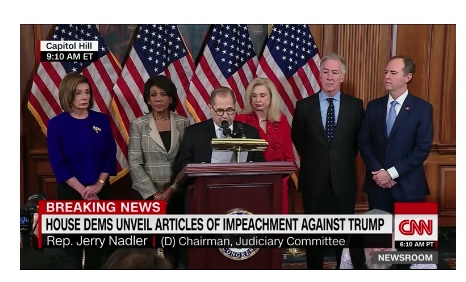 December 10, 2019: House Judiciary Chair Jerry Nadler announced the articles of impeachment against President Trump: obstruction of Congress and abuse of power. [CNN article] (see TII for expanded chronology)
Trump Impeachment Inquiry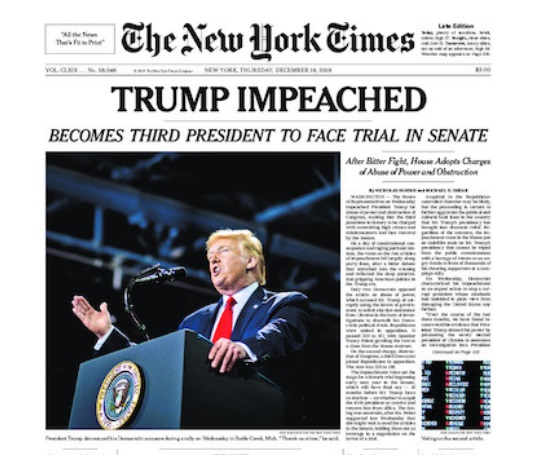 The House of Representatives on Wednesday impeached President Trump for abuse of power and obstruction of Congress, making him the third president in history to be charged with committing high crimes and misdemeanors and face removal by the Senate.
On a day of constitutional consequence and raging partisan tension, the votes on the two articles of impeachment fell largely along party lines, after a bitter debate that stretched into the evening and reflected the deep polarization gripping American politics in the Trump era. [NYT story]
Trump Impeachment Inquiry