Bassist Bill Black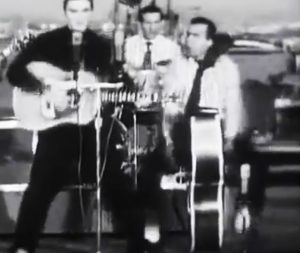 September 17, 1926 – October 21, 1965
The Beatles first visit to the US was in February 1964. They did not tour the United States until that summer when on August 19 they played at the Cow Palace in San Francisco: the first of 32 shows in 26 venues in 24 cities in just 33 days .
Like any big act on tour, there were opening bands. The Beatles had the Bill Black Combo, The Exciters, the Righteous Brothers, Jackie DeShannon, and after the Righteous Brothers left the tour, Clarence "Frogman" Henry. The Bill Black Combo stuck around to be the back up band for the other opening acts.
Sadly, Bill Black was not able to be part of his namesake band.
Bassist Bill Black
Memphis beginning
Bill Black was born in Memphis, Tennessee, the oldest of Bill, Sr., and his mom, Ruby nee Holland's nine children.
When Bill was 14 he began playing music on a cigar box guitar his father had made for him.
Starlight Wranglers
During World War II, Bill served with the Army at Fort Lee (VA). After the war, he married Evelyn Steele, whom he had met while stationed in Virginia.
They moved back to Memphis and Bill began to work at the Firestone plant there.
At the same time, he began to play the stand up bass using the "slap bass" style he saw used by Fred Maddox of the Maddox Brothers and Rose.
Bill also believed that his act should include clowning around to help entertain audiences.
In 1952, Black began playing in Doug Poindexter's band, the Starlight Wranglers. They played  in clubs and on radio shows. Scotty Moore. was the guitarist.  In 1954 the band recorded "Now She Cares No More For Me" at Sam Phillips's Sun Records.
Elvis
Phillips asked Black and Moore to play backup for an unknown kid: Elvis Presley: Black on bass, Moore on lead electric guitar, Elvis acoustic rhythm.  No one really knew each other. It was simply a studio gig, and so on July 5, 1954, the trio met.
As is often the case with an exploratory session, nothing much happened.
From Peter Guaralnick's excellent Sam Phillips book: Finally they decided to take a break–it was late, the boys were clearly discouraged and everybody had to work the next day. Maybe they ought to give up…. Scotty and Bill were sipping Cokes…. 
Elvis started fooling around with a song, That's All Right (Mama). Black and Moore joined in and suddenly something interesting was happening.
Lightning had struck.
The next day, the trio recorded "Blue Moon of Kentucky," a slow waltz Bill Monroe had written, but sped up the waltz. Sam Phillips like it so much he brought the record to WHBQ, a Memphis radio station. It was a success.
Bassist Bill Black
Elvis and the Blue Moon Boys
Bill Black and Scotty Moore became Elvis's backup band and initially their recordings were credited as Elvis Presley, Scotty, and Bill, but eventually they became Elvis and the Blue Moon Boys.
With his move to RCA, things became simply Elvis, though Black and Moore continued to be his back up and also joined by drummer D. J. Fontana.
Even with Elvis at the beginning, Bill Black was the "clown" on stage loosening up the crowd. Here's Elvis on the Milton Berle Show (before Ed Sullivan) performing Blue Suede Shoes. Colonel Parker, Elvis's infamous manager, didn't like anyone stealing his performer's thunder and if you watch to the end of this performance you'll see what the Col didn't like about Bill.
Of the profits, Elvis got half and Bill and Scotty got the other half. What about drummer DJ? The Col told Bill and Scotty to pay DJ out of their half and expenses.
Goodbye Elvis
Despite Elvis's success, Black and Moore faced financial difficulties with their salaries remaining the same and the Colonel limiting their time with Elvis more more and more.
In the fall of 1957, they resigned. Mostly. Elvis used them occasionally on a per-diem basis.
Scotty Moore would occasionally play with Elvis, but after 1968 he never saw Elvis again.
Bill Black's Combo
In 1958 Bill  joined a group of musicians which became Bill Black's Combo.
The band released blues instrumental "Smokie" for Hi Records in December 1959. "Smokie, Part 2″ became a No. 17 U.S. pop hit, and made number one on the "black" music charts. It sold over one million copies, and was awarded a gold disc by the RIAA.
Eight of the recordings by Bill Black's Combo placed in the Top 40 between 1959 and 1962. Advertised as "Terrific for Dancing" their Saxy Jazz album spent a record whole year in the top 100.
They were voted Billboard's number one instrumental group of 1961.
Bassist Bill Black
The Beatles Request
In 1962, Bill Black became ill and had to stop touring, though the group continued to be his band. The Beatles had requested "the best honky-tonk band in America" for their 1964 USA tour. That meant the Bill Black Combo.
So his band became the band to back up the opening acts for the Beatles. Perhaps in some ways, the combo's musicianship exceeded that of the Fab Four. I'm sure the kids at the concerts could hear the Combo if not the Beatles.
Bill died on October 21, 1965 during a third operation for a brain tumor. He was 39.
He was inducted into the Rock and Roll Hall of Fame in 2009.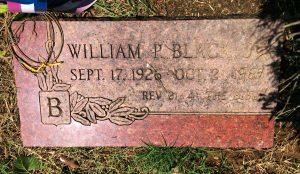 Bassist Bill Black
Bass Lives On
It turned out that Bill's stand up bass was destined to meet the Beatles, or at least a Beatle despite Bill's absence.  In the late 1970s, Linda Eastman bought the still-extant bass. Here Paul talking about it and singing Heartbreak Hotel.
…and the bass can also be seen quickly on The Beatles "Real Love"
Bassist Bill Black