Sam Phillips Sun Records
First record pressed on  March 27, 1952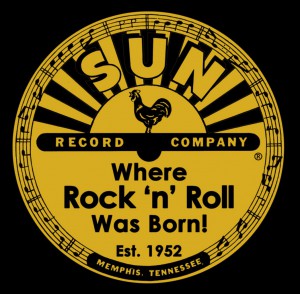 A slice of the first Sun Record:
Johnny London, "Drivin' Slowly."  The B-side was "Flat Tire."
Peter Guralnick published Sam Phillips The Man Who Invented Rock and Roll in 2014. With 661 pages of text it is, to say the least, very thorough.  If you have an interest in the birth of rock and roll and  a person's struggle to achieve a dream, then I highly recommend this deeply researched book.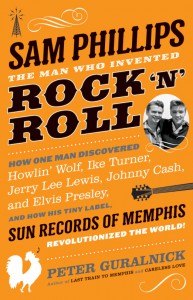 There were many times during Sam Phillips's 18-hour work days that he could simply have walked away from his dream and earned a profitable living as a radio engineer.
From an early age, Phillips believed that "music will take you anywhere you want to go." His father was a farmer and Sam grew up listening to the sharecroppers' stories and songs while they worked. The feeling their sound's emoted was his holy grail: the "purity of emotional communication, not perfection."
Sam Phillips's CV might both impress and worry a potential employer. Certainly diligent, meticulous, and capable, but he was those things at many places since he didn't stay anyplace too long.
His dream of having a recording studio was always primary. Having a record label for those recording was secondary, so at first he'd search for "that" performer or band that had "that" sound. Then he'd record take after take waiting for "that" to happen.
Most of the people he recorded had not been recorded before or had had limited exposure. Neither mattered to Phillips. Did he get the gut bucket feeling he sought?
Phillips had opened Memphis Recording Service on January 3, 1950  in Memphis, Tennessee.  His early recordings included such future stars as BB King, Junior Parker, and Howlin' Wolf. In fact, Phillips recorded "Rocket 88" by Jackie Brenston and his Delta Cats. The real band leader and person who wrote the song was Ike Turner. To many rock and roll critics, "Rocket 88" represents the first rock and roll record.
Sam Phillips Sun Records
Sun Records
By 1952, after recording hits for other labels, Phillips decided he needed his own label. Unfortunately, the Sun Record label quickly failed, but not for lack of effort. Phillips's drive to showcase the music left him little time to understand the intricacies of distribution, pressing, and publishing.
Phillips's doggedness led to Sun Records resurrection in January 1953. It continued to struggle until Phillips thought the voice of young white kid who recorded a song on his own might be someone worth working with. At first nothing happened, but soon local successes followed and Elvis Presley put Sun Records on the map.
But that's another story for another time.
---
Sam Phillips Sun Records