Big Mama Thornton Hound Dog
Big Mama Thornton
December 11, 1926 – July 25, 1984
…and Sam Phillips' answer to it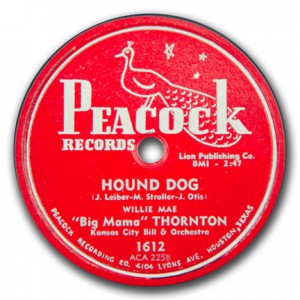 Willie Mae "Big Mama" Thornton was 26 when Peacock Records released Hound Dog in March 1953.  Written by Jerry Leiber and Mike Stoller in 1952, it spent seven weeks at number one on the Billboard R&B charts and sold almost two million copies. Big Mama saw very little of that money.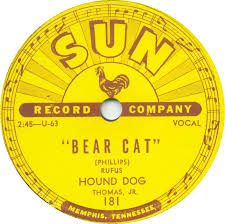 If imitation is the highest form of flattery, then Sam Phillips, the young record maker and founder of Sun Records in Memphis, flattered Hound Dog by writing "Bear Cat." He knew Rufus Thomas and decided he'd be the ideal person to sing the song.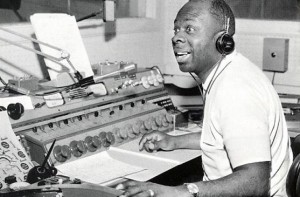 Click below to hear "Bear Cat":
Big Mama Thornton Hound Dog
Bear Cat
Though Rufus Thomas wasn't familiar with the term, where Phillips grew up in Alabama, a bear cat was "the meanest goddamn woman in the world."
Thomas and Phillips knew they had not come close to the superior "Hound Dog" but were satisfied with the results and released it on March 22,  just a few weeks after the release of "Hound Dog." Even the full title told you what you could obviously hear: "'Bear Cat' (The Answer to Hound Dog)"
"Bear Cat" was an immediate hit. The first in Sun Records young but turbulent history.
Big Mama Thornton Hound Dog
Answer songs
"Answer songs" were very popular and Sam Phillips innocently didn't realize he had struck a hornet nest of problems by releasing the song without permission from Lion Musical Publishing Company which held the rights to "Hound Dog."
Sam Phillips ended up writing a check to Lion and gave up all claims to the publishing.
 "Bear Cat" eventually reached #3 on the R & B charts and did not leave the charts until June.
Big Mama Thornton Hound Dog
Hound Dog
Of course, three years later a young white singer named Elvis and his cover of "Hound Dog" would forever displace Thornton's version.
Ironically, Big Mama would write (in 1961) and release (in 1968) a song ("Ball and Chain") that would be taken by another young singer.
I highly recommended book about early rock and roll and Sam Phillips: Sam Phillips, the Man Who Invented Rock and Roll by Peter Guralnick.  
The subtitle of the song is "How One Man Discovered Howlin' Wolf, Ike Turner, Jerry Lee Lewis, Johnny Cash, and Elvis Presley, and How His Tiny Label, Sun Records of Memphis, Revolutionized the World."
Big Mama Thornton Hound Dog