Beatles Please Please Me album
Released March 22, 1963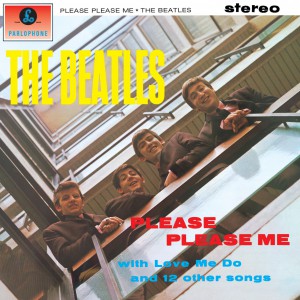 Beatles Please Please Me album
Other preferences
In March 1963 while we were listening to the Four Seasons say Walk Like a Man, Ruby & the Romantics singing Our Day Will Come, and the Chiffons do He's So Fine, the Beatles released their first album, Please Please Me.
In the UK only.
Their single "Please Please Me" had hit #1 in the UK on February 22. They'd released it in the US on February 7, but the single hardly charted here, reaching No. 35 on the WLS-AM (Chicago) music survey in March and did not chart at all on Billboard.  
The Vee Jay label even misspelled their name.
Beatles Please Please Me album
No Zoo picture
For the album, producer George Martin, a Fellow of the Zoological Society of London, owners of the London Zoo, thought that it might be good publicity for the zoo to have the Beatles pose outside the insect house for album's cover photo, however, the Zoological Society turned down Martin's offer and instead, Martin asked Angus McBean.
It was he who took the distinctive picture of the group looking down over the stairwell inside EMI's London headquarters in Manchester Square.
Martin wrote later: "We rang up the legendary theatre photographer Angus McBean, and bingo, he came round and did it there and then. It was done in an almighty rush, like the music…"
Veterans of the road, John Lennon and Ringo Starr were 22; Paul McCartney and  George Harrison were 20.
Beatles Please Please Me album
Outside help
The album was as much a collection of covers as originals:
Side one               

"I Saw Her Standing There" 2:54
"Misery" 1:49
"Anna (Go to Him)" (Arthur Alexander) 2:57
"Chains" (Gerry Goffin, Carole King) 2:26
"Boys" (Luther Dixon, Wes Farrell) 2:27
"Ask Me Why" 2:26
"Please Please Me" 2:03

Side two               

"Love Me Do"      2:23
"P.S. I Love You" 2:04
"Baby It's You" (Mack David, Barney Williams, Burt Bacharach) 2:40
"Do You Want to Know a Secret" 1:59
"A Taste of Honey" (Bobby Scott, Ric Marlow) 2:03
"There's a Place" 1:51
"Twist & Shout" (Medley, Russell) 2:37
Beatles Please Please Me album
Please Please Me
               From the (great) Beatles Bible site:
Eight of the album's 14 songs were written by John Lennon and Paul McCartney (credited as McCartney-Lennon). At the time it was unusual for a group to write their own material; The Beatles, however, swiftly revealed to listeners that they were anything but a run-of-the mill band.
In early 1963 pop acts commonly released three-minute 45 rpm singles, or occasionally four-song EPs. The long-player was normally beyond the fiscal reach of most teenagers, and the LP as art form was yet to emerge; albums tended to be a handful of hits and a selection of filler songs.
The Beatles were not immune to this trend – the cover of Please Please Me even carried the tagline "with Love Me Do and 12 other songs" – but the quality of the songs on the LP was testament to their ambition and musical knowledge, and the willingness of Parlophone staff producer George Martin to try to get the best from them.
And this he did, effectively capturing highlights from The Beatles' live set. The sound that had wowed audiences in Liverpool, Hamburg and beyond was most evident in the album's frenetic closer Twist And Shout, full of boundless energy and with famously hoarse vocals from John Lennon.
The group's versatility, meanwhile, was shown by R&B ballads Anna (Go To Him) and Baby It's You, and McCartney's love for pop standards ensured a place for A Taste Of Honey.
But it was with the original songs that set The Beatles apart from their peers. The opening  I Saw Her Standing There was one of Paul McCartney's earliest songs, yet after dozens of performances in sweaty basement clubs and dance halls it was something of a rock powerhouse.
There's A Place and Ask Me Why showcased their talents for melody and harmony, PS I Love You and Do You Want To Know A Secret displayed the group's lighter side, while the title track was simply one of the most exciting pop songs that 1960s listeners had heard.
Beatles Please Please Me Album