Keyboardist Christopher Chris Stainton
Happy birthday
Woodstock alum via Joe Cocker's Grease Band
Keyboardist Christopher Chris Stainton
Chris Stainton was born in England on March 22, 1944. He began playing bass in the late '50s (using a guitar he made himself out of a plank of wood) and along the path of his his early musical history, he happened to meet his childhood friend, John Robert Cocker, who had become Joe Cocker.
Keyboardist Christopher Chris Stainton
Woodstock
Stainton became an important part of Cocker's Grease Band, but that also included an eventual move to keyboards. It was on keyboards that Stainton performed with Cocker at the Woodstock Music and Art Fair.
Regarding Woodstock, Stainton said in a March 2021 Rolling Stone magazine interview:
What was it like to fly in on the helicopter and see the crowds below?
It was ridiculous. I had some acid just before I went into the helicopter and I threw up in the helicopter. I just remember it being so noisy and everything. It was colossal. It was a colossal experience to see the crowd, but it was a good feeling. There wasn't any bad vibes or anything. It was all good. Everybody was being really great.
Keyboardist Christopher Chris Stainton
Post Woodstock
Stainton remained with Cocker after he left the Grease Band and became a part of the famous Mad Dogs & Englishmen tour that translated into both a triple-LP and a movie.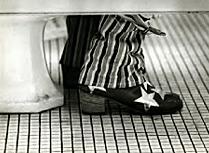 Chris  "Sessions" Stainton
As a sessions musician, he rivaled the output of Nicky Hopkins. 
Here's a partial list of those he worked with:
Spooky Tooth

Ian Hunter

Leon Russel

Don Nix

The Who 

Esther Phillips

Jim Capaldi

Eric Clapton

Gary Brooker

Pete Townshend 

Beyonce

Alvin Lee

The Alarm

Ringo Starr

Bryan Ferry

BB King

Bill Wyman

David Gilmour

Peter Frampton

Van Morrison
On September 11, 2015 Stainton performed in a tribute/reunion concert for Joe Cocker. The concert honored Joe and the Mad Dogs and Englishmen Tour. Alumni included from the 1970 Tour included Leon Russell, Rita Coolidge,  and Claudia Lennear.
Basically, Chris Stainton has contributed to great music his whole musician's life.
Thank you Chris! And many many happy returns.
Here are some highlights of Chris playing with Eric Clapton at NYC's Madison Square Garden in September 2017.
or…
How about his playing for the Ginger Baker tribute on February 17, 2020 with quite a line up? He's on the far right.
In March 2021, Rolling Stone magazine published an interview. It began:
How has your pandemic year gone?
It's the same for everyone, I think. You're stuck home. You just go to the shops and come back. That's it.
You were still playing when this thing hit.
Yeah. We had everything canceled. The last show that I did was February 2020, which was a tribute to Ginger Baker that we did in London. After that, the whole pandemic hit. They canceled last year's tour of Europe and America. They tried to put the Europe tour for Eric back on sale for this year, but it got canceled again. They are looking to get an American tour for the fall. So, we're waiting.
There's a lot more.
Keyboardist Christopher Chris Stainton