Who Roger Daltrey CBE
Happy birthday
March 1,  1944
Who Roger Harry Daltrey CBE
Who Founded Who?
In a sense, Roger Daltrey founded the Who.  It was he who recruited  John Entwistle in 1961 to form a band.  It was Entwistles suggestion to ask Pete Townshend to join the new band, the Detours.
---
Who Roger Daltrey CBE
Early on…
Daltrey's daytime job was in a sheet metal factory, even making the band's guitars. Interesting, since Pete's later smashing of his guitars obviously required wooden ones.
The young band went through the usual young band growing pains adding members, firing others, changing its name to The Who, then changing it to The High Numbers, before changing it back to the Who in November 1964.
By that time, Pete Townshend was the leader of the band because of his ability to compose songs, but Roger Daltrey became the front man to sing Townshend's songs. The famous swirling mic became Daltry's signature.
Who Roger Daltrey CBE
1965 Who released
On December 3, 1965, the Who released their first album, "My Generation."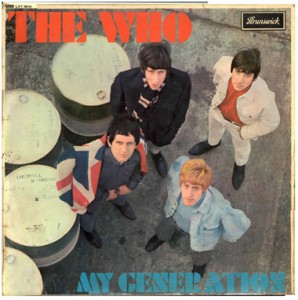 Who Roger Daltrey CBE
1967 breakout
1967 was a break-out year in the US where they appeared for the first time. One of their performance was well-timed. On June 18 they appeared at the Monterey International Pop Music Festival and were included on both its movie and soundtrack album.
Having said that, during a July – August tour that year, they opened for Herman's Hermits.
In 1968 they began to headline and in 1969 Pete Townshends "Tommy" with Roger Daltrey embodying the character on stage, put them among the elite of rock groups.
Who Roger Daltrey CBE
Who Woodstock
Invited to perform at Woodstock, the band wasn't certain whether to, but finally did. Like Monterey, it became a huge piece of that famous festival.
The Who's Woodstock encore: My Generation
Who Roger Daltrey CBE
Roger Daltrey
Like many groups, members began to release solo albums, and Daltry released his first, Daltrey,  in 1973.  He has released eight solo albums, but others in collaboration as well as a children album, The Wheels on the Bus.
The Who continued, sometimes sporadically,  despite the death of Keith Moon in 1978 and John Entwistle in 2002.
The Who were inducted into the Rock and Roll Hall of Fame in 1990.
Who Roger Daltrey CBE
Teenage Cancer Trust
Since 2000 he has been a patron of the Teenage Cancer Trust, a charity that builds specialized wards for teenagers with cancer in the UK and in   November 2010, Roger and Pete Townshend launched Teen Cancer America.