Four Preps Write Beatles
The Four Preps
"26 Miles"
The Four Preps formed in 1956 and sang great harmonies. Their biggest hit was in 1958:  26 Miles. They appeared on TV, on popular shows, and with popular stars.
But the 50s were finished and it was…
Four Preps Write Beatles
Beatlemania arrives
March 1964. The Beatles had arrived with their three consecutive weeks on the Ed Sullivan Show and their Meet the Beatles the #1 album (since February 15 and would  remain there until May 1).
Then The Beatles Second Album would hit #1 and remain there until June 5. Then from July 25 until October 30 those damn Beatles would have another #1 album, Hard Days Night, 
Between April 4 – May 8, five of their singles "Can't Buy Me Love", "Twist and Shout", "She Loves You", "I Want to Hold Your Hand," and "Please Please Me" had been top five songs.
AND the week of April 11, the Beatles had 14 songs in the top 100:
Can't Buy Me Love
Twist & Shout
She Loves You
I Want To Hold Your Hand
Please Please Me
Do You Want to Know a Secret
 I Saw Her Standing There
You Can't Do That
All My Loving
From Me To You
Thank You Girl
There's A Place
Roll Over Beethoven
Love Me Do
In total, The Beatles will have five #1 singles in 1964.
Four Preps Write Beatles
Four Prep strategy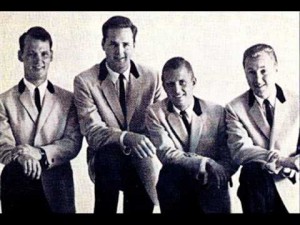 So it was completely understandable when on March 9, 1964 Capitol Records, the company that released almost all of the Beatles' songs in the US, decided to cash in on such a gold mine. Written by Ivan Ulz, Glen Larson, and Bruce Bellard, Letter to the Beatles was a novelty song in which a boyfriend wishes his Beatle-maniac girlfriend would get her mind off of those Beatles.
My girl fell in love with a singing group
From England far away.
She lost her mind, she lost her heart,
When they began to play,
"I want to hold your hand,
I want to hold your hand,
I want to hold your hand. "And so my girl wrote a letter to The Beatles,
Saying "You're so fine.
You can have my love to keep,
Take this heart of mine. " (Well)
"Beatles, I'd give you anything,
All of my true love. "But they wrote a letter back to her,
Sayin' that ain't enough.
You gotta send us twenty-five cents for an autographed picture,
One dollar bill for a fan club card.
And if you send in right away
You get a lock of hair from our St. Bernard. (oh no)
I want to hold your hand.
On April 11, 1964 Billboard magazine reported that Capital Records has stopped pressing the Four Preps single of "A Letter to the Beatles" because Duchess Music, the American licensor, refused to give Capital permission to cover a parody of an actual Beatles disk…"The song burst out of the gates and did well until Duchess Music, the publisher of "I Want to Hold Your Hand," refused to give permission to used the song in their song (which they had).
So close!
Four Preps Write Beatles
Have a listen…
For those (many) of you who have never hear the song, here you go.
Four Preps Write Beatles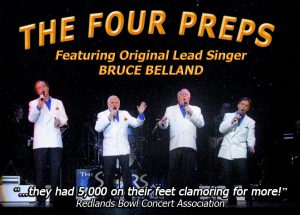 Ironically, the Four Preps continue (mostly) today while the Beatles broke up more than 50 years ago. And in 2007 "The clean-cut West Coast-based" band was inducted into the Vocal Group Hall of Fame.
Four Preps Write Beatles