Beatles Producer Sir George Martin
The true Fifth Beatle
January 3, 1926 – March 8, 2016
Thank you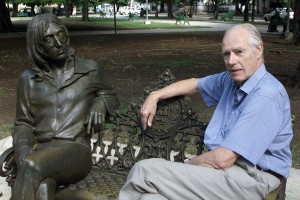 ---
When George Martin died on March 8, 2016, adding to the many sad passings of that year, we knew that the true fifth Beatle had gone.
---
In the beginning we stared at the backs of our first Beatle album for something new, his was one of the names we always saw.
---
He never looked like a Beatle. Was not hip. Hair combed back. Business-like clothing.
---
George Martin knew sound. He was willing to expand choices and options. He knew talent. And his talent brought us the sound the Beatles had inside their heads and put that sound forever inside our hearts. He knew how to compress their coal into musical diamonds.
---
It would be unfair to say he rode the Beatles' coattails to fame just as it would be unfair to say the Beatles would not have been famous without George Martin.
---
Fortune offered them the same breeze and we are lucky they boarded the same boat.
Beatles Producer Sir George Martin
---
From the New York Times obituary: "His collaboration with the Beatles inevitably overshadowed his other accomplishments. Between 1962 and 1970, Mr. Martin produced 13 albums and 22 singles for the group, a compact body of work that adds up to less than 10 hours of music but that revolutionized the popular music world."
---
Less than 10 hours of music

!
---
Those "other" credits of his go on several pages. The AllMusic site's list includes:
---
Billy J Kramer & the Dakotas
Gerry & the Pacemakers
Seatrain
Badfinger
Paul Winter
Stan Getz
America Mahavishnu Orchestra
Cheap Trick
Aerosmith
Kenny Rogers
Billy Preston
Dire Straits

The Kentucky Headhunters
Little River Band
Ultravox
Kate Bush
Elton John
Elvis Costello
Jeff Beck
Stevie Wonder
Celine Dion
Burt Bacharach
Billy Joel
Please follow and like us: