John Lennon Meets Brandy Alexander
March 13, 1973
"Remember" By Harry Nilsson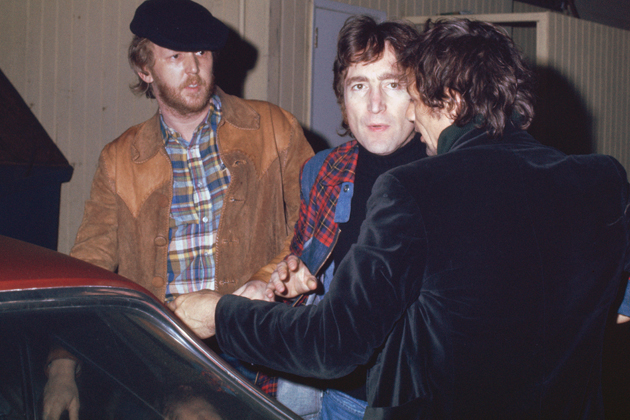 The 1970s arrived and the Beatles departed. Each Beatle recording albums, releasing singles.
Separately.
After the commercial flop of his "Some Time in New York City" album, John Lennon's post-Beatle life became reckless. Many continued to blame Yoko and him for the Beatle break-up. In reality, the seeds of disunion were from within. The band too often ignored gentle George Harrison's musical contributions. They had put aside the affable Ringo Starr. "He was just lucky, not talented" was a common misconception. John and Paul, who had rarely truly collaborated on songs, had gone in different directions long before 1969.
John Lennon Meets Brandy Alexander
May Pang
John and Yoko's marriage was floundering and they mutually agreed to separate. In fact a separation that included John's living with May Pang, their common assistant.
Lennon and Pang spent time in both New York City and Los Angeles. John referred to his and Yoko's time of separation as "The Lost Weekend."  [Wikipedia entry on movie]
John Lennon Meets Brandy Alexander
Harry Nilsson
The Beatles admired Harry Nilsson and John looked up Harry when he and May arrived in LA. Nilsson loved to party and was very good at getting others to party with him and equally good at getting others in trouble.
According to May Pang, John…"loved his energy; he loved his writing. What he loved in Harry was the beauty of his friendship and relaxed personality. That's what he saw. Harry drank, a lot. But Harry was the type of guy that if you go out drinking with him, he'd be sure at the end of the night that there would be a big brawl and that you are the one who's in trouble, even though he started it. Harry would keep feeding John drinks until it was too late."
CBS TV had cancelled the Smothers brothers show and they were returning to live club performances. They were at the Troubadour on March 13, 1974. John Lennon was drunk on Brandy Alexanders (thank you Harry) and disrupted the brothers' act with relentless heckling (thank you Harry who told John that the brothers worked best if heckled). Smothers' manager Ken Fritz said, "I went over and asked Harry to try to shut up Lennon. Harry said, 'I'm trying – don't blame me!' When Lennon continued, I told him to keep quiet. He swung and hit me in the jaw."
Lennon and Nilsson were hustled out of the Troubadour, knocking over a few tables in the process. "It was horrendous," Tom Smothers recalled.
John Lennon Meets Brandy Alexander
The Last of Lennon-McCartney
The Troubadour incident was a wake-up call for Lennon and Nilsson. Lennon soon announced he would produce Nilsson's next album, 'Pussy Cats.' They decided that the LP's musicians should live together during the sessions. Lennon and Nilsson, along with Ringo Starr and Keith Moon, moved into a Santa Monica beach house.
Two weeks later on March 28, Stevie Wonder and Paul McCartney unexpectedly joined Lennon, Nilsson and others for a midnight jam. Ringo had been there, but left earlier, so McCartney sat in on drums and sang harmony to Lennon's lead vocals. Lennon also played guitar with Wonder on electric piano. Despite the star-studded lineup, standards like 'Lucille' and 'Stand By Me,' marred by technical problems, were disappointing.
By evening's end, Lennon and McCartney agreed to see each other again but it would be the last time the two ex-Beatles would play together in a studio.
John Lennon Meets Brandy Alexander