Trump Impeachment Inquiry Public
November 2019
William B Taylor, Jr & George P Kent

November 13, 2019: on the first day of public impeachment hearings, William B. Taylor Jr., the top United States diplomat in Ukraine, and George P. Kent, a senior State Department official in charge of Ukraine policy, both testified about President Trump's campaign to pressure Ukraine to investigate former Vice President Joseph R. Biden Jr., one of his leading political rivals.
Taylor testified that a member of his staff overheard a telephone conversation in which Trump pressed Gordon D. Sondland, the United States ambassador to the European Union, on "the investigations." Afterward, when the aide asked Mr. Sondland about the president's thoughts on Ukraine, Mr. Sondland said Trump cared more about "investigations of Biden." [NYT article]
Ambassador Marie Yovanovitch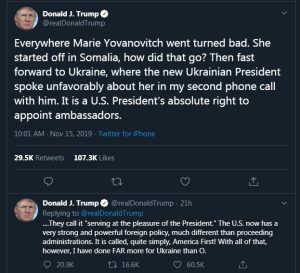 November 15, 2019: Ambassador Marie Yovanovitch appeared at the Democrats' second open impeachment hearing to discuss her career and the circumstances under which her posting to Kyiv was prematurely halted earlier this year.
She told Congress that she was recalled after a smear campaign led by President Trump's allies.
Trump criticized her on Twitter even as she testified live on television.
Trump posted two tweets about Yovanovitch during the session that linked her to problems in the troubled countries in which she had been posted and restated the president's power to appoint and remove diplomats as he wishes. [NPR story]
Trump Impeachment Inquiry

Public
Jennifer Williams and Lt Col Alexander S Vindman testify
November 19, 2019: Jennifer Williams, a national security aide to Vice President Mike Pence, testified that President Volodymyr Zelensky of Ukraine told Vice President Pence in September that continuing to withhold military aid would indicate that United States support for Ukraine was wavering, giving Russia a boost in the ongoing conflict between the two countries.
Lt. Col. Alexander S. Vindman, a decorated Iraq war veteran and the top Ukraine official at the National Security Council, testified that he was so disturbed by the call that he reported it to the council's top lawyer.
"What I heard was inappropriate, and I reported my concerns to Mr. Eisenberg," Colonel Vindman said, referring to John Eisenberg, the top lawyer at the National Security Council. "It is improper for the president of the United States to demand a foreign government investigate a U.S. citizen and political opponent." [NYT article]
Sondland testifies

November 20, 2019: U.S. Ambassador to the European Union Gordon Sondland told the House Intelligence Committee on the fourth day of public impeachment hearings that it was clear to him that the president was intently interested in having the Ukrainians publicly commit to investigating Democrats, including former Vice President Joseph R. Biden Jr., whose son served on the board of the Ukrainian energy company Burisma.
Sondland told the committee that he and other advisers to Trump pressured Ukraine to investigate Democrats "because the president directed us to do so."
Sondland said that he, Energy Secretary Rick Perry and Kurt D. Volker, the special envoy for Ukraine, were reluctant to work with Rudolph W. Giuliani, the president's personal attorney, on the pressure campaign and agreed only at Mr. Trump's insistence.
Trump Impeachment Inquiry

Public
Fiona Hill/David Holmes

November 21, 2019: in her opening statement, the former top Russia expert on the National Security Council Fiona Hill called for Republicans to stop propagating what she called a "fictional narrative" that Ukraine, not Russia, meddled in the 2016 elections. She called the conspiracy claim a story invented by Russian intelligence services to destabilize the United States and deflect attention from their own culpability.
David Holmes, who worked in the United States Embassy in Kyiv told lawmakers that he overheard President Trump, who was speaking loudly, asking Ambassador Sondland whether Ukraine President Zelensky was "going to do the investigation." Sondland told Trump that Zelensky "loves your ass," and would conduct the investigation and do "anything you ask him to,"
According to Holmes's account, Sondland later told him that Trump cared only about "big stuff that benefits the president" like the "Biden investigation" into the son of former Vice President Joseph R. Biden Jr. Mr. Sondland largely confirmed that account on Wednesday but said he did not recall specifically mentioning Mr. Biden. [NYT story]
Trump Impeachment Inquiry

/Public
Lawyers refuse to participate
December 1, 2019: lawyers for President Trump said that they would not participate in the House Judiciary Committee's first public impeachment hearing on December 3, airing a long list of complaints that they said prevented "any semblance of a fair process."
The refusal to send lawyers continued a pattern of stonewalling by Trump, who had sought to block witnesses and documents, as he and his allies called the proceedings "deranged" and a "witch hunt." People familiar with the president's legal strategy had said privately that his lawyers were deeply suspicious of taking part in a process they view as unfair to Trump.  [NYT article]
Law Scholars testify

December 4, 2019:  the House Judiciary Committee began assessing what action to take and what articles of impeachment to draft, if it decided to draft them.
Chairman Jerry Nadler, D-N.Y., invited witnesses because he said the members of the Judiciary Committee needed to understand the historical and legal context for impeachment in deciding how to proceed.
Three professors of law—Noah Feldman of Harvard Law School, Pamela Karlan of Stanford University, and Michael Gerhardt of the University of North Carolina—told the Judiciary Committee that they worried deeply about Trump's actions in the Ukraine affair —and thought they appeared to justify the power of impeachment as enshrined in the Constitution by its framers.
A fourth witness–Jonathan Turley of George Washington University Law School—said he personally opposed Trump, but differed with the three saying the factual case so far developed against Trump would cheapen impeachment and create a dangerous precedent both for Congress and the executive branch. [NYT article] (see TII/P for expanded chronology)
Trump Impeachment Inquiry Public, Trump Impeachment Inquiry Public, Trump Impeachment Inquiry Public, Trump Impeachment Inquiry Public, Trump Impeachment Inquiry Public