September 11 Peace Love Activism
BLACK HISTORY
Christiana Riot
September 11, 1851: in Christiana, Pa., a group of African Americans and white abolitionists skirmished with a Maryland posse intent on capturing four fugitive slaves hidden in the town. The violence came a year after Congress passed the second fugitive slave law, requiring the return of all escaped slaves to their owners in the South. One member of the posse, landowner Edward Gorsuch, was killed and two others wounded during the fight. In the aftermath of the so-called Christiana Riot, 37 African Americans and one white man were arrested and charged with treason under the provisions of the Fugitive Slave Law. Most were acquitted. (see Oct 1)
SOUTH AFRICA/APARTHEID
September 11, 1977: a guard found Steve Biko semiconscious and foaming at the mouth. A doctor ordered him transported to a prison hospital in Pretoria. (see Sept 12)
Emma Goldman
September 11, 1917: Goldman was prevented from speaking at the Kessler Theater by the New York City police. Goldman was out on bail at the time, having been arrested on June 15, 1917, for violating the Espionage Act by opposing U.S. involvement in World War I. To protest the ban, she appeared on stage at the Kessler Theater on this day with a gag over her mouth. She was later convicted and sent prison. Upon her release two years later, she was deported to the Soviet Union, on December 21, 1919 (see Sept 26)
LGBTQ
September 11, 1961:  KQED in San Francisco broadcasted The Rejected, a made-for-television documentary film about homosexuality. The Rejected was the first documentary program on homosexuality on American television. Experts interviewed for the program included Margaret Mead who spoke from an anthropological standpoint. Mead referred to the positive roles that homosexuality had played in the cultures of Ancient Greece, the South Sea Islands, and in Inuit and Native American societies. Mead noted that it was society and not the individual that determined how homosexuality and homosexual behavior were viewed. (see July 4, 1965)
Please note: copyright to The Rejected is held by WNET. All rights reserved. WNET is the premier public media provider of the New York metropolitan area and parent of public television stations THIRTEEN and WLIW21. The Rejected was originally produced by KQED for National Educational Television (NET) - the predecessor of WNET - and first aired on September 11th 1961, on KQED Ch.9 in the Bay Area
September 11 Music et al
Beatles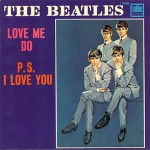 September 11, 1962: finally recorded their first single, "Love Me Do" and "P.S. I Love You," at EMI studios in London. (see Oct 5)
Beatles demand audience integration
September 11, 1964: the management of the Gator Bowl in Jacksonville, Fla., where had stated firmly that the stadium would be segregated. The Beatles said they would refuse to play if the stadium were segregated. The day before the concert they were assured that the show would be fully integrated. (BH, see Oct 14; Beatles, see Nov 13)
Help!  album
September 11 – November 12, 1965, The Beatles: the soundtrack Help! the Billboard #1 album. On each album cover, the Beatles hold their arms in semaphore-like letters, as if spelling out H E L P, but on the UK release (below left) the letters are R U J V and on the US release (bottom right) the letters  are N  V U  J (see Sept 12)
The accurate arm placements would be:
Magical Mystery Tour
September 11, 1967, The Beatles after live performances: begin filming "Magical Mystery Tour"  Yellow matter custard indeed!
September 11 Peace Love Activism
Vietnam
September 11, 1965: the 1st Cavalry Division (Airmobile) began to arrive in South Vietnam at Qui Nhon, bringing U.S. troop strength in South Vietnam to more than 125,000. The unit, which had a long and storied history, was the first full U.S. Army division deployed to Vietnam. The division consisted of nine battalions of airmobile infantry, an air reconnaissance squadron, and six battalions of artillery. The division also included the 11th Aviation Group, made up of three aviation battalions consisting of 11 companies of assault helicopters, assault support helicopters, and gunships. (see Sept 25)
September 11 Peace Love Activism
Victor Jara
September 11, 1973: a CIA-backed military coup in Santiago led by Gen. Augusto Pinochet overthrows democratically elected Pres. Salvadore Allende of Chile. He commits suicide with a rifle given to him by Fidel Castro. (see Sept 16)
Dissolution of the USSR
September 11, 1988: 300,000 demonstrate for independence in Estonia. (see August 23, 1989)
IRAQ War I
September 11, 1990: President George H W Bush delivered a nationally televised speech in which he threatened the use of force to remove Iraqi soldiers from Kuwait. (see Nov 29)
TERRORISM
World Trade Center
September 11, 2001: terrorists allegedly associated with al Qaeda hijacked four US commercial airliners, two of which were crashed into the World Trade Center Towers in New York City, with a third hitting the Pentagon in Washington DC. The fourth plane went down in a field near Shanksville, Pennsylvania. The attacks spawned an immediate tightening of aviation security regulations and in October 2001 led to Congressional passage of the controversial USA PATRIOT Act, giving the executive broad new national security powers. (Terrorism, see Sept 18, WTC, see December 19, 2003)
Terry Jones acquiesces
September 11, 2010:  Jones told NBC's "Today" show that he will not burn Korans on the Sept. 11 anniversary or at any point in the future.
Terry Jones arrested
September 11, 2013: sheriff deputies arrested pastor Terry Jones  and his associate pastor, Marvin Sap, they  drove to a park to set fire to nearly 3,000 Qur'ans to mark the September 11 terrorist attacks. They were charged with unlawful conveyance of fuel as they traveled in a pickup truck towing a large barbecue-style grill filled with Qur'ans soaked in kerosene. Sheriff's officials said that Jones was also charged with the unlawful open-carry of a firearm and that Sapp faced a charge of having no valid registration for the trailer. (see Sept 12)
September 11 Peace Love Activism,  September 11 Peace Love Activism,  September 11 Peace Love Activism,  
Please follow and like us: