Grateful Dead drummer Mickey Hart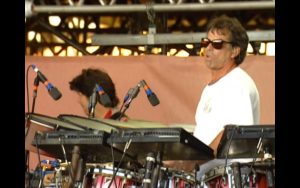 born September 11, 1943
Synopsis
The opening description of Mickey Hart from his site reads that he "is a pivotal innovator, chronicler, and influencer in percussion and rhythm. Best known as a drummer in the renowned expedition into the soul and spirit of rock and roll, The Grateful Dead, the multi-Grammy award winner is also an energetic painter, accomplished writer, restless explorer, and an acclaimed expert on the history and mythology of drums. A true original armed with an inventor's audacious curiosity, Hart boldly seeks to break the rhythm code of the universe and investigate its deepest vibrations."
Grateful Dead drummer Mickey Hart
To the beats…
Michael Steven Hartman was born in Brooklyn. Leah, his mother, raised Mickey. Leonard, his father, had left Leah before Mickey was born. Mickey and mom moved to Long Island (NY) soon after his birth. Later he attended Lawrence High School there,  but dropped out as a senior. He went to Europe and later joined the Air Force.
Hart was in the Air Force's drum and bugle corps.  After the Air Force, Hart became a session drummer in NYC. While there, he received a letter from his father inviting him to work at his music store in San Carlos, California. Mickey went and it was a good thing for him, a great thing for us.
Grateful Dead drummer Mickey Hart
Rhythm Devils
Of the Grateful Dead members, Mickey first met Bill Kreutzmann who invited Hart to sit in with the band. On September 29, 1967 he did just that for the band's second set.
Having two drummers was a rarity, but he and Kreutzmann became known as the Rhythm Devils because of their unique interplay.
Leonard Hart became the band's money manager, but  in March, 1970, he and an estimated $70,000 to $150,000 of band money disappeared. A detective eventually located him and a jury found him guilty of embezzlement. Hart served a six month sentence; he and his son never saw each other again.
Lenny Hart died of natural causes on February 2, 1975. According to Dennis McNally "Mickey went to the funeral home, cleared the room, took out the snakewood sticks that had been his inheritance, played a traditional rudimental drum piece, "The Downfall of Paris," on Lenny's coffin, and split." 
Grateful Dead drummer Mickey Hart
Hart leaves; returns
Because of his father's actions, Hart left the band in February 1971 and in 1972 released Rolling Thunder. Not bitter about Lenny Hart's crime, Jerry Garcia, Phil Lesh, and Bob Weir all played on the album.
Hart returned to the Dead in October 1974 at Winterland for the band's final shows on its tour. The Dead cut back touring in 1975 doing only four shows: one each in March, June, September, and October. Mickey did contribute to their 1975 studio album, Blues for Allah. In 1976 Hart was in again and continued to be in the band.
Grateful Dead drummer Mickey Hart
Mickey Hart
Outside on his own both during and after the Dead's last show with its Jerry Garcia line-up, Hart remained and remains active.
You can check out his live appearance schedule here.
Grateful Dead drummer Mickey Hart
Discography
1976, Diga Rhythm band

1979, music from the movie Apocolypse Now, much of which he contributed.

1989, Music to Be Born By, an album based on the heartbeat of his son in the womb,

1990 his first book, Drumming at the Edge of Magic

1990, At the Edge album

1991, both book and disc, Planet Drum,

1998 Supralingua album

2000, Spirit into Sound album

2007 Global Drum Project, with Hart,  Zakir Hussain, Sikiru Adepoju, and Giovanni Hidalgo. It won the Grammy award for Best Contemporary World Music Album.

2012 the same group on Hart's Mysterium Tremendum,

2013, Superorganism, with long-time Grateful Dead lyricist Robert Hunter.

2017, RAMU
Grateful Dead drummer Mickey Hart