August 28 Peace Love Art Activism
Feminism & Voting Rights
August 28, 1917: woman suffragists picket President Woodrow Wilson in front of the White House. They demanded that he support an amendment to the Constitution that would guarantee women the right to vote.
Wilson had a history of lukewarm support for women's suffrage, although he paid lip service to suffragists' demands during political campaigns and greeted previously peaceful suffrage demonstrators at the White House with decorum. He was also a former teacher at a women's college and the father of two daughters who considered themselves "suffragettes." During the 1912 presidential campaign against Theodore Roosevelt, Wilson and his opponent agreed on many reform measures such as child-labor laws and pro-union legislation. They differed, however, on the subject of women's suffrage, as Roosevelt was in favor of giving women the vote.
According to the Library of Congress' American Memory archives, Wilson rode out of the White House gates that  morning with his wife at his side and tipped his hat toward the protesters as usual. By this time, though, the suffragists had become increasingly disruptive and brandished anti-World War I slogans on their placards in addition to pleas for the vote and later that day the protesters and outraged bystanders who supported the war clashed. Many of the women were arrested and thrown in jail. (see October)
August 28 Peace Love Art Activism
BLACK HISTORY
Emmett Till terrorized and murdered
August 28, 1955: at approximately 2:30 in the morning Carolyn Bryant's husband, Roy, his half brother J.W. Milam kidnapped Emmett Till from Moses Wright's home. They then brutally beat, dragged him to the bank of the Tallahatchie River, shot him in the head, tied him with barbed wire to a large metal fan and shoved his mutilated body into the water.
Moses Wright reported Till's disappearance to the local authorities. (see Emmett Till for more)
Albany Movement
August 28, 1962: Albany, GA police arrested and jailed seventy religious leaders from the North and Midwest during an anti-segregation protest at the City Hall. (see Albany for expanded story)
ColinKaepernick
August 28, 2016: Kaepernick met with the media two days after the game and for the first time since the protest gained national attention. He reiterated that he was acting to give a voice to people who didn't have one.
"I'm going to continue to stand with the people that are being oppressed. To me, this is something that has to change. When there's significant change and I feel that flag represents what it's supposed to represent, and this country is representing people the way that it's supposed to, I'll stand." (see Sept 11)
August 28 Peace Love Art Activism
August 28, 1963
King
Martin Luther King, Jr delivered his "I Have a Dream" speech.
Malcolm X
Referring to the March as the "Farce on Washington, Malcolm X afterwards stated: If you're going to get yourself a .45 and start singing "We Shall Overcome," I'm with you. (BH, see Aug 30, ; MX, see Oct 11; MLK, see Oct 10)
George Whitmore, Jr
Janice Wylie, a 21-year-old Newsweek magazine researcher and summer stock actress, and Emily Hoffert, a 23-year-old teacher, were stabbed to death in the apartment they shared at 57 E. 88th Street in Manhattan; Wylie was raped. Wylie is the daughter of Max Wylie, a New York novelist, playwright, and advertising executive. Hoffert is the daughter of a Minneapolis surgeon. The media will call it the Career-Girl Murders.
George Whitmore, Jr listened to King's speech in his Wildwood, NJ home, but in seven months, Whitmore, an African-American drifter with a limited IQ, will be picked out of a photo lineup by a woman who had been assaulted. (BH, see August 30, 1963; see Whitmore for the rest of the long sad story)
Philadelphia revolt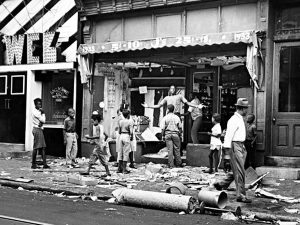 August 28 – 30, 1964: tensions between African American residents and police lead to 341 injuries and 774 arrests. [Philadelphia dot com article]  (see Sept 1)
Trayvon Martin Shooting
August 28, 2013:  Shellie Zimmerman, the wife of George Zimmerman pleaded guilty to a misdemeanor charge of perjury. She was placed on probation for one year, was required to perform 100 hours of community service, and must pay court costs. She also had to file a letter of apology within 30 days to Judge Kenneth Lester, who presided over her husband's case at the time the perjury was committed. Recorded jailhouse phone calls between the couple caught the two speaking in code about their finances. By pleading guilty to a lesser charge of perjury not in an official proceeding, she avoided the original third-degree felony offense — perjury during an official proceeding — that could have meant time in prison. (see Sept 4)
August 28 Peace Love Art Ac