August 23 Peace Love Art Activism
BLACK HISTORY
Race Riots

August 23, 1917: Houston Riot of 1917, or Camp Logan Riot, was a mutiny by 156 African American soldiers of the Third Battalion of the all-black Twenty-fourth United States Infantry Regiment.
Two Houston police officers stormed into the home of an African American woman, allegedly looking for someone in the neighborhood, after firing a warning shot outside. They physically assaulted her, then dragged her partially clad into the street, all in view of her five small children. The woman began screaming, demanding to know why she was being arrested, and a crowd began to gather. A soldier from the 24th stepped forward to ask what was going on. The police officers promptly beat him to the ground and arrested him as well.
Their official reports and later news reports stated the soldier was charged with interfering with the arrest of a publicly drunk female. Later that afternoon, Corporal Charles Baltimore went to the Houston police station to investigate the arrest, as well as beating of another black soldier, and also to attempt to gain the release of the soldier. An argument began which led to violence, and Corporal Baltimore was beaten, shot at, and himself arrested by the police.
That evening 156 angry soldiers, stole weapons from the camp depot and marched on the city of Houston. They were met outside the city by the police and a crowd of armed citizens, frightened by the reports of a mutiny. A virtual race riot began, which left 20 people dead – four soldiers, four policemen, and 12 civilians. Order was restored the next day, and the War Department disarmed the soldiers. The Third Battalion was sent by rail back to New Mexico.  [2017 Houston Chronicle article] (see Dec 11)
School desegregation 
August 23, 1954: the small community of Charleston, Ark., admitted 11 African-American students into its schools, becoming the first in the former Confederacy to end segregation in its schools.
Dale Bumpers served as legal counsel and went on to become governor and U.S. senator. He wrote a memoir titled, "Best Lawyer in a One-Lawyer Town." [NYT obit for Bumpers] (BH, see Sept 22; SD, see May 31, 1955)
Yusef Hawkins
August 23, 1989: 16-year-old Yusef Hawkins and three friends went to the predominately white Bensonhurt section of Brooklyn, New York, to inquire about a used Pontiac for sale. On their way through the neighborhood, the black boys encountered a group of 30 white youths gathered in the street. Armed with baseball bats and at least one handgun, the mob set upon the three boys. While his companions managed to escape the attack without serious injury, Yusef was shot twice in the chest and later pronounced dead at nearby Maimonides Medical Center.
Later investigation revealed that a neighborhood girl, Gina Feliciano, had recently spurned the advances of a young white man in the neighborhood and was rumored to be dating an African American. Angry, the rejected white boy gathered friends to lay in wait for the black boyfriend they believed would be visiting Ms. Feliciano. Yusef Hawkins walked into this scene of racial tension. [2009 NYT article]  (BH, see Oct 1; Hawkins, see May 18, 1990)
STAND YOUR GROUND LAW
August 23, 2019: a Florida jury found Michael Drejka guilty of manslaughter for killing Markeis McGlockton, after an argument over a parking spot escalated outside a convenience store in Clearwater, Fla on July 19, 2018..
Citing Florida's "Stand Your Ground" law, the county sheriff did not arrest Drejka, who is white, until three weeks after he had fatally shot McGlockton, who was black and unarmed.
Prosecutors in Pinellas County, Fla., eventually charged Mr. Drejkawith one count of manslaughter. He did not testify in the trial, and the six-person jury deliberated for about six hours before reaching a verdict.
August 23 Peace Love Art Activism
August 23 Music et al
Keith Moon
August 23, 1946: Keith Moon born.
John & Cynthia marry
August 23, 1962: John Lennon married Cynthia Powell at the Mount Pleasant register office in Liverpool. Brian Epstein was the best man, and George Harrison and Paul McCartney were also in attendance. Absent was John's aunt Mimi, who disapproved of the union, although Cynthia's half brother and his wife were there.
As soon as the ceremony began, a pneumatic drill outside the building opposite drowned out all that was said; when the registrar asked for the groom to step forward, Harrison did, which only added to the farce.
At Epstein's expense, they celebrated afterwards at Reece's restaurant in Clayton Square, eating a set menu of soup, chicken and trifle. Reece's was where John's parents Alf and Julia had celebrated their own wedding in 1938.
John and Cynthia met in 1957 while both were students at Liverpool Art College, and began a relationship the following year.
In mid-1962 she discovered she was pregnant – the pair had never used contraception. John's reaction when she told him was: "There's only one thing for it Cyn – we'll have to get married".
Brian Epstein thought fans of The Beatles might feel alienated to know one of them was married, and so the Lennons kept the wedding a secret.
Epstein allowed John and Cynthia to live at his flat at 36 Falkner Street free of charge, where they stayed until the birth of Julian in April 1963. Thereafter they effectively moved into Mendips with John's aunt Mimi, although by that time John was spending much of his time in London with the band.
On their wedding night John played a show with The Beatles at the Riverpark Ballroom in Chester. (see Sept 11)
Second Shea concert
August 23, 1966: on John and Cynthia's 4th anniversary and a little over a year after their first triumphant appearance at New York's Shea Stadium, The Beatles returned for a second time.
The concert did not sell out, with 11,000 of the 55,600 tickets still available. Nonetheless, The Beatles made more money from their appearance than they had in 1965, receiving $189,000 – 65 per cent of the gross takings of $292,000.
The lack of a sellout was unsettling and it was against this background that they said, 'Right, we definitely won't do any more. We are going to have a break and then we are going into the studio to make a record.' (George Martin from Anthology)
The support acts were The Remains, Bobby Hebb, The Cyrkle and The Ronettes. The Beatles performed 11 songs: Rock And Roll Music, She's A Woman, If I Needed Someone, Day Tripper, Baby's In Black, I Feel Fine, Yesterday, I Wanna Be Your Man, Nowhere Man, Paperback Writer and Long Tall Sally.
During the performance of Day Tripper hundreds of fans broke through barriers and attempted to reach the stage. They were held back by security guards and none managed to get close to The Beatles. (see Aug 28)
Are You Experienced?
August 23, 1967: US release of Hendrix's debut LP, "Are You Experienced?" (see Sept 16)
Cynthia sues for divorce
August 23, 1968: on their 6th wedding anniversary, Cynthia Lennon sued John Lennon for divorce. [Beatles Bible piece] (Beatles, see Aug 28; Lennon, see Nov 8)
Honky Tonk Women
August 23 – September 19, 1969: "Honky Tonk Women" by the Rolling Stones #1 on the Billboard Hot 100.
Johnny Cash
August 23 – September 19, 1969: Johnny Cash's At San Quentin the Billboard #1 album.
August 23 Peace Love Art Activism
US Labor History
César E. Chávez, Dolores Huerta, & the UFW
August 23, 1966: Farm Workers Organizing Committee (to later become United Farm Workers of America) granted a charter by the AFL-CIO. (see March 10, 1968)
Student Unions
August 23, 2016: the National Labor Relations Board ruled that students who work as teaching and research assistants at private universities have a federally backed right to unionize.
The case arose from a petition filed by a group of graduate students at Columbia University, who were seeking to win recognition for a union that allowed them a say over such issues as the quality of their health insurance and the timeliness of stipend payments. [NYT article] (see March 1, 2017)
August 23 Peace Love Art Activism
Dissolution of the USSR
Estonia, Latvia and Lithuania
August 23, 1989: two million indigenous people of Estonia, Latvia and Lithuania, then still occupied by the Soviet Union, joined hands to demand freedom and independence, forming an uninterrupted 600 km human chain called the Baltic Way.
Hungary
August 23, 1989: Hungary removes border restrictions with Austria.  (see USSR for expanded chronology)
August 23 Peace Love Art Activism
Sexual Abuse of Children
August 23, 2003:  while in protective custody at the maximum-security Souza-Baranowski Correctional Center in Shirley, Massachusetts, Joseph Druce strangled and stomped John Geoghan to death. Druce was Geoghan's cell mate. Druce was a self-described white supremacist serving a sentence of life without possibility of parole for killing a man who allegedly made sexual advances toward him. He was said to have planned the murder of Geoghan for more than a month, considering him a "prize."
The press raised questions about prison officials' judgment in placing both men in the same unit for protective custody. In addition, officials had been warned by an inmate that Druce had something planned against Geoghan. (see Sept 4)
August 23 Peace Love Art Activism
Occupy Wall Street
August 23, 2011: Chris (last name incognito) put the idea in motion: "Get a bunch of people to submit their pictures with a hand-written sign explaining how these harsh financial times have been affecting them, have them identify themselves as the '99 percent', and then write 'occupywallst.org' at the end." (see Sept 17)
August 23 Peace Love Art Activism
Kandahar massacre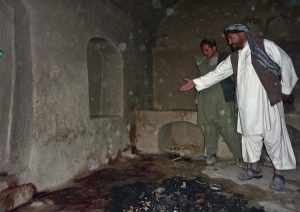 August 23, 2013: a six-person jury sentenced Robert Bales to life in prison without parole. He was also demoted to the lowest enlisted rank, dishonorably discharged and forfeited all pay and allowances. Bales is incarcerated at United States Disciplinary Barracks at Fort Leavenworth. [NYT article]
August 23 Peace Love Art Activism
Immigration History
August 23, 2018: more than 500 migrant children remained separated from their parents and under the federal government's care, according to court documents.
The numbers only improved slightly from what the federal government had reported a week earlier.
It had been nearly a month since the court-imposed deadline for the Trump administration to reunify all migrant families that were separated as part of its "zero tolerance" policy earlier this spring. The administration was expected to reunify more than 2,600 migrant children, age 0-17, with their parents by July 26. (IH, see Aug 30; children, see Oct 2)
August 23 Peace Love Art Activism
Space
August 23, 2023: India's Chandrayaan-3 — a lander named Vikram and a rover named Pragyan — landed in the southern polar region of the moon. The two robots, made India the first country to ever reach that part of the lunar surface in one piece — and only the fourth country ever to land on the moon. [NYT article] (next Space, see )