August 14 Peace Love Art Activism
BLACK HISTORY
Race Revolt
August 14, 1908: a race revolt broke out in the Illinois capital of Springfield. Angry over reports that a black man had sexually assaulted a white woman, a white mob wanted to take a recently arrested suspect from the city jail and kill him. They also wanted Joe James, an out-of-town black who was accused of killing a white railroad engineer, Clergy Ballard, a month earlier.
Late that afternoon, a crowd gathered in front of the jail in the city's downtown and demanded that the police hand over the two men to them. But the police had secretly taken the prisoners out the back door into a waiting automobile and out of town to safety. When the crowd discovered that the prisoners were gone, they rioted. First they attacked and destroyed a restaurant owned by a wealthy white citizen, Harry Loper, who had provided the automobile that the sheriff used to get the two men out of harm's way. The crowd completed its work by setting fire to the automobile, which was parked in front of the restaurant.
The rioters next methodically destroyed a small black business district downtown, breaking windows and doors, stealing or destroying merchandise, and wrecking furniture and equipment. The mob's third and last effort that night was to destroy a nearby poor black neighborhood called the Badlands. Most blacks had fled the city, but as the mob swept through the area, they captured and lynched a black barber, Scott Burton, who had stayed behind to protect his home. [Black Past article] (BH, RR, & Lynching, continued on Aug 15; for for expanded chronology, see American Lynching 2)
Dyer Anti-Lynching bill
August 14, 1922: a delegation of Black women met with President Harding to urge final Congressional action on the Dyer Anti-Lynching bill. He expressed doubt about the bill's passage. (see Sept 24)
August 14 Peace Love Art Activism
Feminism & Voting Rights
"Kaiser Wilson" banner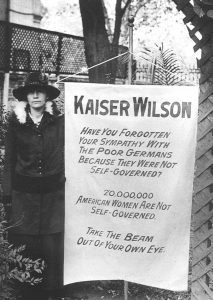 August 14, 1917:  pickets carry new banner–famous "Kaiser Wilson" banner, comparing President Wilson to German emperor Kaiser Wilhelm II. Banner accuses Wilson of being autocrat over women lacking a voice in government. Angry mob attacks pickets, destroys banners, and fires gun at National Women's Party headquarters. Police do little to intervene. (see Aug 17)
Lafayette Park demonstration
August 14, 1918: two more suffrage demonstrations held in Lafayette Park, Washington, D.C. Thirty women arrested and released; return that evening to protest and are rearrested. (see Aug 15)
August 14 Peace Love Art Activism
ADA
Social Security
August 14, 1935: President Franklin Delano Roosevelt signed the Social Security Act, establishing a program of permanent assistance to adults with disabilities. [SSA article] (see January 3, 1938)
Nazi euthanasia
In  1939 at the onset of World War II Adolph Hitler ordered widespread "mercy killing" of the sick and disabled. Code-named Aktion T4, the Nazi euthanasia program is instituted to eliminate "life unworthy of life." Between 75,000 to 250,000 people with intellectual or physical disabilities are systematically killed from 1939 to 1941.
Rosemary Kennedy
In  1941, John F. Kennedy's twenty-three year old sister Rosemary underwent a prefrontal lobotomy as a "cure" for lifelong mild retardation and aggressive behavior that surfaced in late adolescence. The operation fails, resulting in total incapacity. To avoid scandal, Rosemary was moved permanently to the St. Coletta School for Exceptional Children in Wisconsin.
1950s
Barrier-free movement
In the 1950s, disabled veterans and people with disabilities begin the barrier-free movement. The combined efforts of the Veterans Administration, The President's Committee on Employment of the Handicapped, and the National Easter Seals Society, among others, results in the development of national standards for "barrier-free" buildings.
Association for Retarded Citizens
In 1950,  parents of youth diagnosed with mental retardation found the Association for Retarded Citizens (ARC). The association works to change the public's ideas about mental retardation. Its members educate parents and others, demonstrating that individuals with mental retardation have the ability to succeed in life. [The ARC site] (ARC, see December 31, 1998)
Dr. Howard A. Rusk
In  1948  Dr. Howard A. Rusk founded the Rusk Institute of Rehabilitation Medicine in New York City, where he developed techniques to improve the health of injured veterans from World War II. His theory focused on treating the emotional, psychological and social aspects of individuals with disabilities and later became the basis for modern rehabilitation medicine. [NYT obit]
Clemens Benda
In 1953 Clemens Benda, clinical director at the Fernald School in Waltham, Massachusetts, an institution for boys with mental retardation, invited 100 teenage students to participate in a "science club" in which they will be privy to special outings and extra snacks.
In a letter requesting parental consent, Benda mentioned an experiment in which "blood samples are taken after a special breakfast meal containing a certain amount of calcium," but makes no mention of the inclusion of radioactive substances that are fed to the boys in their oatmeal.  [CBS story about school] (Benda, see October 17, 1995)
American Standards Association
In 1961 the American Standards Association, later known as the American National Standards Institute (ANSI), publishes the first accessibility standard titled, Making Buildings Accessible to and Usable by the Physically Handicapped. Forty-nine states adapt accessibility legislation by 1973. [ANSI site]
Ed Roberts
In 1962 Ed Roberts, a student with polio,  enrolled at the University of California, Berkele, but later his admission was rejected. He fought to get the decision overturned. He became the father of the Independent Living Movement and helped establish the first Center for Independent Living (CIL). He earned B.A. (1964) and M.A. (1966) degrees from UC Berkeley in Political Science. Roberts died on March 14, 1995, at the age of 56. [Smithsonian article] (see  October 31, 1963)
August 14 Peace Love Art Activism
DEATH PENALTY
Rainey Bethea
August 14, 1936: at 5:45 AM, Rainey Bethea became the last person to be publicly executed in the US. Bethea was hanged for raping and murdering a 70-year-old woman in Owensboro, Kentucky. The execution garnered significant media and public attention because it was the first hanging in the US to be conducted by a woman. At least 20,000 people witnessed Bethea's hanging, which reporters called the "carnival in Owensboro." Several scholars believe Bethea's execution was an important contributor to the eventual ban on public executions in America. [2011 New Haven Register article] (see June 16, 1944)
First fentanyl execution 
August 14, 2018: Nebraska executed Carey Dean Moore,  its first prisoner since 1997, after a federal three-judge panel denied a drug company's request to halt the lethal injection over concerns about whether the drugs were obtained improperly by the state.
The execution of Moore was also the first time the powerful synthetic opioid fentanyl had been used in a lethal injection in the U.S.
The primary legal challenge had come from German pharmaceutical company Fresenius Kabi, which made potassium chloride and cisatracurium besylate, two of the four drugs in the protocol.  [NPR article] (see Oct 11)
August 14 Peace Love Art Activism
INDEPENDENCE DAY
August 14, 1947: Pakistan independent from the United Kingdom. [time and date dot com article] (see Aug 15)
August 14 Peace Love Art Activism
August 14 Music et al
Pete Best fired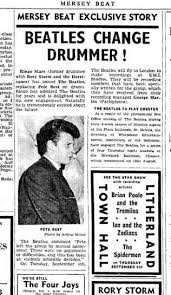 August 14, 1962: The Beatles and their manager Brian Epstein decided to fire Pete Best. Best played his last gig the following night at The Cavern, Liverpool. Ringo Starr, who was nearing the end of a three-month engagement with Rory Storm and the Hurricanes at a Butlin's holiday camp,  received a telephone call from John Lennon, asking him to join The Beatles. Ringo gave Rory Storm three days notice A series of drummers would become part of Rory Storm's band including Keef Hartley.  (see Aug 18)
Beatles last live Ed Sullivan appearance
August 14, 1965, The Beatles: appeared live on the Ed Sullivan Show for the last time. [I Feel Fine >  I'm Down > Act Naturally (next Beatles, see Aug 15; taped performance, see Sept 12)
"I Got You Babe"
August 14 – September 3, 1965: "I Got You Babe" by Sonny and Cher #1 on the Billboard Hot 100.
The [bumpy] Road to Bethel
Thursday 14 August 1969
NY State Police continue to randomly stop and frisk young drivers at Harriman interchange. 150 arrests made.

Bill Handley's sound system erected. "According to one expert's cumulative eye, the hi-fi equipment in the bowl represented the most expensive sound system ever assembled at one time in any given location."

although warned not to, about 270 NYC police show up but insist on being paid in cash without receipts. They work using aliases and were paid more than the agreed amount.

Food For Love demanded all profits after repaying the initial $75,00 fee. Woodstock Ventures agreed.

film deal reached: 50% split. Warner Brothers and Woodstock Ventures after negative costs. On Friday, Michael Wadleigh signed on as director.the Diamond Horseshoe, where nearly 200 Woodstock staff had been staying, caught fire. The fire was extinguished by hotel staff because the fire department couldn't get through. (see Woodstock Day 1)
August 14 Peace Love Art Activism
United Farm Workers
August 14, 1973: UFW member, Nagi Daifullah, a 24-year old picket captain of Yemanese descent, died after being struck in the skull by a police flashlight. [Alarabiya article] (see Aug 17, 1973)
August 14 Peace Love Art Activism
Presidential nominations
Jimmy Carter
August 14, 1980, Jimmy Carter renominated at the Democratic National Convention in New York City.
Al Gore
August 14 – 17, 2000, the Democratic National Convention in Los Angeles nominated VP Al Gore for President and Sen Joe Lieberman for Vice President.
August 14 Peace Love Art Activism
LGBTQ & BSA
August 14, 2003: a Sebastopol, CA troop lost its Boy Scouts of America charter for refusing to drop an anti-discrimination statement that Scouting officials said conflicts with the organization's national policy banning homosexuals. Bev Buswell, led adviser to the 16-member Venture Crew 488, said her application for charter renewal was denied because it included a statement she wrote pledging the crew would not discriminate on the basis of race, religion, sexual orientation and other factors. [scouter dot com article] (LGBTQ, see Nov 18; BSA, see March 30, 2005)
August 14 Peace Love Art Activism
Stop and Frisk Policy
August 14, 2009: The New York Civil Liberties Union said the NYPD was on pace to break last year's record for stop and frisk encounters. In the first half of 2009, the NYPD made 311,000 stops. [ACLU app for S & F incidents] (see September 2009)
August 14 Peace Love Art Activism
Women's Health
August 14, 2015: U.S. District Myron Thompson blocked an Alabama abortion regulation that would have permanently closed the state's busiest abortion clinic. Thompson said  that the rule was unnecessary to protect women.
Thompson had issued a temporary restraining order blocking the regulation the previous week, saying that the closure of the West Alabama Women's Center in Tuscaloosa would prevent women from obtaining abortions. He followed up the order with an 81-page opinion issued on this date.
The 2007 health regulation requires clinics to hire a physician with hospital-admitting privileges to handle patient complications. The clinic filed a lawsuit challenging it.
The clinic was one of five abortion providers in Alabama, but performed about 40 percent of the state's abortions in 2013, according to court records. It was also one of two clinics that provide abortions in the middle of the second trimester.
"For all Alabama women, the closure of the largest abortion provider in the state, one of two providers in the state that administers abortions after 16 weeks, has reduced the number of abortions that can be provided here. Finally, and as chillingly recounted above, closing the Center has increased the risk that women will take their abortion into their own hands," Thompson wrote. [Tuscaloosa news article] (see Aug 24)
August 14 Peace Love Art Activism
The Cold War
August 14, 2015: Secretary of State John Kerry traveled to Cuba and raised the American flag above the U.S. Embassy for the first time in 54 years. "Thank you for joining us at this truly historic moment as we prepare to raise the flag … symbolizing the restoration of diplomatic relations after 54 years," Kerry said at the ceremony, addressing the crowd in both English and Spanish. (CW & Cuba, see Feb 16)
August 14 Peace Love Art Activism
FREE SPEECH & Colin Kaepernick
August 14 & August 20, 2016: injured San Francisco 49er quarterback Kaepernick went unnoticed while sitting during the anthem. Kaepernick wasn't in uniform and didn't play during these first two games. (FS & CK, see Aug 26)
August 14 Peace Love Art Activism
Sexual Abuse of Children
August 14, 2018: according to a report issued by a grand jury, bishops and other leaders of the Roman Catholic Church in Pennsylvania covered up child sexual abuse by more than 300 priests over a period of 70 years, persuading victims not to report the abuse and police officers not to investigate it.
The report, which covered six of the state's eight Catholic dioceses and found more than 1,000 identifiable victims, was the broadest examination yet by a government agency in the United States of child sexual abuse in the Catholic Church. There had been ten previous reports by grand juries and attorneys general in the United States, according to the research and advocacy group BishopAccountability.org, but those examined single dioceses or counties. [CNN article] (see Aug 20)
Environmental Issues
August 14, 2023: a group of young people in Montana [the plaintiffs ranged in age from 5 to 22] won a landmark lawsuit when a judge ruled that the state's failure to consider climate change when approving fossil fuel projects was unconstitutional.
The decision in the suit, Held v. Montana, coming during a summer of record heat and deadly wildfires, marked a victory in the expanding fight against government support for oil, gas and coal, the burning of which has rapidly warmed the planet.
"As fires rage in the West, fueled by fossil fuel pollution, today's ruling in Montana is a game-changer that marks a turning point in this generation's efforts to save the planet from the devastating effects of human-caused climate chaos," said Julia Olson, the founder of Our Children's Trust, a legal nonprofit group that brought the case on behalf of the young people. "This is a huge win for Montana, for youth, for democracy, and for our climate. More rulings like this will certainly come." [NYT article] (next EI, see Sept 6)
August 14 Peace Love Art Activism